House prices fall for four months straight
UK house prices dipped by 1.5% in December, the fourth consecutive month, Halifax's latest House Price Index reveals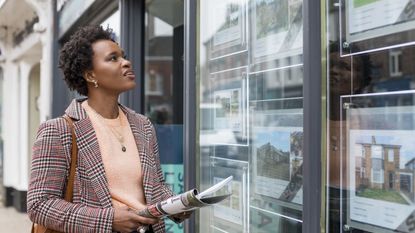 (Image credit: © Getty images)
UK house prices continue to show signs of slowing down as December prices fell by 1.5% compared to November. This means the typical UK property now costs £281,272.
This is the fourth month straight where house prices have fallen, though December's fall was lower compared to what we saw in November, when the Halifax House Price Index recorded a 2.4% decline in UK property prices.
Halifax said the uncertainties and concerns around the cost of living and the impact it will have on household bills, plus rising interest rates have contributed to the slowdown in UK house prices.
Subscribe to MoneyWeek
Subscribe to MoneyWeek today and get your first six magazine issues absolutely FREE
Get 6 issues free
Sign up to Money Morning
Don't miss the latest investment and personal finances news, market analysis, plus money-saving tips with our free twice-daily newsletter
Don't miss the latest investment and personal finances news, market analysis, plus money-saving tips with our free twice-daily newsletter
Kim Kinnaird, director, Halifax Mortgages, said: "The housing market was a mixed picture in 2022. We saw rapid house price growth during the first six months, followed by a plateau in the summer before prices began to fall from September, as the impact of cost of living pressures, coupled with a rising rates environment, began to take effect on household finances and demand.
"These trends need to be viewed in the context of historic prices. The cost of the average home remains high – greater than it was at the start of 2022 and over 11% more than house prices at the beginning of 2021. The first half of last year was a very strong period for sellers, between January 2022 and August 2022, the average cost of a home rose by over £17,000 to £293,992 (growth of +6%), setting a new record high."
It is also worth noting, house prices are up by 974% since 1983, 40 years ago when the Halifax House Price Index started.
Will house prices go down in 2023?
Halifax expects the housing market will continue to be at the mercy of the wider economic environment, and both buyers and sellers will remain cautious. Halifax expects there will be a reduction in both supply and demand in 2023.
House prices are also expected to fall by around 8% this year, according to Halifax. You can also read more analysis about house prices in our article on where will house prices go in 2023.
"It's important to recognise that a drop of 8% would mean the cost of the average property returning to April 2021 prices, which still remains significantly above pre-pandemic levels," Kinnaird said.
Where did house prices slow down the most?
On an annual basis, the North East saw the greatest slowdown in growth, with annual house prices rising by 6.5%, compared to 10.5% the previous month. Average house prices in the region are now £169,980.
Eastern England, West Midlands and Wales saw the smallest falls in growth rate. House prices in the region are now an average £337,215m with growth rate 5.5% compared to 7.2% in November. In the West Midlands, average properties now cost £250,965, with a growth rate of 7.3% compared to 9.1% in November.
The average home in Wales is now £217,547, with annual growth now 6.1% - down from 7.7% the previous month.
In Scotland, the average home now costs £200,166, with the second greatest slowdown in the annual growth in the UK, now 3.5% compared to 6.4% in November..
Properties in Northern Ireland are up 7.1% year-on-year, lower than the 9.1% last month, with average homes now costing £183,825.
The cost of an average home in London in December was £541,239, a growth of 2.9% annually, compared to 5% last month.
What is the Halifax House Price Index?
The Halifax House Price Index measures UK house house prices based on mortgage transaction data.
Using the data, it calculates a standardised house price and looks at price movement over time.
It is, of course, not the only index, but it is the longest running one which started 40 years ago in 1983. You can read more about which house price index is the best in our article.
When the Halifax House Price Index was established in January 1983, the average UK house price was £26,188 and Bank base rate was 11%. Since then, average house prices have grown +974% to £281,272 and Bank base rate is 3.5%.
Looking over the past four decades, prices peaked in August 2022 at £293,992.
London continues to be the most expensive place to buy a home. Properties in the capital were an average £36,056 in the first three months of 1983 when the index started, compared to £541,239 today. Yorkshire and the Humber was the cheapest place to buy a property when the Index began, with average properties costing £20,332, compared to £205,466 now.
Kalpana is an award-winning journalist with extensive experience in financial journalism. She is also the author of Invest Now: The Simple Guide to Boosting Your Finances (Heligo) and children's money book Get to Know Money (DK Books).
Her work includes writing for a number of media outlets, from national papers, magazines to books.
She has written for national papers and well-known women's lifestyle and luxury titles. She was finance editor for Cosmopolitan, Good Housekeeping, Red and Prima.
She started her career at the Financial Times group, covering pensions and investments.
As a money expert, Kalpana is a regular guest on TV and radio – appearances include BBC One's Morning Live, ITV's Eat Well, Save Well, Sky News and more. She was also the resident money expert for the BBC Money 101 podcast .
Kalpana writes a monthly money column for Ideal Home and a weekly one for Woman magazine, alongside a monthly 'Ask Kalpana' column for Woman magazine.
Kalpana also often speaks at events. She is passionate about helping people be better with their money; her particular passion is to educate more people about getting started with investing the right way and promoting financial education.