House prices expected to fall by 5% in 2023
House prices could fall by 5% next year as rising mortgage rates weigh on buyer demand.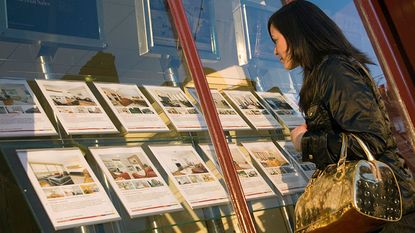 (Image credit: © Alex Segre / Alamy )
House prices are predicted to fall by up to 5% after months of intense growth, according to Zoopla's latest house price index. Earlier this year, the Office for Budget Responsibility predicted that house prices could go down by as much as 9% by 2024.
The online estate agent reported a 7.8% increase in house prices year-on-year in November – however buyer demand fell by 44% following the sharp increase in mortgage rates after Kwasi Kwarteng's mini-budget in late September.
The report also follows the latest data from the Office for National Statistics, which showed house price growth stalled in September.
Subscribe to MoneyWeek
Subscribe to MoneyWeek today and get your first six magazine issues absolutely FREE
Get 6 issues free
Sign up to Money Morning
Don't miss the latest investment and personal finances news, market analysis, plus money-saving tips with our free twice-daily newsletter
Don't miss the latest investment and personal finances news, market analysis, plus money-saving tips with our free twice-daily newsletter
As well as higher mortgage rates – which are now only just below 6% but could creep up as interest rates go up – buyers are having to contend with the rising energy bills and rising food prices as the cost of living increases.
"We are transitioning from an unsustainably strong market to a more balanced one, albeit with demand-side headwinds for households most sensitive to higher mortgage rates," Zoopla's report stated.
Sales volume also in decline
House sales volumes are down 28% from a year ago, back to pre-pandemic levels. However, new sales are still being agreed by those with mortgage offers.
Sales volumes are also down by nearly half in areas that have been resilient over the last year, namely in the mid to upper price bands in southern England, excluding London, the East Midlands and Wales.
"Sales in London are holding up better than the national average, but the capital's housing market has been far more subdued, lagging behind the rest of the UK." However data from Bloomberg shows house prices in London might be starting to fall.
The decrease in sales volume has translated into a higher stock of homes, however it remains significantly lower than pre-pandemic levels. Currently the average estate agent has 23 homes for sale, the highest level since 2021.
"Rebuilding sales inventory… is part of the move to a more balanced market," the report said. However Zoopla also expects "some element of scarcity to remain a feature of the market, limiting the downside for pricing levels in 2023".
Homeowners selling for below asking price
Buyers are already starting to purchase homes at a discount. Throughout 2021 and 2022 buyers were paying 100% of the asking price or higher, on average.
The average discount has widened to 3%, meaning sellers are having to settle for less than they are asking. One in nine homes have seen their asking price reduced by 5% or more, and 25% of homes have seen a reduction in their asking price since 1 September.
The move towards a buyers' market is predicted to continue, and the discount is expected to widen. However, it's not all bad news for sellers – thanks to the extreme price inflation of the last few months, sellers will still have some room to negotiate.
Will mortgage rates fall in 2023?
Zoopla estimates mortgage rates will fall back to 4%-5% in 2023 alongside a 5% decrease in house prices.
Five-year fixed mortgage rates have already begun to fall. They are below 6% for the first time since 5 October. Given this news "borrowers who paused their home ownership plans, or indeed parked the idea of refinancing, may now be tempted to scrutinise the latest deals on offer," says Rachel Springall, finance expert at Moneyfacts.
"However, it is worth noting that rates could fall further still, but there is no clear answer as to how quickly that may be. Indeed, it's been around two months since both the average two and five-year fixed mortgage rate breached 5% (30 September 2022), but today only a handful of lenders are offering sub-5% fixed deals
"Borrowers may feel they have to be patient for a little while longer before they commit to a new fixed mortgage, or even wait until next year to see how the market recovers from the recent interest rate uncertainty," says Springall.
Nic studied for a BA in journalism at Cardiff University, and has an MA in magazine journalism from City University. She joined MoneyWeek in 2019.