The best business bank accounts – November 2022
A crucial element of running any business is ensuring you select the right bank account. We've rounded up the best business bank accounts to help you make the right decision.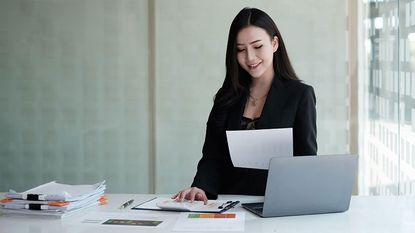 (Image credit: © Alamy)
Money is the lifeblood of any business, which means every organisation needs a reliable bank. We've compiled a list of the best business accounts on the market to help you find the best partner for your firm.
Do I need a business bank account?
First of all, it's worth establishing whether you actually need a dedicated business bank account at all.
If, for example, you are a sole trader or a freelancer, then you can actually continue with a regular bank account. However, if you have set up as a limited company then you will need to open a business bank account.
Subscribe to MoneyWeek
Subscribe to MoneyWeek today and get your first six magazine issues absolutely FREE
Get 6 issues free
Sign up to Money Morning
Don't miss the latest investment and personal finances news, market analysis, plus money-saving tips with our free twice-daily newsletter
Don't miss the latest investment and personal finances news, market analysis, plus money-saving tips with our free twice-daily newsletter
Even if you don't need to set up a business bank account, doing so can help you separate your personal and business finances. It's also easier when it comes to doing your taxes.
The best business bank accounts also offer free tools to help business owners manage their figures. These may be worth picking up even if you don't really need a new account.
The best business bank accounts
No monthly fee
Free UK payments
Free support round the clock through the Starling Bank app
Free cash machine withdrawals and no fees for spending abroad
Fee is charged for cash deposits at Post Office (First £1,000 each calendar year is free of charge, then 0.7% of the sum deposited, minimum £3)
Cheques worth up to £1,000 can be deposited digitally through the app ‒ higher value value cheques can be sent to Starling via Freepost
Integrates with various accounting software packages, such as Quickbooks and Xero.
Starling Bank is one a group of relatively new app-based banks that have won over plenty of new customers in the personal current account market and it has a compelling account for businesses.
The main account is free, though you can customise it with add ons which may make money management easier. For example you can add the 'business toolkit', which allows you to create and send invoices, record VAT and calculate your taxes, and costs £7 a month. This is why it ranks as one of the best business bank accounts.
You can add a euro business account, meaning you can hold, send and receive euros, for £2 a month, as well as a US dollar business account.
In addition Starling Bank offers a separate account specifically for sole traders.
The obvious downside to an app-based bank account is that there is no branch network to turn to should you want support from someone in person (a common factor with the best business bank accounts on this list).
However, you can still deposit money and cheques through the Post Office, while there is round the clock support in place through the Starling app.
No monthly fee for the Lite account
Free UK payments
Free support round the clock through the Monzo app
'Pots' to separate money within the account
Fee-free spending abroad
Another app-based bank is Monzo, which offers two business accounts. Monzo Lite is free and offers all of the features above, though there is also Monzo Business Pro. It costs £5 a month but includes additional benefits such as invoicing, the ability to set a tax pot so that a certain amount is set aside each time you're paid, and integration with various accounting software.
In fact, you get six months of Xero's cloud-based accounting software included.
As with Starling Bank, the Monzo accounts won't be suitable if you're uncomfortable managing your business's money through an app or if you prefer the ability to speak to someone in person should you have an issue.
Basic account is fee-free
Free support round the clock
Can integrate with accounting software
Hold money in dozens of currencies
Ability to get plastic or online cards for employees
The Revolut basic business account is fee free, though the features included are quite limited, which makes it a bit of an outlier on this list of the best business bank accounts.
For example, you can only make five free local payments; after that you'll be charged 20p per payment. There are also fees for international payments, and you can't make bulk payments. Making bank transfers incurs a fee of 1% plus 20p, though Revolut has capped this at £1 per transfer.
You can however hold and exchange 30 currencies, while you can also set up plastic or virtual company cards for staff to use for business expenses. In addition you can integrate your account with a range of business apps, including Xero, Quickbooks and Slack.
There are also fee-paying business bank accounts which may work out better value based on your usage.
For example the Grow account costs £24 a month and includes ten free international payments per month, 100 local payments and the ability to change up to £10,000 into foreign currencies at the interbank rate. There is also the Scale account, which again offers greater numbers of included transfers and costs £100 a month.
Free basic account
Integrates with accountancy software
Premium accounts offers greater number of free transfers, priority support and round the clock legal help
There is a free basic account on offer from Tide, which allows you to schedule payments, create and send invoices, and integrates with the big accountancy software. There are plenty of fees to be aware of though ‒ you'll have to pay 20p for each transfer for example, as well as £1 for withdrawals from cash machines.
By contrast, opting for the Plus account means you get 20 transfers a month included, while you also enjoy priority in-app support alongside phone support and a round the clock legal helpline. Plus costs £9.99 per month plus VAT, though there are more expensive options too such as Pro (£18.99 per month plus VAT) and Cashback (£49.99 plus VAT) which come with greater transfer allowances and, with the latter, the chance to earn cashback when you spend with your Tide card.
As with other app-based accounts, it won't be suitable if you prefer to get support in person.
Virgin Money M Account for Business
No monthly fee
£1,000 planned overdraft
Ability to earn cashback on debit card purchases
Integrates with various accounting software, like Quickbooks and Xero
Includes business insight and forecasting tools
Virgin Money has a range of business accounts available, depending on the revenue of your business. The M Account makes it on to our list of the best business bank accounts.
The M Account for business is designed for those with a revenue of below £1m a year, while for those with a revenue of between £1m and £6.5m there's the Business Current Account, and for those with even higher revenues there's the Business Choice Account.
With the M Account for Business, there are transaction charges to be aware of. For example, paying in a cheque in-branch will cost you 55p (though it's free through the app), while manual debits and credits come with a 90p fee each. You'll also be charged if you pay cash into the account or withdraw it, at a rate of 90p per £100.
No monthly fee
Free accounting software
Free access to network of peers and experts through Entrepreneur Accelerator programme
The NatWest Business Bank Account is designed for businesses which have a turnover above £1m, though you can also open one if you have a lower turnover but have been trading for over a year.
The account includes free accounting software from FreeAgent, or which you might also qualify for a dedicated relationship manager depending on your turnover.
There's no monthly fee, with account holders instead paying for the services that they use. For example, automated payments (both in and out) will see you charged 35p per item, while cash payments in or out come with a fee of 70p per £100. You will also be charged 70p for each cheque you deposit through the mobile app.
NatWest also offers dedicated business accounts for startups and sole traders.
Free for 12 months
App offers breakdown of cashflow and spending
Ability to make large payments and take out overdraft through app
HSBC's Kinetic account is designed for sole traders or single director shareholder businesses, and comes with no maintenance fees for the first 12 months. After this you'll be charged £6.50 a month.
There's no fee for digital payments in or out of the account, though there's a 0.6% fee for cash withdrawals and you'll also be charged for paying cash in through a branch.
The account provides you with a monthly breakdown of your cash flow and categorised spending, while you can make payments of up to £25,000 through the app.
You can also apply for an overdraft of up to £30,000 through the HSBC app, with funds available on the same day as approval. Account holders benefit from a range of deals from the bank's partners, including discounted business broadband with TalkTalk and office space from WeWork at a reduced price.
Free account for the first 12 months
Dedicated business support for account holders
Unlimited free online payments
Lloyds Bank has separate accounts on offer for startups and small businesses, large businesses and professional practices.
The small business account is designed for those with an annual turnover of less than £3m, and new businesses get 12 months of free day-to-day business banking. Account holders can make use of dedicated support from the bank's business management team.
After that first 12 months you'll have to pay a £7 monthly fee, while there are no fees for electronic payments in or out.
You will have to pay 85p for each cheque payment in or out, while you will also be charged for paying in cash.
With all of the high street bank accounts, the big selling point is not only the ability to make use of technology to keep on top of your money but also the option to turn to a bank branch should you want help in person rather than online.
How to choose the best business bank account?
Ultimately the best business bank account is one which helps you manage your firm's finances, helping you keep on top of exactly how much is coming in and going out each month.
That's why, even if you're a sole trader, it's smart to have a separate account, so there's no confusion between your personal and business finances.
Many businesses make use of specialist accounting software, to ensure that they are paying the right level of tax, and more importantly, can justify it. Some business accounts integrate with that software, making that accounting much more straightforward. In fact, the best business bank accounts actually come with free accounting software, or at least a free trial of software, which can be an added selling point.
One factor to consider will be the fees. When it comes to personal bank accounts, most of us are quite happy to opt for a fee-free account ‒ there is no monthly or annual fee to have to pay in order to keep our money within that account.
That isn't always the case with business bank accounts however, with many charging a monthly fee. There may be added charges to take into account for actions like paying in money, so finding an account that won't eat too much into your profits is a good idea.
However, in our view the best business accounts do not charge a fee. There is a trade-off with this though – there may be a limit on the functions you can carry out with the account, such as how much can be spent using the account.
As a result it's crucial that you familiarise yourself with the terms and conditions of any account before opening it, so that you understand precisely what is and is not included.
John Fitzsimons has been writing about finance since 2007, and is a former editor of Mortgage Solutions and loveMONEY. Since going freelance in 2016 he has written for publications including The Sunday Times, The Mirror, The Sun, The Daily Mail and Forbes, and is committed to helping readers make more informed decisions about their money.