Five London-listed stocks to play the coming oil shortage
After peaking in June, the oil price has fallen back and oil companies have fallen out of favour with investors. But with supply predicted to outstrip demand, there are plenty of opportunities to profit. Here, Rupert Hargreaves picks five of the best London-listed oil stocks to buy now.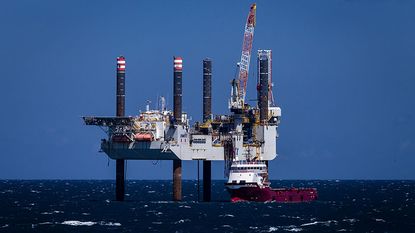 (Image credit: © Howard Litherland / Alamy)
After peaking at a multi-year high at the beginning of June, oil prices have tanked over the past couple of weeks.
The price of Brent crude oil has dropped more than 15% over the past month while WTI crude has slipped nearly 17%.
As oil prices have fallen, oil companies have fallen out of favour with investors. The MSCI Europe Energy 35/20 Capped Index, which is designed to provide investors with a benchmark of large and mid-sized European energy companies, has fallen by nearly 11% over the past month, although it remains up 21.9% year to date.
Subscribe to MoneyWeek
Subscribe to MoneyWeek today and get your first six magazine issues absolutely FREE
Get 6 issues free
Sign up to Money Morning
Don't miss the latest investment and personal finances news, market analysis, plus money-saving tips with our free twice-daily newsletter
Don't miss the latest investment and personal finances news, market analysis, plus money-saving tips with our free twice-daily newsletter
However, the performance of oil futures and oil stocks is becoming increasingly disconnected with the situation on the ground.
The supply and demand fundamentals of the oil market
Now that Russia has been ostracised from global oil markets, especially in the West, other producers are struggling to fill the gap.
Short-term disruptions such as lockdowns in China, the rising cost of living and the potential for an upcoming recession might push demand lower in the near term. But over the longer term, the prospects for the oil market still seem attractive.
According to projections from the Opec cartel of oil-producing nations, average oil demand is projected to rise by 2.7 million barrels per day next year to 103 million overall. Supply from non-Opec countries is expected to grow by 1.7 million barrels a day leaving the group to pick up the remainder. That could mean the region will have to raise output to as much as 33 million barrels per day.
Of course, these are only projections and I would caution against reading too much into the data. Opec has no idea how the economy will react to current pressures and there's already some indication that high prices are having an impact on demand.
Still, the most important figures are production figures. The International Energy Agency (IEA) estimates that Opec can only produce 34 million barrels per day in the best case scenario, which includes output from Iran.
It's not clear if this group of oil producers will even be able to meet this target as many nations are already under-producing compared to their existing output targets.
Then there's the Russia wildcard. Russia produces around 10 million barrels per day. If its production drops by 10% or 20% it's unclear if the world would be able to move quickly enough to replace that production.
Take all of these factors into account and while there is a risk that oil demand could drop and put further downward pressure on prices, I think it's more likely prices will remain buoyant. As such, I reckon there's an opportunity to buy shares in oil producers after recent declines.
Picking London's best oil companies
I looked at London-listed oil and gas companies with a market capitalisation of more than £50m, and which have generated a positive free cash flow over the past 12 months. There are 17 of them.
The big oil companies, namely Shell (LSE: SHEL) and BP (LSE: BP) sit at the top of this list. These industry behemoths are by far my favourite ways to invest in the industry. Their diversification gives them a level of protection against oil price uncertainty and their size means they can achieve substantial economies of scale when dealing with suppliers.
Still, smaller producers offer more leverage to higher oil prices (although they do come with more risk). That's why, if I was looking for a leveraged play on the price of oil, I would also own a basket of smaller production companies.
Excluding Shell and BP leaves 15 names. Of these I'm going to throw out Hurricane Energy (LSE: HUR) and EnQuest (LSE: ENQ) due to their weak balance sheets. Enwell Energy (LSE: ENW) is also out as most of its operations are based in Ukraine. Phoenix Global Resources (LSE: PGR) is out because it's heavily loss-making (although it did generate a positive free cash flow last year).
Of the remaining names, Genel Energy (LSE: GENL) and Gulf Keystone (LSE: GKP) both focus on the Kurdistan region of Iraq. Meanwhile, Seplat Energy (LSE: SEPL) and Savannah Energy (LSE: SAVE) both have interests located in Nigeria and West Africa. Nigeria and Kurdistan both have a history of economic volatility and political uncertainty. As such, I'm not entirely comfortable investing alongside these companies.
That leaves seven names:
Avoiding the companies that are struggling to create value
Diversified Energy has the highest dividend yield in the FTSE 250, at a staggering 13.4%, but there have been some questions about the company's accounting practices and the cost of maintaining its production. As such, while I like the dividend, these operational corners put me off the business.
I'm avoiding Tullow for a similar reason. In recent years the company's production has slumped due to operational errors. I'm not sure the business will be able to turn it around.
Parkmead's market value sits at just £56m so it's a tiddler in the market. Nevertheless, the firm's portfolio of low-cost onshore gas assets in the Netherlands could help it generate revenues of £11.6m this year, according to Refinitiv analyst estimates, up from £3.6m. Net profit will hit £3.3m from a loss last year.
I3 Energy has assets in the UK and Canada, but it is spending heavily to maintain and grow production. While profits are expected to jump this year, high levels of spending could eat into shareholder returns in the long run. The company has already increased the number of shares in issue by 11 times in the past two years.
Jadestone has a much better record of shareholder value creation. After growing production by 10% last year, management is planning to boost output further by 36% this year from its US and Asian assets.
The group reported $180m of cash at the beginning of June, which is enough to fund its growth plans and return $100m to investors. Refinitiv analyst estimates have the company earning $114m this year putting the stock on a forward price/earnings ratio (p/e) of 4.5. The yield stands at 2.1%.
North Sea producers lead the pack with high profits
The last two companies, Serica and Harbour are both North Sea oil producers. While the government's windfall tax will hit earnings, the fact that both are established businesses in a stable jurisdiction, with low production costs and strong balance sheets are all reasons to buy in my opinion.
It looks as if Serica is going to merge with Kistos (LSE: KIST). Both have made offers for each other in recent days, and I wouldn't be surprised if one company wins out. Kistos only listed on the stockmarket last year and is half the size of its peer. Combined, the two would have production of 40,000 barrels per day and would be a force to be reckoned with in the North Sea.
Serica earned £28m in 2020 and that shot up to £415m last year. Analysts think the firm will earn £808m in 2022. Kistos (which will have to borrow heavily to buy its larger peer) has a portfolio of low-cost assets, and it is projected to see its earnings rocket from £64m last year to £441m this year. If I had to pick two producers for a portfolio, I'd buy both ahead of a deal.
Harbour Energy is the North Sea's largest independent producer with production averaging 200,000 barrels per day. High oil prices are enabling management to put the business on a stable footing for the foreseeable future. It expects to be debt free by the end of 2023 even though it is ramping up capital spending. Harbour's Tolmount gas field will increase the UK's gas production by 5% when it comes onstream next year.
Along with Serica, Kistos, Jadestone and Parkmead, I'd buy Harbour Energy as part of a basket of London-listed explorers to capitalise on the tight oil market that's expected to prevail for the foreseeable future.
Rupert is the Deputy Digital Editor of MoneyWeek. He has been an active investor since leaving school and has always been fascinated by the world of business and investing.
His style has been heavily influenced by US investors Warren Buffett and Philip Carret. He is always looking for high-quality growth opportunities trading at a reasonable price, preferring cash generative businesses with strong balance sheets over blue-sky growth stocks.
Rupert was a freelance financial journalist for 10 years before moving to MoneyWeek, writing for several UK and international publications aimed at a range of readers, from the first timer to experienced high net wealth individuals and fund managers. During this time he had developed a deep understanding of the financial markets and the factors that influence them.
He has written for the Motley Fool, Gurufocus and ValueWalk among others. Rupert has also founded and managed several businesses, including New York-based hedge fund newsletter, Hidden Value Stocks, written over 20 ebooks and appeared as an expert commentator on the BBC World Service.
He has achieved the CFA UK Certificate in Investment Management, Chartered Institute for Securities & Investment Investment Advice Diploma and Chartered Institute for Securities & Investment Private Client Investment Advice & Management (PCIAM) qualification.