6 stocks to buy to invest in Latin America
The region is the world's one-stop shop, boasting the raw materials required for the energy transition and key foodstuffs to cater for growing populations, says James McKeigue. Here's how to profit.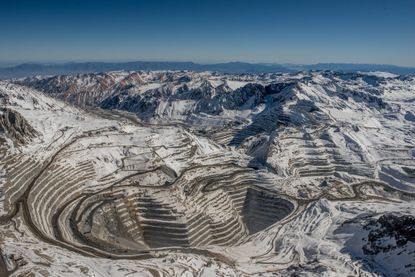 (Image credit: Getty Images)
Since achieving independence around 200 years ago, Latin America has been a backwater in the world economy. But that will change as it becomes a key global supplier of everything from food to fuel.
Leading the shift to renewables
The energy transition is becoming the most important economic trend in this century. And Latin America, home to huge reserves of the critical metals needed for the transition, will be the main beneficiary.
Electric vehicles (EVs) use far more copper than cars with internal combustion engines. Latin America dominates copper production. Peru and Chile are the world's largest producers of the red metal. Their 40% share of global output is similar to oil-cartel Opec's control of the oil industry.
Subscribe to MoneyWeek
Subscribe to MoneyWeek today and get your first six magazine issues absolutely FREE
Get 6 issues free
Sign up to Money Morning
Don't miss the latest investment and personal finances news, market analysis, plus money-saving tips with our free twice-daily newsletter
Don't miss the latest investment and personal finances news, market analysis, plus money-saving tips with our free twice-daily newsletter
The region's share of the world copper market is likely to increase in the coming decades; geologists believe that Ecuador and Argentina could eventually mine as much of the red metal as their neighbours.
The IEA estimates that global lithium production needs to triple between now and 2030 to meet the extra demand for the metal, which is a vital component in EV batteries. If that happens, then much will have to come from Latin America, which holds the majority of the world's reserves.
Latin America also has the world's "greenest" electricity grid. More than 60% of the region's electricity is powered by renewable energy – more than anywhere else on the planet – and in some countries, such as Costa Rica, that figure is almost 100%.
The abundance of renewable energy will also turn Latin America into a green-hydrogen super power. Hydrogen isn't a natural commodity, but the product of an industrial process that involves using electricity to separate the hydrogen from oxygen in water molecules.
The final Latin American energy resource I want to highlight is oil and gas. Hydrocarbons aren't going anywhere. The adoption of EVs will help curb demand from carmakers, but oil's use in plastic, petrochemicals, aviation fuel, asphalt, paint and industrial applications means that demand will continue to rise. Indeed, the IEA estimates that demand for oil will be slightly higher in 2050 than it is today.
But regulators and investors favour cleaner oil and gas projects – those that emit less CO2 per barrel of oil produced – over dirtier ones. That augurs well for Latin America, which has 20% of the world's oil and gas reserves. According to consultants McKinsey, the oil and gas produced in Argentina and Brazil emit less CO2 per barrel of oil equivalent than the world average.
Food and nature
The energy transition isn't the only trend working in Latin America's favour. The world's growing population – the United Nations estimates that it will peak at 10.4 billion in 2086, up from 7.9 billion today – will drive demand for food in the coming decades.
Governments seeking to secure food supplies are already looking to Latin America. For example, an Abu Dhabi investment vehicle controlled by the brother of the United Arab Emirates' ruler recently spent $2.7bn to acquire Colombian food conglomerate Nutresa.
Latin America contains almost 25% of the planet's forests, a quarter of its cultivable land and one-third of its fresh water. It is certainly not immune to climate change and the types of crops that are grown in different places will alter over time as temperatures rise. But the abundance of water in the region, plus the vast swathes of unused arable land, mean that it will be our best option for meeting the growing demand for food.
The crucial point isn't just that Latin America has lots of resources; China and the US do too. The key is that Latin America is almost the size of China and the US combined with a third of the population. The region has less than 10% of the planet's people, but a much larger share of its reserves of energy, metals and food, which makes it a natural exporter. And those exports will increase exponentially over the next few decades as superpowers compete to secure supply chains.
As the founder of the UK's only Latin America-focused investment magazine, I know how hard it is to convince investors that Latin America is safer and more sophisticated than they realise. But one clear indicator is the massive technology boom taking place. Private investment in Latin American technology increased from $6bn in 2015 to a record $29bn in 2021, which was almost as much as India received. Internet penetration in Colombia, Brazil, Mexico, Chile and Argentina is higher than in China or India. The tech boom doesn't just show that Latin America is more advanced than outsiders realise; it will also help increase economic productivity in the region.
What to buy now
In 2022, as the global economy recovered from the pandemic, copper reached a record price of almost $5 per pound. It's now back at $3.77, having dragged the share prices of miners back down with it.
That correction is driven by fears over the Chinese economy – in particular its construction sector. Yet given the looming shortfall in the global copper supply, it seems a fair bet that the price of the red metal will recover.
One of the safest bets in the sector is Antofagasta (LSE: ANTO), a London-listed copper giant operating in Chile, the top-ranked mining jurisdiction in Latin America. Half of its output comes from the Los Pelambres mine, where production costs are in the bottom quartile of copper mines globally. It offers a dividend yield of 3.3%, which you can reinvest while you wait for the copper price to take off.
If you are willing to accept more risk, then you can take a punt on a project from one of Latin America's frontier copper markets – Ecuador. SolGold (LSE: SOLG) is a London-listed explorer that has found one of the world's largest copper and gold deposits. When its flagship Cascabel project is built it will be the world's top underground silver mine, third-largest underground gold mine and sixth-largest underground copper mine. A quick disclaimer: I've invested a small amount in this company.
Building a mega-mine in a country that only opened its first large-scale mining operation in 2019 isn't easy. But the deposit is too valuable to Ecuador and the world to be ignored. The most likely outcome is that when SolGold advances the project a bit more, a major miner will buy the firm at a premium to the current price. BHP and Newcrest, which already hold significant stakes, are the most likely candidates.
Latin America's role as the world's sustainable breadbasket will become increasingly important – and lucrative – in the coming years. A safe way to play it is through Adecoagro (NYSE: AGRO), a South American farming giant listed in the US. It produces rice, wheat, corn and dairy products across Argentina, Uruguay and Brazil. It's also a big biofuel producer, which links it to the renewable energy trend. Another firm at the intersection of food production and climate change is Bioceres (Nasdaq: BIOX), an Argentine developer of genetically modified (GM) seeds. The firm has developed new strains of wheat and soy that performed well in Argentina's recent drought. It also has a crop-solutions business of biological herbicides that involves using GM technology to replace chemicals with active natural ingredients.
But the Latin American story is about more than just commodities. The "Latin American eBay", Mercado Libre (Nasdaq: MELI), has risen more than tenfold since I first tipped it in MoneyWeek in 2013. It's hard to keep tipping something when it's already rocketed, but it will continue to profit from the region's increasing digitalisation and wealth. Nubank, owned by Nu Holdings (NYSE: NU), is a Brazilian digital bank and Latin America's largest fintech. After the hype when it listed in 2021, it's now trading at more reasonable levels.
James graduated from Keele University with a BA (Hons) in English literature and history, and has a NCTJ certificate in journalism.
After working as a freelance journalist in various Latin American countries, and a spell at ITV, James wrote for Television Business International and covered the European equity markets for the Forbes.com London bureau.
James has travelled extensively in emerging markets, reporting for international energy magazines such as Oil and Gas Investor, and institutional publications such as the Commonwealth Business Environment Report.
He is currently the managing editor of LatAm INVESTOR, the UK's only Latin American finance magazine.