Why China will remain an economic powerhouse
Some analysts think China is on a path to economic disaster. They are kidding themselves, says Matthew Lynn. He explains why China is not in any type of serious economic trouble.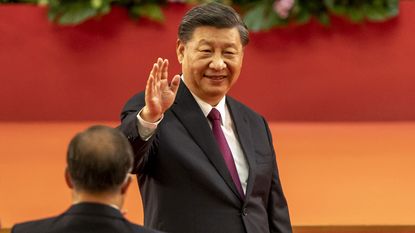 (Image credit: © Getty )
Tensions between China and the West are rising all the time. Over the last week, the country has been launching a series of alarmingly aggressive military exercises around Taiwan.
Even if that does not lead to an invasion, or a blockade, it is a scary escalation of the simmering conflict in the Pacific. In the background, China has been actively supporting Russia's brutal invasion of Ukraine, while Xi Jinping's regime has been becoming increasingly autocratic. Led by the US, the Western powers' relationship with China is more fraught than at any time in the last half century. A cold war has opened up, and one day that may turn hot.
An emerging powerhouse
There are plenty of predictions that China's powerhouse economy, already on track to overtake the US as the world's largest, is about to crash. And, true, there are challenges. While most of the rest of the world has adjusted to Covid-19 and moved on, China is still locking down whole cites, along with their factories and offices. Its debt-fuelled banking and property industries look poised to collapse, with reports of local riots as banks close their doors.
Subscribe to MoneyWeek
Subscribe to MoneyWeek today and get your first six magazine issues absolutely FREE
Get 6 issues free
Sign up to Money Morning
Don't miss the latest investment and personal finances news, market analysis, plus money-saving tips with our free twice-daily newsletter
Don't miss the latest investment and personal finances news, market analysis, plus money-saving tips with our free twice-daily newsletter
The state is taking a larger role in many of its bigger companies and that is seldom good for competitiveness, and the increasing levels of military adventurism, along with domestic repression, will all prove expensive.
Perhaps most importantly, the legacy of the one-child policy is that the country faces a demographic crunch. Its population is ageing rapidly and will soon be falling in absolute terms, and that will hit the economy very hard. Add it all up, and you can make a case for a China crash.
The trouble is, there is a lot of wishful thinking and confirmation bias in that analysis. Lots of people in the West want China to fail and are simply looking around for whatever evidence they can find to back that up.
In fact, China's economy is still an emerging powerhouse. Only this week we learned that its trade surplus reached another record high. It hit $101bn for July, the first time it has broken through the $100bn level, and up by 18% on a year earlier. There is not much sign of a slowdown there. In the first half of this year, the Shanghai stockmarket took the global lead in new initial public offerings (IPOs), with 680 firms coming to the market; new Chinese firms are still listing and raising capital in record numbers while IPOs are virtually dead in the US and Europe. Growth may come in a little below target, but China is still predicted to expand by 4% this year, while inflation is running at just 2.2%. Britain, the US, Germany or France would kill for numbers as good as that.
A helping hand from the US
Meanwhile, US president Joe Biden is lifting Trump's tariffs on Chinese imports into the US, mainly as a way of trying to bring inflation down.
Right or wrong, there is no question that will help Chinese companies sell more into their biggest foreign market. China's alliance with Russia effectively insulates it from shortages of energy and commodities that are driving inflation in so much of the rest of the world.
It will also benefit from cheaper Russian raw materials, for which it is now the only buyer. And China is also switching increasingly to internal demand as a driver of growth. Exports are hitting record levels, but with every year that passes China is becoming less and less an offshore manufacturing centre for the rest of the world and increasingly a highly developed domestic economy that exports stuff too.
China may or may not be a deadly threat to the West. It may become more autocratic over the next few years, or it may pivot back towards gradual democratisation and liberalisation. We will see over the next few years. But whether or not there is a new cold war between China and the West, we should not start kidding ourselves that the country is in any kind of serious economic trouble. There is no substantial evidence for that and most analysts pushing that view are deluding themselves. China is still racing towards becoming the world's dominant economy, and its largest as well – and there is no point in pretending otherwise.
See also:
Matthew Lynn is a columnist for Bloomberg, and writes weekly commentary syndicated in papers such as the Daily Telegraph, Die Welt, the Sydney Morning Herald, the South China Morning Post and the Miami Herald. He is also an associate editor of Spectator Business, and a regular contributor to The Spectator. Before that, he worked for the business section of the Sunday Times for ten years.
He has written books on finance and financial topics, including Bust: Greece, The Euro and The Sovereign Debt Crisis and The Long Depression: The Slump of 2008 to 2031. Matthew is also the author of the Death Force series of military thrillers and the founder of Lume Books, an independent publisher.