Why China's Covid lockdowns will be the next big shock for global growth
China's attempts to eradicate Covid with repeated lockdowns will affect supply chains and depress the global economy.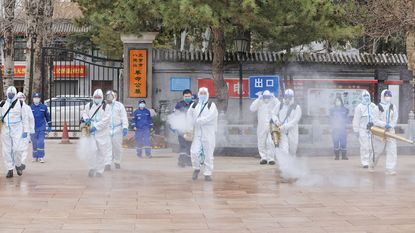 (Image credit: © Chen Shuo/VCG via Getty Images)
"It's still too soon to forget about the pandemic," says John Authers on Bloomberg. With "lockdowns spreading from city to city", it's time to get ready for "a Chinese shock to global growth".
Much of Shanghai, the world's busiest port, has been in lockdown since late March. Now officials in Beijing have banned restaurant dining and required proof of a negative test to access public spaces as they scramble to avoid a similar outcome. Many of the city's 22 million residents have already undergone three rounds of mandatory testing.
Fears that the capital could be locked down gave Chinese shares their worst day in more than two years on April 25. The benchmark CSI 300 index has fallen 18% since the start of the year, while April was the worst month for the yuan since 1994, according to Reuters. However, hints that more stimulus could be incoming prompted shares to rally more than 6% over the last three trading sessions of the month.
Subscribe to MoneyWeek
Subscribe to MoneyWeek today and get your first six magazine issues absolutely FREE
Get 6 issues free
Sign up to Money Morning
Don't miss the latest investment and personal finances news, market analysis, plus money-saving tips with our free twice-daily newsletter
Don't miss the latest investment and personal finances news, market analysis, plus money-saving tips with our free twice-daily newsletter
Stimulating a shuttered economy
There is a "good chance" that Beijing will avoid a Shanghai-style lockdown, says Neil Shearing of Capital Economics. Shenzhen and Tianjin have done a better job at stamping out virus clusters recently, but that doesn't mean the outlook is bright. China's robust recovery in 2020 was driven by a construction boom and strong global demand for its goods exports. But demand for goods is fading as consumption habits in advanced economies return to pre-pandemic norms. Meanwhile the "25-year property boom has run out of steam as urbanisation has slowed to a crawl".
Investors' spirits were lifted by reports that China's government plans to speed up major construction projects and issue coupons to promote consumer spending. The relief looks "premature", says Reshma Kapadia in Barron's. While the government may temporarily ease its crackdown on the property sector – a key economic driver – flat buyers are likely to remain "skittish".
Beijing still appears reluctant to engage in the large-scale fiscal splurge needed to offset the effects of lockdowns in key cities. In any case, there is a limit to how much you can stimulate an economy that is repeatedly shut down, says Bill Bishop in the Sinocism newsletter. "It is hard to be positive about the economy or the markets in the face of increasing lockdowns of indeterminate length and intensity."
Another inflationary shock
China's attempt to eradicate Covid will also affect global supply chains, says Aurora Almendral on Quartz. While ports are still open – unlike in previous lockdowns – "quarantine measures inland are resulting in some factory closures". As a consequence, goods aren't arriving at export terminals. That has seen export volumes from Shanghai shrink by nearly a third, Vincent Stamer of the Kiel Institute for the World Economy tells Deutsche Welle.
It takes about five to six weeks for a container ship to travel from Shanghai to Hamburg, and then another fortnight for the goods to reach their final destinations. Thus knock-on shortages – and another spurt of inflation – will be felt in Europe in around two months.
SEE ALSO:
How China's "zero-Covid" policy could affect the global economy
Singaporean stocks: a cheap play on life after Covid