Why is the petrol price rising, and will it drop again?
Petrol prices are rising again but the broader picture is not entirely certain. Here's what you need to know about petrol prices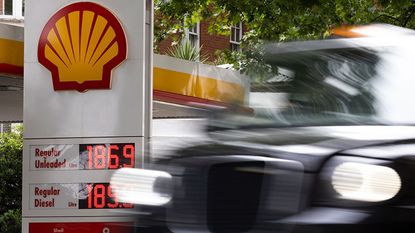 (Image credit: © Dan Kitwood/Getty Images)
Drivers are being hit with higher costs at the pumps as new data shows petrol prices have risen to their highest level since January.
The rate of inflation may be slowing but drivers are not seeing the benefit, with figures from the AA showing petrol prices have risen to an average of 150p a litre.
The average price for unleaded on the forecourts is currently 150.1p a litre while the cost of diesel has jumped to 152.41p, the motoring group said.
Subscribe to MoneyWeek
Subscribe to MoneyWeek today and get your first six magazine issues absolutely FREE
Get 6 issues free
Sign up to Money Morning
Don't miss the latest investment and personal finances news, market analysis, plus money-saving tips with our free twice-daily newsletter
Don't miss the latest investment and personal finances news, market analysis, plus money-saving tips with our free twice-daily newsletter
That puts the price of filling up an average family car at around £80, which is down from £105 in July but still adds extra pressures amid the broader cost of living crisis.
A number of factors contribute to the overall cost of fuel at the pump, and while some tailwinds have aided prices in falling, other variables in the wider economy paint a more uncertain picture.
In the 12 months to July, prices rose by a rate of 6.8%, the lowest level in 17 months, giving hope that bills and the costs of goods and services will become more affordable. The largest downward contribution came from motor fuels, where prices fell by 24.9% annually. But while motorists may be spending less to fill-up their tanks than last year, there are still factors that are keeping petrol costs high and creating volatile pricing.
Why are petrol prices rising now?
Petrol prices are closely related to the wholesale cost of oil. Typically, every $2 increase in the oil price results in a 1p rise in petrol prices.
The price of oil went up by $10 a barrel in July, rising to $85.56 by the close of the month – a price not seen since mid-April.
This has caused the wholesale price of both petrol and diesel to increase, said the RAC.
The current cost of Brent Crude oil is around $83 per barrel.
The price has been pushed up due to a range of factors.
World oil demand is at record highs and was at 103m barrels a day in June, according to the International Energy Agency.
This has been attributed to a post-pandemic boost in summer air travel and increased oil use in power generation.
Demand is also being pushed up by deliberate cuts in supply. Russia has been cutting its output amid the Ukraine war, while production from Opec+ countries hit a two-year low in July as members look to bolster the oil price.
Most of this comes from a voluntary reduction in output by Saudi Arabia.
Meanwhile, the UK government has taken action against supermarkets increasing their profit margins on fuel. The Competition and Markets Authority (CMA) hit out against supermarkets saying they were not passing on savings in wholesale costs to drivers, leading some to cut forecourt prices.
RAC fuel spokesman Simon Williams says: "Since the Competition and Markets Authority's made its announcement about supermarkets increasing their margins compared to three years ago and said they will be formally interviewing bosses, it appears the rate at which the price of diesel has fallen has sped up.
"Significant cuts to the price of supermarket diesel were long overdue as its wholesale price has been below petrols since the end of March. As a result average retailer margin on diesel had reached 22p a litre – more than three times the long-term average of 7p," he adds.
Global issues could drive prices higher again
Despite some positive movements, the global picture is still one of fragility, primarily due to the ongoing conflict in Ukraine.
Russia is a significant player in world energy markets. It used to provide more than 40% of Europe's gas and the EU imported 29% of its oil from Russia. Now, sanctions against Russia have left many importers looking for alternative sources.
Another worry is Iran. Encouraging signs that Iran was closer to sealing an updated 2015 nuclear deal with the US helped lower the oil price over the winter, but a deal is not expected for some time yet.
Even if a fresh nuclear deal did materialise, it would still take at least 12 months for Iran to boost its oil production from 2.7 million to 3.7 million barrels a day, says Goldman Sachs.
A strong dollar and a weak pound are other factors maintaining elevated fuel prices.
So if petrol prices rise again, what can you do about it?
Tips to keep your petrol costs down
There are a number of simple things you can do to keep your petrol costs down.
Find the cheapest fuel. It may seem obvious, but even taking more time to research which areas offer the cheapest fuel can stave money off your fuel bill. Most people tend to flock to the closest petrol stations, or simply the ones they know of, but doing a bit more research can be a fruitful exercise. Use the tool on our sister site GoCompare to compare petrol prices around your postcode.
Slow down. Sticking to – or below – the speed limit isn't just useful in avoiding fines, it can also lower your fuel consumption.
Service your car regularly. Regularly servicing your car reduces the chances of receiving surprise or shock bills in the future. Cars that have been recently serviced usually use less fuel than cars that have not been serviced for longer periods of time.
Check your tyre pressure. Tyre pressure plays an important role in your fuel consumption too. Both over-inflated and under-inflated tyres are bad for your fuel consumption, so it is important for you to check your tyre pressure.
Marc Shoffman is an award-winning freelance journalist specialising in business, personal finance and property. His work has appeared in print and online publications ranging from FT Business to The Times, Mail on Sunday and The i newspaper. He also co-presents the In For A Penny financial planning podcast.