EU tightens the noose on Russia
Brussels has proposed a ban on all Russian oil imports. Could that work? Emily Hohler reports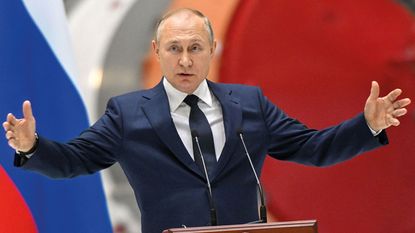 (Image credit: © Dmitry Azarov/Kommersant/Sipa USA)
Brussels has proposed a phased-in ban on all Russian oil imports as EU member states seek to reach agreement on a sixth package of sanctions following the invasion of Ukraine. European Commission president Ursula von der Leyen said the ban would be implemented in an "orderly fashion", halting crude within six months and refined products by the end of the year. She also proposed that Sberbank, Russia's biggest bank, along with the Credit Bank of Moscow and the Russian Agricultural Bank, be disconnected from the international banking payment system Swift and that three Russian state-owned broadcasters should be banned for amplifying Putin's "lies and propaganda".
A significant U-turn
The oil embargo follows a significant U-turn by Germany and Robert Habeck, the German economy minister, has warned that EU consumers should brace for a "big economic hit", says Guy Chazan in the Financial Times. Habeck said that while Germany had made "great progress" in finding alternatives to Russian oil and coal, other countries needed more time.
They do, says Stanley Reed in The New York Times. For the EU, "cutting itself off from Russian oil will be a herculean task that may risk sowing division". In total, roughly 25% of Europe's crude comes from Russia, but there are wide variations in degrees of reliance. Finland, Bulgaria, Hungary and Slovakia depend on Russia for more than 75% of their oil.
Subscribe to MoneyWeek
Subscribe to MoneyWeek today and get your first six magazine issues absolutely FREE
Get 6 issues free
Sign up to Money Morning
Don't miss the latest investment and personal finances news, market analysis, plus money-saving tips with our free twice-daily newsletter
Don't miss the latest investment and personal finances news, market analysis, plus money-saving tips with our free twice-daily newsletter
As a general rule, landlocked countries closer to Russia are "more entangled in its energy web" while more distant countries such as Spain, Portugal and France import less. The measures require the backing of all 27 EU member states, and although Hungary and Slovakia, which are particularly reliant on Russian oil, will have until the end of 2023 to comply with the ban, in a sign of continued resistance, Hungarian government spokesman Zoltan Kovacs said Budapest had seen "no plan or guarantees" on ways to manage the transition, say Eleni Varvitsioti and Sam Fleming in the Financial Times.
Unintended consequences
The other issue is whether the ban will work. Although it will "tighten the noose" on Russia's economy, oil prices are already at their highest since 2014 as a result of the invasion and the ban could push prices even higher, "inadvertently generating yet more income" for Vladimir Putin. Brent crude oil climbed 2.5% on Wednesday to a high of $107.58 a barrel on the back of the announcement. It's a very real concern, agrees Stanley Reed. Rystad Energy forecasts that the Russian government's total income from oil is likely to be up 45% this year to $180bn. Russia is "finding homes" for its oil in India and, to a lesser extent, Turkey, by offering steep discounts. China's independent refiners have also been buying oil "discreetly" to avoid scrutiny and US sanctions, adds Gordon Smith in the Financial Times.
The embargo will work, Matt Smith, an oil analyst at Kpler, tells Business Insider's Phil Rosen. Russia's economy was already set to contract by more than 10% this year, and an EU embargo is likely to send the economy "spiralling into a depression". European oil export revenues accounted for 11% of Russia's GDP in 2021 compared with roughly 2.5% for gas, according to the Rhodium Group. Without European buyers, Russia will need to find a home for about 2.5 million barrels a day. Even if China and India buy more, it is "highly, highly unlikely" they could make up the difference, says Smith, due to logistics and simple lack of demand. And in the end, "every single dollar a country is paying for Russian oil is funding the war".
SEE ALSO:
Russia ups the ante on Europe's gas supplies
Why Europe could be heading for a "nuclear renaissance" with energy prices at record highs
How to beat rising energy prices
Emily has extensive experience in the world of journalism. She has worked on MoneyWeek for more than 20 years as a former assistant editor and writer. Emily has previously worked on titles including The Times as a Deputy Features Editor, Commissioning Editor at The Independent Sunday Review, The Daily Telegraph, and she spent three years at women's lifestyle magazine Marie Claire as a features writer for three years, early on in her career.
On MoneyWeek, Emily's coverage includes Brexit and global markets such as Russia and China. Aside from her writing, Emily is a Nutritional Therapist and she runs her own business called Root Branch Nutrition in Oxfordshire, where she offers consultations and workshops on nutrition and health.