With energy bills rising prepare for a cold, expensive winter
Soaring energy bills will be a shock once temperatures fall. Prepare now, says Philip Pilkington.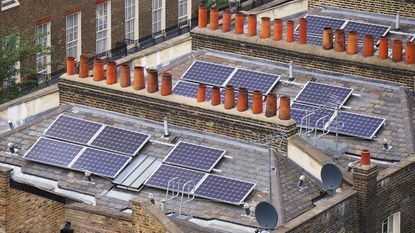 (Image credit: © Getty )
There have been plenty of headlines recently about suring energy bills and the looming energy crisis in Europe.
Certainly, this crisis is coming. After weeks of running at 20% the Nord Stream 1 pipeline that delivers Russian gas to Europe will soon be shut down, at least temporarily. Russia has offered to pump more gas through the new Nord Stream 2 pipeline, but European leaders view accepting these terms as a humiliation after they attempted to impose sanctions following the Russian invasion of Ukraine in February.
Unless something changes soon, Europe will not have enough gas this winter.
Subscribe to MoneyWeek
Subscribe to MoneyWeek today and get your first six magazine issues absolutely FREE
Get 6 issues free
Sign up to Money Morning
Don't miss the latest investment and personal finances news, market analysis, plus money-saving tips with our free twice-daily newsletter
Don't miss the latest investment and personal finances news, market analysis, plus money-saving tips with our free twice-daily newsletter
The growing threat of energy rationing
The threat of energy shortages in Europe is ominous. The Germans are already discussing rationing. If such rationing does take place expect production in Europe to slow and inflation to get further out of control.
Hopefully the Europeans can sort this out before it is too late. But if they cannot, it is worth thinking about how shortages and high energy costs will affect us in the United Kingdom and what we can do to protect ourselves against the coming crisis.
Back in June, British Gas owner Centrica signed a deal with the Norwegian company Equinor. And the United Kingdom has never really relied on Russian gas. Nevertheless, the situation in Europe has become so bad that Britain may experience gas shortages in the coming months.
And even if we do not suffer actual shortages, prices have spiralled out of control. Auxilione, an energy consultant, has published projections of the energy-price cap in the United Kingdom, and they make for bleak reading. Last winter the price cap was set just above £1,000.
Over the summer this rose to close to £2,000. However, many of us have yet to notice this on our energy bills because no one has had the heating on during this sweltering summer. Cornwall Insight is projecting that the price cap will rise to more than £3,500 this winter and will then eclipse £7,200 in 2023.
Will people take to the streets over high energy bills?
This means that the energy bill for the average household will rise from around £80 a month in 2021 to about £290 a month this winter and then to approximately £600 a month in 2023. That is a very scary prospect for many of us. The average British household cannot afford a tripling of their winter energy bill.
For this reason many analysts and politicians think that there may be political instability. The German foreign minister, Annalena Baerbock, even alluded to "popular uprisings" in Europe last month. Shocking stuff. So what can we do this winter to try to insulate ourselves from these price hikes? Well, first and foremost, actual insulation is not a bad idea.
For most of us, refitting our entire house in the coming weeks is not possible.
But it could make sense to buy heavier curtains and a few draught stoppers to put at the bottom of the doors inside your home. Moving large pieces of furniture away from radiators to stop them absorbing heat allows hot air to circulate more efficiently in the room potentially lowering energy bills.
Gas will be very expensive this summer, but that does not mean that other energy sources will be. If you have a fireplace or a stove, this could give you an edge. You can currently buy a pallet of smokeless coal for under £500, which should be enough to last the winter.
A pallet of fire log briquettes goes for £400. If you do not live in a smoke-controlled area, you could take the Irish option and buy a half-tonne of peat briquettes on eBay for just shy of £570. If you are going to light a fire, it is worth considering shutting off the rest of the house as the evening wears on and the temperature drops.
Make the room with the fireplace the centre of your home this winter if it is not already. It might even be a good opportunity to spend some time with the whole family – make the children put down their phones and play a board game together.
Infrared heaters are an alternative
For those who live in the cities or in apartments and do not have fireplaces, the situation is more difficult.
Increasing insulation and occupying a single room in the evening still makes sense, but it is difficult to access an alternative energy source. It may be worth buying a high-quality electric heater, provided the electricity it uses costs less than the central heating.
Infrared heaters, like the ones that are common in pub gardens, are highly energy-efficient, although they work by projecting heat in a single direction rather than heating up the whole room.
In a worst-case scenario, you could consider stocking up on large candles of the sort you see in churches. Lighting a few of these in a medium-sized room can generate a surprising amount of heat. Note too that if we do see shortages and outages, these candles could come in doubly handy.
All of this is pretty gloomy and many of us would prefer not to think about it. But unless something changes with the situation in Europe very soon, we will be facing extremely high energy prices this winter. It is better to face this situation realistically and plan in advance rather than being hit by energy bills you cannot afford.
Doing so will also put less pressure on the grid and ease the burden on those who, for whatever reason, must consume gas this winter no matter what the price.
Philip Pilkington is a macroeconomist and investment professional. He is the author of the book The Reformation in Economics, and blogs at Fixing the Economists and on Twitter @philippilk