Why you shouldn't rush to fix your energy tariff
Fixed-tariff energy deals are becoming more tempting, but not all households can benefit, says Ruth Jackson-Kirby.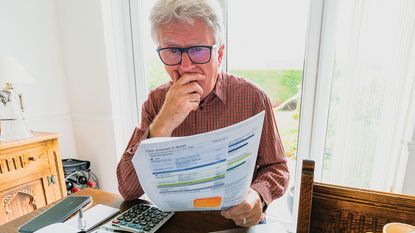 (Image credit: © Getty Images)
Switching to a better energy deal hasn't really been an option ever since energy prices began to soar last autumn. The advice has been to remain on your provider's standard tariff, since it is protected by the price cap set by regulator Ofgem.
However, there are some new fixed-tariff energy deals on the market, while the current level of the cap will go up in October (it's reset every six months). Earlier this month, Ofgem warned that the new cap could be 42% higher, which would take the average annual energy bill to £2,800. As a result, "fixed deals are starting to look more tempting," says George Nixon in The Times.
There are 13 fixed tariffs on the market that work out at less than £2,800 for the average household. The cheapest, from Eon, would cost around £2,600 a year, while Ovo is offering two deals that fix your bills for two years. They would cost £2,700 and £2,750 a year on average, below what the energy price cap is expected to be in October. The deals will certainly look attractive if household bills soar and fixing now would at least give you back some control. But don't rush in, says Nixon. "You will be giving up four months of cheaper energy under the current price cap, currently £1,971 for an average family."
Subscribe to MoneyWeek
Subscribe to MoneyWeek today and get your first six magazine issues absolutely FREE
Get 6 issues free
Sign up to Money Morning
Don't miss the latest investment and personal finances news, market analysis, plus money-saving tips with our free twice-daily newsletter
Don't miss the latest investment and personal finances news, market analysis, plus money-saving tips with our free twice-daily newsletter
Weighing up the value of certainty
What's more, Ofgem is considering a shift to reviewing the price cap every quarter, which could affect how quickly prices rise. Experts predict this would mean the watchdog would raise the cap in smaller increments, which could also affect the savings you could make if you fixed later. The Times estimates the average household could save as little as £66 a year if they move onto the current cheapest fix now.
"The price cap could change up to eight times over a two-year fixed deal, so it's very hard to predict whether you will be better off staying on a standard variable tariff or fixing," Justina Miltienyte from uSwitch tells The Times. "It's a case of how much you value certainty and what you can afford to pay."
So, how do you decide when a fixed deal could be a good idea? The current prediction for the October price-cap rise means "on average you'll pay 35% more over the next year than you do now", says MoneySavingExpert's Martin Lewis. So "if you're offered a year's fix at no more than 35% above your current price-capped tariff, or 40% more if you very strongly value budgeting certainty, it's worth considering". There are several fixed deals that meet this criterion if you are an existing customer: EDF, Eon, SSE, Ovo and British Gas all have one-year fixed offers for existing customers that are less than 32% above the current price cap.
Ovo Energy also has a one-year fixed deal that is open to anyone, but this works out at 38% more than the current price cap. Using Lewis' rule of thumb, that means "it's only for those who really want certainty about price, or are desperate to leave their existing provider".
Ruth Jackson-Kirby is a freelance personal finance journalist with 17 years' experience, writing about everything from savings and credit cards to pensions, property and pet insurance.
Ruth started her career at MoneyWeek after graduating with an MA from the University of St Andrews, and she continues to contribute regular articles to our personal finance section. After leaving MoneyWeek she went on to become deputy editor of Moneywise before becoming a freelance journalist.
Ruth writes regularly for national publications including The Sunday Times, The Times, The Mail on Sunday and Good Housekeeping among many other titles both online and offline.