Russia ups the ante on Europe's gas supplies
Russia's suspension of natural gas to Poland and Bulgaria saw the gas price spike by 24%. A complete shut-off could see it rise by 200%.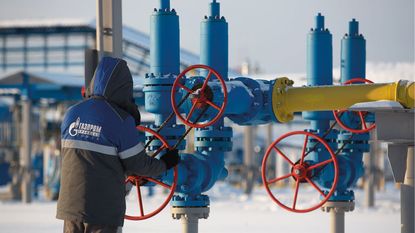 (Image credit: © Andrey Rudakov/Bloomberg via Getty Images)
Russia used to boast that "it had never interrupted [natural gas] supplies to a European customer, even in the tensest moments of the cold war", says the Financial Times. By suspending supplies to Poland and Bulgaria last week, Moscow has torched what remained of its reputation as a reliable energy supplier. "More countries may be cut off within weeks if they, too, reject Russia's new demand to pay in roubles."
European natural gas spiked 24% following the news, says Avi Salzman in Barron's. But prices then came back down to only slightly higher than before the cut-off. Warmer weather and weaker demand from Asia – courtesy of China's lockdowns – partly explains the subdued reaction. Poland is particularly well-prepared, having invested in storage. Other supplies are also becoming available: the US plans to ship 60% more liquefied natural gas (LNG) to Europe in 2022 than last year.
Sudden stop
Roughly 40% of Europe's natural gas comes from Russia, says Michael Race on BBC News. The bloc is aiming to cut Russian gas imports by two-thirds this year. That will be difficult enough, but the rouble payments dispute raises the risk of a more sudden stop to supply.
Subscribe to MoneyWeek
Subscribe to MoneyWeek today and get your first six magazine issues absolutely FREE
Get 6 issues free
Sign up to Money Morning
Don't miss the latest investment and personal finances news, market analysis, plus money-saving tips with our free twice-daily newsletter
Don't miss the latest investment and personal finances news, market analysis, plus money-saving tips with our free twice-daily newsletter
Further cut-offs may come later this month, although which countries will be affected depends on the details of contracts that are not public, says The Economist. Moscow has offered a compromise that would see buyers open multi-currency accounts at Gazprombank in Switzerland, but it is unclear whether the plan is compliant with sanctions. Regardless, Moscow's decision to "go all in" by cutting off supplies to member states shows that "the game of energy poker" being played by Europe and Russia "is getting scarier".
Out of gas
European wholesale gas prices are now trading around €100 per megawatt-hour (MWh). That is more than four times higher than this time last year, but less than half of the peak they hit in the immediate aftermath of Russia's invasion of Ukraine. A complete shut-off in Russian pipeline flows could see the price spike to an average of €300/MWh, a 200% increase from current levels, says Silvia Ardagna of Barclays. That could prompt energy rationing, forcing some firms to limit their hours of operation and inflicting more economic damage.
Germany would be among the hardest hit. The Bundesbank calculates that an energy embargo could cause GDP to fall by just under 2%, says Philip Oltermann in The Guardian. Advocates of an embargo point out that the Bundesbank's projections suggest a smaller economic hit than the pandemic (which reduced GDP by 4.6% in 2020). But there is a "heated German debate over the economic price the country should be prepared to pay to help cut off financial support for Putin's war".