6 natural gas stocks to buy to profit from the gas gold rush
Natural gas will be a crucial source of power for years to come, says Matthew Partridge. Here are six natural gas stocks to buy to benefit.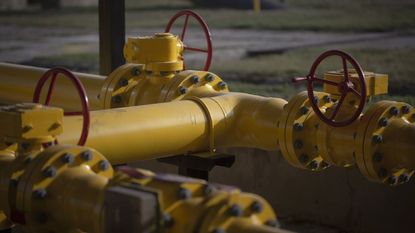 (Image credit: © Getty images)
The price of natural gas has boomed in the past two years, leaving investors asking which are the best natural gas stocks to buy to profit from this boom?
Indeed, until early 2022 it was assumed that the days of gas – and other fossil fuels – as an energy source were numbered.
However, the Russian invasion of Ukraine and the economic consequences of the upheaval in energy markets have "increased the amount of attention paid to energy security", says George Grant of Stag Energy.
Subscribe to MoneyWeek
Subscribe to MoneyWeek today and get your first six magazine issues absolutely FREE
Get 6 issues free
Sign up to Money Morning
Don't miss the latest investment and personal finances news, market analysis, plus money-saving tips with our free twice-daily newsletter
Don't miss the latest investment and personal finances news, market analysis, plus money-saving tips with our free twice-daily newsletter
This in turn has "led to a greater acceptance of natural gas" as an energy source. However, the surge in interest in gas isn't just a short-term trend.
It is a response to a growing awareness that it will play a key role in the transition to renewable energy, a shift that will take longer than widely expected.
Renewable energy remains unreliable
Renewable energy is getting cheaper and more efficient, while it also stands to benefit from the determination of governments around the world to meet ambitious targets for reducing carbon emissions.
However, it will be some time before they can completely replace traditional sources of energy.
In some cases, even building enough capacity to meet peak demand may be difficult, says Dominic Whittome, economist at Prospect Law.
The limitations of renewable energy means that until the problems with long-term storage are finally solved, most countries will still need a transitional fuel to provide "standby capacity for times of low renewable generations as an insurance policy", says James Smith of the Premier Miton Global Renewables Trust.
The energy crisis – and the increasing realisation that gas is set to play an important role in at least the short and medium term – is also forcing governments around the world to reduce restrictions on drilling.
Moffatt thinks that North Sea drilling should be encouraged and expects the windfall tax to be revised downwards.
He also expects that prime minister Rishi Sunak will ultimately be forced to follow the policy of his predecessor Liz Truss, who removed restrictions on fracking during her brief premiership.
The rise of LNG
Globally, the big story is the rise and rise of liquefied natural gas (LNG). This process cools natural gas to -162ºC so that it can be turned into a liquid, enabling it to be economically and safely shipped over large distances in giant tankers, before being turned into a gas again when it reaches its destination.
With Europe now trying to eliminate its dependence on Russian gas, which still accounts for around 10% of its supplies, this should continue for the foreseeable future.
Not only will the rise of LNG be good for the companies that are building infrastructure, such as terminals, but it will also change the nature of the market for gas, reckons Catachanas.
Natural gas stocks to buy now
Energy giant Shell (LSE: SHEL) is the seventh-largest producer of natural gas. However, it has ambitious plans to increase production of gas while reducing its oil output, believing oil to be a declining sector.
It is also putting money into liquefied natural gas (LNG), with 18 carriers and 65 chartered vessels, which jointly comprise 11% of the global LNG shipping fleet.
The stock is on a 2024 price/earnings (p/e) ratio of seven and yields 4.2%. Norwegian energy giant Equinor (Oslo: EQNR) is Europe's second-biggest producer of natural gas, with a large number of fields in development.
In an attempt to reduce its carbon emissions it is investing large sums of money in carbon capture and storage, most notably the Northern Lights project.
This aims to store carbon emissions from onshore industries in a terminal on the Norwegian west coast, and then inject it 2.5 kilometres below the sea bed. Equinor trades on a 2024 p/e of 6.7 and offers a dividend yield of 8.2% (which is more than covered by its earnings).
Another energy giant worth investing in is TotalEnergies (Paris: TTE). Total "is well positioned to benefit from the switch from delivering natural gas via pipeline to transporting it through LNG", as it has made large investments in this area, says Dominic Whittome of Prospect Law.
It is now one of the top three LNG sellers in the world. Even though Total's revenue grew by 75% from 2017 to 2022, and its earnings per share jumped by 350% during the same period, it still only trades at 6.7 times 2024 earnings and comes with a dividend yield of 5.2%.
A purer play on the rise of LNG is through the US natural gas producer Cheniere Energy (NYSE: LNG). The group was originally set up to import LNG into the US.
But now, thanks to America's shale gas boom, it buys gas from local producers, liquefies it, and then exports it to 30 countries on five continents.
It is currently the largest LNG producer in the US, and the second biggest globally. Since 2017 sales have risen nearly sixfold and profits have soared by 1,350%. Cheniere Energy trades at a 2024 p/e of 12.5.
Another way to benefit from the boom in LNG is Excelerate Energy (NYSE: EE). Excelerate owns a portfolio of ten floating storage regasification units, ships that store and transport LNG and also turn it back into a gas, as well as three flexible integrated terminals (E-FIT) that facilitate the import of LNG.
It also works on building terminals and LNG infrastructure for third parties, with a presence around the world, from Brazil to Germany.
Although its earnings per share have doubled since 2019, with sales nearly quadrupling, the stock still trades at only 18.5 times 2024 earnings. Golar LNG (Nasdaq: GLNG) is another company that designs, builds, owns and operates infrastructure to turn natural gas into LNG, and then back into gas again.
It is currently focusing its operations on floating LNG facilities that allow gas produced by offshore rigs to be changed into liquid form.
One for value investors, it currently trades at only 7.7 times expected 2024 earnings, and is priced at a discount of 5% to its tangible assets.
Matthew graduated from the University of Durham in 2004; he then gained an MSc, followed by a PhD at the London School of Economics.
He has previously written for a wide range of publications, including the Guardian and the Economist, and also helped to run a newsletter on terrorism. He has spent time at Lehman Brothers, Citigroup and the consultancy Lombard Street Research.
Matthew is the author of Superinvestors: Lessons from the greatest investors in history, published by Harriman House, which has been translated into several languages. His second book, Investing Explained: The Accessible Guide to Building an Investment Portfolio, is published by Kogan Page.
As senior writer, he writes the shares and politics & economics pages, as well as weekly Blowing It and Great Frauds in History columns He also writes a fortnightly reviews page and trading tips, as well as regular cover stories and multi-page investment focus features.
Follow Matthew on Twitter: @DrMatthewPartri