Oil price keeps rising despite Opec+ production rise
The price of oil reached $120 a barrel this week, despite Opec+ saying it would raise production by 648,000 barrels a day.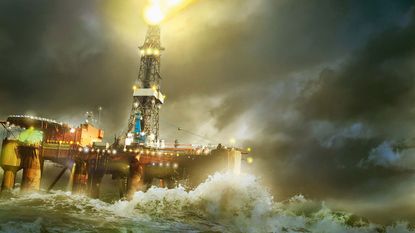 (Image credit: © Getty Images)
There's a hurricane "right out there down the road coming our way", JPMorgan Chase's chief executive Jamie Dimon told a conference last week. "We just don't know if it's a minor one or Superstorm Sandy [which caused $65bn of damage in the US in 2012]… you better brace yourself." Russia's invasion of Ukraine means oil is likely to get much pricier, he said. Crude could hit $150-$175 per barrel.
Brent crude reached $120 a barrel this week, having risen more than 50% since the start of the year. The price spike came despite an announcement last week by producer group Opec+ that it would raise output by 648,000 barrels a day (bpd) in July and August, higher than the originally planned 432,000 bpd. The world consumes 100 million bpd of oil.
The decision shows that cartel lynchpin Saudi Arabia is finally responding to US pressure to increase production, say Derek Brower and David Sheppard in the Financial Times. The deal marks the end of a "two-year quota system that has helped oil prices rise almost 500% since the nadir of the pandemic crash".
Subscribe to MoneyWeek
Subscribe to MoneyWeek today and get your first six magazine issues absolutely FREE
Get 6 issues free
Sign up to Money Morning
Don't miss the latest investment and personal finances news, market analysis, plus money-saving tips with our free twice-daily newsletter
Don't miss the latest investment and personal finances news, market analysis, plus money-saving tips with our free twice-daily newsletter
Yet the modest Opec+ increase is dwarfed by losses from sanctioned Russian crude, which could total three million bpd by the end of the year, according to the International Energy Agency. And pledges by Opec+ to raise output are all the less compelling because many members are struggling to fill existing quotas. The real increase will be much lower, at about 160,000 bpd in July and 170,000 bpd in August, reckon JPMorgan analysts.
Redrawing the map
Opec+ members together control 55% of global oil production, but the key players are Saudi Arabia and Russia, which together account for more than 20% of global output, say David Rundell and Michael Gfoeller in Barron's. The pair's strategic alliance is mutually beneficial, with both enjoying a significant windfall from high oil prices. That explains why Washington has had such a difficult time cajoling Riyadh into raising output.
"Russia's attack on Ukraine is redrawing the world's energy map," say Christopher Matthews, Summer Said and Benoit Faucon in The Wall Street Journal. Energy markets are heading for a "more Balkanised" future, divided into a US-led bloc that won't buy Russian fuel, an axis of emerging markets experimenting with alternatives to the dollar-denominated energy trade, and Middle East producers that stand to gain by selling to everyone.
But while Moscow is enjoying a windfall now, in the long term it will be forced to grant favourable terms to the few countries still willing to buy its energy, while Western technology sanctions will gradually degrade its ability to pump hydrocarbons, says Daniel Yergin of S&P Global. "Russia's days as an energy superpower are over."
SEE ALSO:
Britain's broken energy markets
Which companies will lose the most from the energy windfall tax?
Why food and fuel subsidies will push up debt