We need a coherent and affordable plan for the transition to Net Zero
Energy analyst Clive Moffatt gives his views on the energy market and how to transition to Net Zero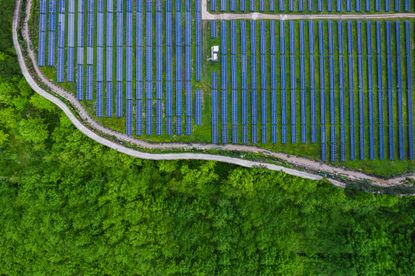 (Image credit: Yaorusheng)
Rishi Sunak has tried to make a name for himself by rolling back some of the UK's climate policies over the past few months, but his tinkering has done little to bring about what the UK really needs, a coherent, realistic plan for the country to hit its climate goals.
That's the view of Clive Moffatt, energy analyst and founder and chairman of the UK Energy Security Group.
Renewable energy drive is costing the UK
Moffatt has over three decades of experience in the energy sector, both in the UK and EU markets. He led a consortium of energy market participants and investors during consultations with the government on the content and subsequent implementation of the 2013 Electricity Act and founded the cross-industry UK Energy Security Group (UKESG). He was formally worked as a Treasury economist and business journalist at the FT and BBC.
Subscribe to MoneyWeek
Subscribe to MoneyWeek today and get your first six magazine issues absolutely FREE
Get 6 issues free
Sign up to Money Morning
Don't miss the latest investment and personal finances news, market analysis, plus money-saving tips with our free twice-daily newsletter
Don't miss the latest investment and personal finances news, market analysis, plus money-saving tips with our free twice-daily newsletter
Moffatt notes the UK's decision to charge headlong into wind and solar energy, without a long-term plan for the role of other energy sources as a source of heat and power has only increased the costs for the country. By not investing in other energy sources, the country is forced to compete in the global energy market for supplies.
Much was made about the government's energy security "understanding" with the USA, which was signed last year, to help underpin UK gas security of supply at times of system stress.
However, it's "market participants and not governments trade gas and there is no evidence that the UK Government has agreed to facilitate directly long- term gas supplies from USA or Qatar or Australia," notes Moffatt.
With the UK Government keen to avoid the "embarrassment of a gas and power shortfall" it could be the case that energy suppliers are effectively forced to strike up deals which could either " lock in consumers to paying a significant premium above the market rate to guarantee supply" or the government "subsidising energy suppliers here for the difference between what they have agreed to pay US importers for "guaranteed" supplies and what any retail energy cap allows for them to pass on in higher prices to UK consumers."
Whatever the outcome, these short-term fixes are "no effective substitute" for "taking action now to promote new investment in more UK gas storage and peaking gas power."
How to transition to Net Zero
That's not to say the government should give up on Net Zero and the transition away from fossil fuels. "We need a coherent and affordable plan for the transition to Net Zero," which balances cost with long-term growth says Moffatt.
As part of this transition, he believes the government should impose a Public Service Obligation (PSO) on gas suppliers and shippers in the UK "to store a greater proportion of their estimated demand for gas."
This combined with some form of storage capacity-based subsidy auction would underpin new investment in gas storage (currently less than 2% of total demand compared with an average of 25% in the EU) thereby reducing price volatility".
The gas market
Given the inextricable link between the gas and power market Moffatt is also advocating a formal system of Demand Side Reduction (DSR) in the gas market. Similar to the one already in existence for electricity, this system would "reward a significant number of industrial users for voluntarily curtailing (if required) their gas demand at times of system stress."
The UK says Moffatt is "'desperately short of reliable and flexible power generation to provide support at times of system stress especially with the expansion of intermittent renewable energy".
Therefore, he believes the government should impose an obligation on the System Operator to ensure that the "power reliability margin is not allowed to fall below 10% of projected demand." This would "prompt a a separate capacity auction to secure more flexible unabated gas capacity and eliminate the need for expensive, short-term market balancing measures."
Taking politics out of energy
His last, and perhaps most far-reaching proposal is to "take the politics out of energy."
An independent Strategic Energy Authority (SEA), with an independent chair and expert management board, should be set up to remove all conflicts of interest at the regulatory, political and corporate levels.
This would eliminate the need for the Climate Change Committee, Ofgem and the National Grid's current role as System Operator. The SEA would be charged with delivering a workable and affordable and balance between security and sustainability over the long term.
Such a body could set "longer-term investment targets up to 2050 and beyond for generation transmission and distribution," as well as create a "consistent and cost-effective policy framework," that's not influenced by the political cycle. It would also "oversee the real time system operation of both the electricity and gas market and facilitate greater liquidity in the short-term balancing market" while working directly with the Treasury to "define and publish long-term budgets for taxes and levies impacting consumers and industry."
A "rational and national debate on energy security" is "long overdue" argues Moffatt, and consumers are paying the price. The country will continue to pay the price as well, as high energy costs weigh on economic activity and hold back living standards. Moving away from a politically driven market, towards one that's based around rational long-term thinking will be a major step forward for the UK.
Rupert is the Deputy Digital Editor of MoneyWeek. He has been an active investor since leaving school and has always been fascinated by the world of business and investing.
His style has been heavily influenced by US investors Warren Buffett and Philip Carret. He is always looking for high-quality growth opportunities trading at a reasonable price, preferring cash generative businesses with strong balance sheets over blue-sky growth stocks.
Rupert was a freelance financial journalist for 10 years before moving to MoneyWeek, writing for several UK and international publications aimed at a range of readers, from the first timer to experienced high net wealth individuals and fund managers. During this time he had developed a deep understanding of the financial markets and the factors that influence them.
He has written for the Motley Fool, Gurufocus and ValueWalk among others. Rupert has also founded and managed several businesses, including New York-based hedge fund newsletter, Hidden Value Stocks, written over 20 ebooks and appeared as an expert commentator on the BBC World Service.
He has achieved the CFA UK Certificate in Investment Management, Chartered Institute for Securities & Investment Investment Advice Diploma and Chartered Institute for Securities & Investment Private Client Investment Advice & Management (PCIAM) qualification.