UK house prices hit a new record high – can it last?
Despite the pandemic, UK house prices have hit a new high. John Stepek looks at what's driving the surge in prices, and what it means for house prices in the longer run.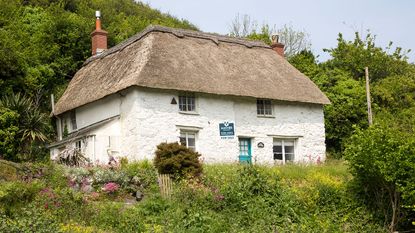 (Image credit: © Geography Photos/Universal Images Group via Getty Images)
As you might have noticed, we're still in the grip of a pandemic, and we're nowhere near seeing the end of the resulting surge in unemployment and business disruption.
So of course, UK house prices have just hit a record high. That's according to Halifax. Its latest house price index suggests that the average UK house price rose to a record high of £241,604 (important to get that £4 in there) in July, up 3.8% on the same month last year.
What's driving the surge?
Subscribe to MoneyWeek
Subscribe to MoneyWeek today and get your first six magazine issues absolutely FREE
Get 6 issues free
Sign up to Money Morning
Don't miss the latest investment and personal finances news, market analysis, plus money-saving tips with our free twice-daily newsletter
Don't miss the latest investment and personal finances news, market analysis, plus money-saving tips with our free twice-daily newsletter
Well, as with every other housing market commentator at the moment, Halifax is hedging its bets. The stamp duty holiday announced by chancellor Rishi Sunak has helped, obviously. And people who weren't able to move during the lockdown still want to move – creating "a surprising spike" now that lockdown has been relaxed.
But the long-term outlook is cloudy, what with government support for the labour market set to drop off, warns the bank.
Meanwhile, property website Rightmove confirmed that reopening has so far been embraced enthusiastically. Apparently, property hunts were up 50% in June and July year-on-year. A fair bit of the traffic, reckons the company, is being driven not just by those who had already intended to move but by "an increased number of home hunters who have decided to move following the experience of lockdown."
Now, how much of this is simply work-from-home tourism and escape-to-the-country daydreaming is another question. But clearly the (not entirely explicable) great British love of property hasn't been dented by the coronavirus.
So what does any of this mean for house prices in the longer run?
Honestly, I just have to continue to point you to what we've been saying all along. In the absence of higher interest rates, a full-on crash is unlikely.
As a result, it looks as though our basic view – that house prices won't crash, and that any real shift in the make-up of prices will probably focus around a bit of a move from the city to the countryside – is so far proving correct.
We'll see how this progresses as unemployment evolves over the coming months. But on the interest-rate front, while there's a backlog of mortgages to process, they aren't getting any more expensive. Indeed, Moneyfacts says that the average two-year fixed-rate home loan cost 2.07% at the end of last month, from 2.48% the year before.
As we've noted before, first-time buyers might still struggle (Nationwide for example, is being wary about the amount of money you can borrow from the "bank of mum and dad" these days). But all that means is that transactions might be lower than they otherwise would be. It doesn't necessarily result in lower prices, unfortunately.
Good news for renters, bad news for landlords
Anyway we'll see what happens. But if you are looking to save money, right now the real place to be looking is the rental market.
One interesting area that we've highlighted before is that in the big capital cities – London and Edinburgh – rents are flat or falling. This is in contrast to the rest of the UK, according to data from property site Zoopla.
Rents in London have apparently fallen by 3% already this year, while in Edinburgh, the average rent is up by just 0.2%. That compares to average growth of around 2% for the UK as a whole.
What's changed? As Melissa Lawford notes for The Telegraph, "there has been an influx of homes from the short-term lettings market after coronavirus hit the tourism industry." A lot of people who owned AirBnBs have put them on the market as longer-term rentals.
So if you live in a big city, and you're looking for a better deal on your rent, now's the time to look.
John is the executive editor of MoneyWeek and writes our daily investment email, Money Morning. John graduated from Strathclyde University with a degree in psychology in 1996 and has always been fascinated by the gap between the way the market works in theory and the way it works in practice, and by how our deep-rooted instincts work against our best interests as investors.
He started out in journalism by writing articles about the specific business challenges facing family firms. In 2003, he took a job on the finance desk of Teletext, where he spent two years covering the markets and breaking financial news. John joined MoneyWeek in 2005.
His work has been published in Families in Business, Shares magazine, Spear's Magazine, The Sunday Times, and The Spectator among others. He has also appeared as an expert commentator on BBC Radio 4's Today programme, BBC Radio Scotland, Newsnight, Daily Politics and Bloomberg. His first book, on contrarian investing, The Sceptical Investor, was released in March 2019. You can follow John on Twitter at @john_stepek.