Halifax: UK house prices tread water as mortgage costs rise
Halifax's latest house price index shows the average house price has remained largely unchanged from December.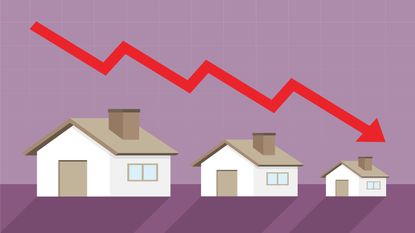 (Image credit: © Getty Images)
Annual house price growth has slowed to its lowest level recorded over the last three years, raising further doubts about where house prices will go in 2023. Indeed, some analysts are even predicting house prices could fall by as much as 30% in 2023.
Halifax's latest house price index showed prices remained largely unchanged in January, with the average property price coming in at £281,684 compared to £281,713 in December.
But pace of annual growth slowed to 1.9% in January from 2.1% in December. The average house price has now fallen around £12,500 from its August 2022 peak, according to the Halifax data, after falling for four consecutive months.
Subscribe to MoneyWeek
Subscribe to MoneyWeek today and get your first six magazine issues absolutely FREE
Get 6 issues free
Sign up to Money Morning
Don't miss the latest investment and personal finances news, market analysis, plus money-saving tips with our free twice-daily newsletter
Don't miss the latest investment and personal finances news, market analysis, plus money-saving tips with our free twice-daily newsletter
Meanwhile, according to Nationwide, house prices fell 0.6% in January. That's the fifth consecutive monthly fall recorded by the building society.
"We expected that the squeeze on household incomes from the rising cost of living and higher interest rates would lead to a slower housing market, particularly compared to the rapid growth of recent years," says Kim Kinnaird, director at Halifax Mortgages.
The Bank of England raised interest rates to 4% last week as it struggles to control double-digit inflation, which is placing pressure on household budgets.
And it's likely the central bank will continue to increase the cost of borrowing as inflationary pressures persist.
"As we move through 2023, that trend is likely to continue as higher borrowing costs lead to reduced demand," says Kinnaird.
The data is already starting to reflect this. Mortgage borrowing fell by £1bn from November to December as borrowers questioned whether now was the right time to buy a house.
How did house prices change per region?
Most regions across the UK experienced a slowdown in annual house price inflation according to Halifax's figures.
Wales has recorded some of the strongest annual house price inflation over the last few years, but in January the average house price stood at £210,275 compared to £224,210 in August. Year-on-year prices added just 2%. In December the year-on-year growth rate was 6%.
In the South West of England growth also slowed "considerably," from 6% in December to 2.7% in January.
In Northern Ireland and Scotland prices proved more resilient. Recorded prices were 6.9% higher year-on-year in January across Northern Ireland, according to Halifax. The rate of growth was 7.1% in December.
Across Scotland prices were 2.4% higher in Janaury than the prior year period, compared to growth of 3.3% in December.
The price of a typical property in London is still around a quarter of a million pounds above the UK average. But the cost of the average home did fall, from £541,472 in December to £530,396 in January. Year-on-year prices are unchanged.
Where will house prices go next?
"The housing market is reeling from a major blow to affordability and home sales following the rise in mortgage rates to levels not seen since the financial crisis and the ongoing cost-of-living storm," said Myron Jobson, senior personal finance analyst at interactive investor.
"While housing affordability is becoming more stretched, the ongoing shortage of stock In the market has slowed the decline in price growth," continues Jobson.
"Meanwhile, mortgage lenders have seemingly engaged in a mortgage 'price war' at the start of the year following a dip in demand for home loans."
Santander, Barclays, Halifax, Nationwide and Virgin Money are all among the lenders to have made cuts to their mortgage rates as they compete for customers.
"This, combined with growing confidence that an end is in sight for interest rate rises, could mean that house prices could remain stubbornly high for longer."
"I think we could even be about to see a return to growth as the regular interest rate hikes appear to have peaked and the economic waters start to calm," says Simon Gerrard, managing director of Martyn Gerrard estate agents.
Stability has returned to the UK's mortgage market after last year's turbulence. Rates hit 6.65% in September following the mini-budget, but now sit between 4% and 5%.
The increased cost of borrowing has contributed to the slowdown, but longer term, the housing market will continue to be protected from an all out crash because of the lack of supply, analysts believe.
"The shortage of houses is what will have been preventing a sharper fall in prices for the last few months," says Gerrard.
"Once inflation is back under control and the economic climate clears, the lack of supply could potentially fuel significant and consistent house price growth."
Nic studied for a BA in journalism at Cardiff University, and has an MA in magazine journalism from City University. She joined MoneyWeek in 2019.