Nationwide: UK house prices fall for the fifth consecutive month
Nationwide's latest house price index reveals house price growth slowed again to 1.1% in January from 2.8% in December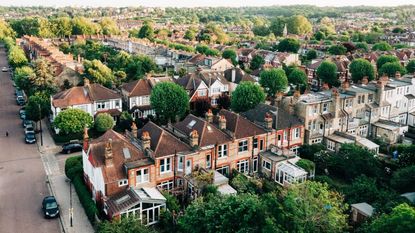 (Image credit: © Getty images)
The property market's slowdown continued into 2023 as house prices fell for the fifth month in a row, according to Nationwide's latest house price index.
House price growth slowed to 1.1% in January from 2.8% in December. Prices fell 0.6% in January, leaving prices 3.2% lower than their August peak.
This brings the average cost of a home in January to £258,297, down from £262,068 in December.
Subscribe to MoneyWeek
Subscribe to MoneyWeek today and get your first six magazine issues absolutely FREE
Get 6 issues free
Sign up to Money Morning
Don't miss the latest investment and personal finances news, market analysis, plus money-saving tips with our free twice-daily newsletter
Don't miss the latest investment and personal finances news, market analysis, plus money-saving tips with our free twice-daily newsletter
The index clearly shows that house prices are on a downwards trajectory, with some experts suggesting house prices could fall further in 2023. With the prospect that the house price slide could continue, buyers have been pressing the brakes on purchases as they wonder whether now is a good time to buy a house.
In addition, the latest data from the Bank of England revealed that mortgage borrowing fell from £4.3bn in November to £3.2bn in December – yet another sign the property market is cooling down.
"It will be hard for the market to regain much momentum in the near term as economic headwinds are set to remain strong, with real earnings likely to fall further and the labour market widely projected to weaken as the economy shrinks," says Robert Gardner, Nationwide's chief economist.
Where have house prices fallen the most?
All regions have been affected by the downturn, Nationwide's index found.
"Affordability pressures remain particularly acute in London and the south of England, where mortgage servicing costs have risen sharply compared with a year ago," says Gardner.
"Scotland and the North continue to be the most affordable regions but, even there, mortgage payments as a share of take-home pay are at their highest level for over a decade."
Wondering where to buy to insulate yourself from a house price decline? Take a look at our article on the top 10 areas most immune to a house price crash.
What's behind falling house prices?
A combination of things have led to the property market's slowdown.
Mortgage rates have fallen from their 6.65% peak in September to between 4 and 5%. But compared to the 2% rates homeowners were paying at the end of 2021, the figure is still high.
It's uncertain whether mortgage rates will continue to fall. It's likely interest rates will go up when the Monetary Policy Committee meets tomorrow, and markets are expecting an increase of 0.5%. That would take the base rate to 4% – the highest it has been since 2008. This could feed through to mortgage rates.
"There are some encouraging signs that mortgage rates are normalising, but it is too early to tell whether activity in the housing market has started to recover," says Gardner.
The cost of living also remains high. The rate of inflation is currently 10.5%, driven largely by higher food prices and rising energy bills.
Households will face a second wave of inflation in April, when the Energy Price Guarantee is expected to increase to around £3,000, based on typical average use, and the government's energy support grant payments come to an end.
And with rents across the UK set to rise to record highs, more prospective buyers will find it even harder to save to buy a home.
"Buying now with high mortgage rates and high prices creates a high monthly cost for borrowers to carry at a time many can least afford it amid the biggest fall in living standards in generations," says Myron Jobson, senior personal finance analyst at interactive investor.
"As such, getting on the property ladder remains a tall order for many first-time buyers. The Bank of Mum and Dad is also facing its own cost-of-living challenges and, for many, can't be relied on to provide much needed financial support."
Where will mortgage rates go in 2023?
"While house prices have declined for the fifth month in a row, the severity of the downturn in the housing market may not be as acute as originally predicted," says Karen Noye, mortgage expert at Quilter.
"One factor contributing to this is that although many people will see significant increases in their mortgage bills, rates are not expected to be as high as feared.
Fixed rate deals are approaching 4%, which will put strain on many households' finances, but it will not cause as widespread pain as original forecasts suggested."
"Mortgage rates have come down a bit since the chaotic weeks in the mortgage marketplace that ensued ill-fated mini-Budget back in September," agrees Jobson.
"Mortgage rates could yo-yo up and down depending on a number of factors beyond interest rates – which appear set to rise tomorrow - including the latest economic backdrop and competition in the mortgage marketplace."
Many mortgage lenders are starting to drop their rates as they attempt to fight for customers. If this turns into a price war, it could lead to a further drop in mortgage rates.
Nic studied for a BA in journalism at Cardiff University, and has an MA in magazine journalism from City University. She joined MoneyWeek in 2019.