Mortgage borrowing falls by £1bn as property market slowdown continues
Data from the Bank of England reveals mortgage borrowing fell from £4.3bn in November to £3.2bn in December. We look at why the housing market is slowing down, and what you can do if you're worried about your mortgage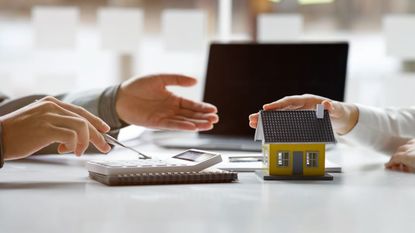 (Image credit: © Getty images)
The latest data from the Bank of England (BoE) shows a growing number of people are questioning whether now is a good time to buy a house, adding more uncertainty to the property market's outlook for 2023.
The BoE's Money and Credit report showed mortgage borrowing fell from £4.3bn in November to £3.2bn in December as fewer people chose to jump on or up the property ladder, likely put off by rising interest rates and double-digit inflation. Mortgage approvals are now at their lowest level since May 2020.
The data reflects the after-effects of September's mini-Budget, which spooked markets and increased the cost of borrowing.
Subscribe to MoneyWeek
Subscribe to MoneyWeek today and get your first six magazine issues absolutely FREE
Get 6 issues free
Sign up to Money Morning
Don't miss the latest investment and personal finances news, market analysis, plus money-saving tips with our free twice-daily newsletter
Don't miss the latest investment and personal finances news, market analysis, plus money-saving tips with our free twice-daily newsletter
In September, mortgage rates reached an eye-watering peak of 6.65%. They have since climbed down to around 5%, but with a further interest rate on the cards later this week it's unknown whether they will continue to come down.
The base rate currently sits at 3.5%, but markets are widely expecting it to jump to 4% when the Monetary Policy Committee meets on Thursday.
Approvals for house purchases dropped to 35,600 in December from 46,200 in November, their fourth monthly consecutive decrease.
Data from Halifax revealed UK house prices fell for the last four months of 2022 as the property market cooled following two years of explosive growth. Some analysts are predicting house prices could fall up to 30% this year.
The data shows the housing market is "now in the midst of a significant slowdown", says Karen Noye, mortgage expert at the wealth manager Quilter.
"Over the past few months, we have witnessed a sizable fall in the level of demand in the market," Noye continues. "While mortgage rates have dipped somewhat since the highs seen towards the end of last year, monthly costs remain far higher than many people had become accustomed to in recent years."
Why is the property market slowing down?
The property market suffered following the mini-Budget when the cost of borrowing increased. "Further rate rises have already largely been priced in when it comes to mortgage rates, but a further base rate rise will likely mean a fall in mortgage rates will be a while off yet and could see buying a first home or moving home pushed out of reach for many," says Noye.
As well as higher monthly repayments, homeowners are struggling with higher energy bills, which are due to go up in April under the new energy price guarantee.
Data from Zoopla showed that not only did house prices stall at the end of 2022, but buyers are factoring in the cost of heating their homes.
Demand for flats is on the rise, while demand for houses is falling as buyers search for properties that are better value for money.
Lenders have started to cut their mortgage rates as they seek to attract more customers. But "there are still strong headwinds lying ahead in the current inflationary environment, which will no doubt impact the homeownership dreams of many across the country," says Steve Seal, CEO of mortgage lender Bluestone Mortgages.
But the data might be different next month, says Simon Gammon, managing partner at Knight Frank Finance. "January has been much more active, which will show in next month's data. It is clear now that many buyers merely postponed house moves rather than cancelled them altogether."
What can you do if you're worried about your mortgage?
"For those worried about the current environment and how it will affect their homeownership goals, now more than ever is the time to pick up the phone to a mortgage broker," says Seal.
"These professionals are here to support existing and potential borrowers and will be able to signpost them to the available options that suit their unique circumstances. It is our industry's duty and at the heart of what we do as specialist lenders to remind people that the homeownership dream lives on."
Mortgage rates eased in December, and have continued to decline through January. "The best five-year fixed products can now be found as low as 4.19%, while the best trackers sit around 3.94%," says Gammon.
Even despite the BoE's upcoming interest rate hike, Gammon expects many five-year fixed-rate products to become cheaper than tracker products for the first time since the mini-Budget.
"Many buyers have been waiting on penalty-free tracker products for fixed rates to fall," says Gammon. "This could be the moment that we see large numbers opt to switch to fixed products, because it's unlikely we'll see rates fall much further."