Skipton launches a 100% mortgage – how does it compare
Skipton Building Society has launched the UK's first 100% loan-to-value mortgage exclusively available to renters. Similar deals are already available from a number of lenders, but all require some type of help and guarantee from family.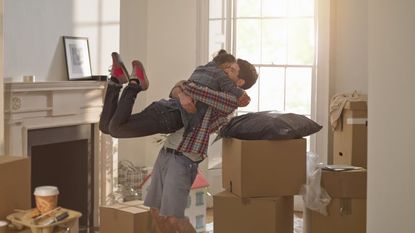 (Image credit: © Getty images)
Skipton Building Society has launched a new style of deposit-free mortgage that will enable first-time buyers to get on the property ladder by providing evidence that they have made their rental payments on time over a 12-month period.
Applicants need to be over the age of 21 and have a good credit history when applying for Skipton's Track Record mortgage - but do not need a guarantor.
This contrasts with a number of other no-deposit mortgage deals offered by other lenders that require the financial backing of family.
Subscribe to MoneyWeek
Subscribe to MoneyWeek today and get your first six magazine issues absolutely FREE
Get 6 issues free
Sign up to Money Morning
Don't miss the latest investment and personal finances news, market analysis, plus money-saving tips with our free twice-daily newsletter
Don't miss the latest investment and personal finances news, market analysis, plus money-saving tips with our free twice-daily newsletter
"Skipton's Track Record mortgage is attempting to serve a part of the market that has recently been wholly reliant on help from the Bank of Mum and Dad," explains David Hollingworth, associate director for communications at the mortgage broker L&C Mortgages.
"This deal recognises the fact that hard-pressed first-time buyers that have met their rent and household bills over a sustained period of time should demonstrate their ability to meet a mortgage payment lower than their rent, irrespective of the existence of a deposit."
But at 5.49% for five years the interest rate for Skipton's loan is more expensive than the average five-year fix of 5%.
Nor will the loan solve all the difficulties for all first-time buyers, says Hollingworth. "There will be affordability limitations on the borrowing amount which may still not meet the required purchase price."
The average house price is currently £286,896, according to the latest Halifax data. It means that a first-time buyer would need around £14,000 for a 5% deposit - the minimum when taking out a mortgage. Yet more than a third of renters are struggling to save due to rising rents, according to research by Skipton.
We explain how Skipton's new deposit-free mortgage would work, and the "100% mortgages" already on offer from other lenders.
Skipton's deposit-free mortgage
Skipton's Track Record mortgage allows borrowers to bypass standard deposit requirements by using their rental payment history.
The maximum amount that renters can borrow will depend on their credit score, evidence of making their rent on time for the last 12 months and their income, with an absolute maximum of £600,000.
Those wanting to see how much they can borrow can use Skipton's Track Record Calculator.
Skipton will also ensure that the monthly mortgage payment is not more than the average of their last six months' rental costs.
For example, a tenant paying an average of £750 per month over the last six months will have a maximum monthly mortgage payment of £750.
Charlotte Harrison, boss of home financing at Skipton, said: "We need to tackle the UK's housing affordability crisis to enable more people, especially renters who are trapped in renting cycles, to buy their first home."
Andrew Montlake, MD of Coreco mortgage brokers says: "The Skipton product is different to those of yester-year, as it is linked to the rent currently being paid and the mortgage payment cannot be more than the average of the borrower's last six months rent. It will also need to meet Skipton's standard income multiples.
He adds: "This new product will not be suitable for everyone, but it will help some of the new generation of home buyers get off the rental treadmill and enjoy the security of owning their own home."
How do 100% mortgages work?
Similar home loans called 100% mortgages are already available from certain lenders - but all require some type of guarantee from family members.
These are essentially family-assisted mortgages that lend as much as 100% of the property's purchase price that require additional security from a guarantor, often parents.
This additional security can involve cash locked away in a savings account for a set period of time or equity in the parental home.
The "temporary deposit" gives the lender added reassurance in the event that the buyer can't keep up repayments or if the lender ultimately has to repossess and sell for less than the outstanding mortgage.
After a set period of time, the cash or equity in the parental home is returned.
For example, Barclays' family springboard mortgage lets relatives or friends put 10% of the first-time buyer's purchase price in a savings account for five years to act as a temporary deposit. They get it back with interest after the five years. The bank currently offers a five-year fixed-rate mortgage at 5.89%.
Meanwhile, Loughborough Building Society allows family members to put a cash lump sum into a designated account or agree to accept a legal charge over their own home, or a mix of the two, via its Family Deposit Mortgage. The building society has a two-year fixed-rate loan at 5.55%.
Which lenders offer 100% mortgages?
The few lenders that offer 100% mortgages include high street names and lesser-known building societies:
Katie Binns is an award-winning journalist, and former Sunday Times writer where she spent 10 years covering news, culture, travel, personal finance and celebrity interviews. She has also written for the Times, Telegraph, i paper and Woman and Home magazine.
Her investigative work on financial abuse has examined the response of banks, the Financial Ombudsman and the child maintenance service to victims, and resulted in a number of debt and mortgage prisoners being set free.