How long will it be before the world is vaccinated?
The vaccine rollout is going well in the UK, and in some other countries. But ultimately, this is a global problem, and the situation worldwide is not so rosy.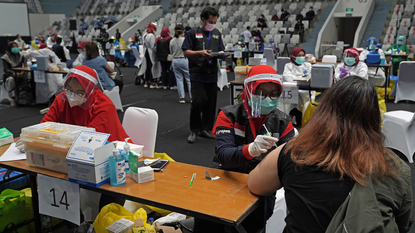 (Image credit: © Bloomberg via Getty Images)
What are the latest developments?
Despite the wrangling between AstraZeneca and the EU, there are major reasons to be cheerful. First, analysis of fresh data from three trials of the Oxford-AstraZeneca vaccine found that one dose provides sustained 76% protection against Covid-19 for at least three months, and also that it cuts transmission of the virus by 67%. The findings have yet to be peer reviewed, so celebration is premature. But if confirmed, the results provide reassurance about the UK's strategy of prioritising first jabs and delaying booster shots (the study found that efficacy rises to 82% after the second jab with a 12-week gap). They also for the first time show that the vaccine significantly cuts transmissibility as well as illness. That could make a return to normal life rather easier and faster than feared.
Any more good news?
The second cause for optimism came from Russia. Their Sputnik V vaccine has been viewed with much international scepticism, in part because the Putin government approved it in August before late-stage trials had even begun. But peer-reviewed results published this week in The Lancet, based on a clinical trial of 22,000 people, found a 91.6% efficacy rate without serious side effects. Doses of the vaccine are cheap, at about £15 for two shots, and (unlike the Pfizer-BioNTech shot) do not need to be kept at an ultracold temperature.
How many vaccines are now in play?
Ten vaccines have been approved by regulators in at least one country, while some 230 candidate vaccines are being developed worldwide. Of these 20 vaccines are in phase III (large-scale) trials, and a further 35 are in phase II (safety) trials. The biggest players for now remain (a) the Pfizer-BioNTech shot, an mRNA vaccine which has 95% efficacy over two shots, but which has to be transported at –75˚C; (b) the similar mRNA Moderna vaccine, which has to be transported at –20˚C; and (c) the Oxford-AstraZeneca vaccine, a conventional adenovirus vaccine which has lower efficacy, but is far cheaper to produce, does not expire, and can be stored in ordinary fridges. Two more firms have also presented encouraging efficacy data on trial vaccines.
Subscribe to MoneyWeek
Subscribe to MoneyWeek today and get your first six magazine issues absolutely FREE
Get 6 issues free
Sign up to Money Morning
Don't miss the latest investment and personal finances news, market analysis, plus money-saving tips with our free twice-daily newsletter
Don't miss the latest investment and personal finances news, market analysis, plus money-saving tips with our free twice-daily newsletter
What are they?
Trials of a cheap, single-shot vaccine from Johnson & Johnson subsidiary Janssen found it was 85% effective at preventing the most serious symptoms associated with infection and 66% effective at preventing even the most moderate symptoms. Novavax also reported that its shot is 89.3% effective, based on interim data from its phase III clinical trials conducted in the UK, though this dropped to 50% efficacy in trials in South Africa, where a new variant of the virus is prevalent. These two vaccines still await regulatory approval, but their emergence – along with Russia's – is potentially a game-changer.
Why's that?
Clearly, the production of multiple effective vaccines reduces the likelihood of self-defeating scrambles over supplies. But also, multiple vaccines – and evidence from real-world data as vaccines are rolled out – will enable countries to take multi-pronged approaches – for example, using more potent vaccines (BioNTech, Moderna) in high-risk groups, while vaccinating the general population with cheaper, one-shot jabs. When it comes to vaccine distribution to countries with less developed healthcare infrastructure, the highest proven efficacy rate may not be as important as acceptable efficacy, good protection in high-risk groups, and ease of distribution at lower temperatures. That suggests the AstraZeneca, Novavax, and Janssen vaccines will be crucial.
How's the global rollout going?
It's clearly going far better in the UK, which approved vaccines earlier and placed bets on more horses (including Novavax), than in the EU. More broadly, the EU's wrangling with AstraZeneca has its roots in the fact that the Cambridge-based company, like Pfizer in the US, has struggled to ramp up production as rapidly as hoped. Along with uncertainty about how well existing vaccines can protect against new strains of the virus, it means the economic recovery, in the eurozone at least, "may begin later and be more gradual than we had anticipated", says Capital Economics, which predicts only a 4% GDP recovery in Europe this year, following last year's 7% slump. Along with the UK, other notable rollout bright spots include Israel, the UAE and Serbia. On a global level, though, there's concern that poorer countries are being left behind.
What are the figures?
According to data from investment bank UBS, 53 countries have begun vaccinating, but only ten of them at a rate that would get a third of the population vaccinated this year (these include the UK). UBS reckons that developed economies have purchased 3.7 billion doses so far – enough to vaccinate their entire populations twice over. By contrast, emerging markets have secured only 2.8 billion doses, enough to cover just 34%. The Global Health Innovation Centre at Duke University of North Carolina reckons rich countries account for 16% of the global population, but for 60% of vaccine doses purchased so far. The Economist Intelligence Unit projects that "most developing countries will not have widespread access to the shots before 2023 at the earliest".
What does this mean for the economy?
It's bad news. The longer the virus rages unchecked in any part of the world, the more chance it has to mutate and render existing vaccines ineffective – and the greater the damage to the global economy from lockdowns, border closures and supply-chain chaos. An interconnected world – or one that aspires to be again – needs interconnected solutions, says David Pilling in the Financial Times. There's good news on vaccines, but the "sharp end of the problem" is only now coming into view.
Simon Wilson's first career was in book publishing, as an economics editor at Routledge, and as a publisher of non-fiction at Random House, specialising in popular business and management books. While there, he published Customers.com, a bestselling classic of the early days of e-commerce, and The Money or Your Life: Reuniting Work and Joy, an inspirational book that helped inspire its publisher towards a post-corporate, portfolio life.
Since 2001, he has been a writer for MoneyWeek, a financial copywriter, and a long-time contributing editor at The Week. Simon also works as an actor and corporate trainer; current and past clients include investment banks, the Bank of England, the UK government, several Magic Circle law firms and all of the Big Four accountancy firms. He has a degree in languages (German and Spanish) and social and political sciences from the University of Cambridge.