Kate Bingham: the grande dame of venture capitalists
The success of Britain's vaccine strategy is largely down to one woman – Kate Bingham, a biotech expert for a venture-capital firm. It's not the first time she has thrown herself head first into a big challenge.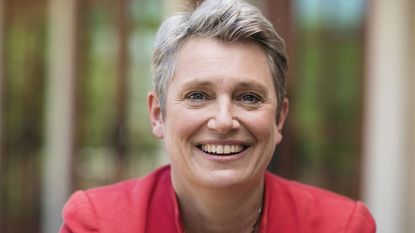 (Image credit: © Tom Kates/SV Health Managers)
When Britain's former vaccine tsar ran into trouble over the size of a PR bill last November, it was seized upon by critics as further evidence of the current government's "chumocracy". Kate Bingham is married to Treasury minister Jesse Norman, her links with Boris Johnson's clan were shown to stretch back to Oxford (where she was a contemporary of the PM), and beyond. To the world-weary, a further allegation – that she had given away sensitive information to private investors at an investment conference – seemed par for the course.
Playing a blinder
It says something for Bingham, who has now returned to paid work in civvy street, that a legion of colleagues in finance and medicine sprang to her defence. But even detractors must now concede she has played a blinder in the race to secure the Covid-19 jab for the UK, says the Daily Mail – identifying the most promising candidates early on and then securing supplies. The current chaos in Europe is a reminder it could all have been very different. "It's not a given that the UK – given its record – would have ended up where it is now without her," Professor John Bell, regius professor of medicine at Oxford, told the Financial Times. "She downed tools and did the due diligence and she was really effective and… ruthless and really tough."
A biochemist and venture capitalist, Bingham, 55, has spent three decades honing her drug discovery skills, mostly at SV Health Investors, which was spun out of Schroders in 2001 and, as of 2017, had $2bn under investment. "Think of me as being a sort of grande dame of the biotech venture community," she says. "My entire life is saying: 'What great new ideas are there and how can we turn them into drugs that will have a really significant impact on patients?' It's the world's most exciting job." A woman of apparently irrepressible energy, for Bingham the glass is "always half-full", notes The Times. When the health secretary, Matt Hancock, approached her in May to build "a portfolio of coronavirus vaccines", she knew it was going to be "incredibly difficult" because 90% of all clinical trials fail. As things turned out, the hit rate for Covid-19 vaccines "surprised everybody", she says. "It's just been crazy hard work, absolutely round the clock, evenings, weekends...".
Subscribe to MoneyWeek
Subscribe to MoneyWeek today and get your first six magazine issues absolutely FREE
Get 6 issues free
Sign up to Money Morning
Don't miss the latest investment and personal finances news, market analysis, plus money-saving tips with our free twice-daily newsletter
Don't miss the latest investment and personal finances news, market analysis, plus money-saving tips with our free twice-daily newsletter
The world's 19th-best bog snorkeller
Bingham arrived at Christ Church, Oxford, precociously early at 17, at a time when the male to female ratio was 5:1, says The Guardian. Part of a college clique known, semi-ironically, as "the mafia", she played lacrosse and partied hard, before turning "almost overnight" from "a dozy layabout" to a "rather embarrassingly keen student" in the third year and taking a first. She completed her education at Harvard Business School.
In person, Bingham has "a no-nonsense manner and a straight-talking style…rattling off facts and figures, barely pausing for breath", says The Times. But while her stamina has been known to test the less hardy, friends point out she is a great listener, kind and generous to a fault. And whatever the challenge, Bingham throws herself in head first. One of her prouder boasts is competing in the world bog-snorkelling championships and coming 19th. Forget conjuring one of the few UK success stories in this pandemic – that's really something to be proud of.
Jane writes profiles for MoneyWeek and is city editor of The Week. A former British Society of Magazine Editors editor of the year, she cut her teeth in journalism editing The Daily Telegraph's Letters page and writing gossip for the London Evening Standard – while contributing to a kaleidoscopic range of business magazines including Personnel Today, Edge, Microscope, Computing, PC Business World, and Business & Finance.
She has edited corporate publications for accountants BDO, business psychologists YSC Consulting, and the law firm Stephenson Harwood – also enjoying a stint as a researcher for the due diligence department of a global risk advisory firm.
Her sole book to date, Stay or Go? (2016), rehearsed the arguments on both sides of the EU referendum.
She lives in north London, has a degree in modern history from Trinity College, Oxford, and is currently learning to play the drums.