What we can learn from Britain's surprise vaccine success story
Britain's response to Covid-19 has been wanting. But we should also learn from what we got right, says Matthew Lynn.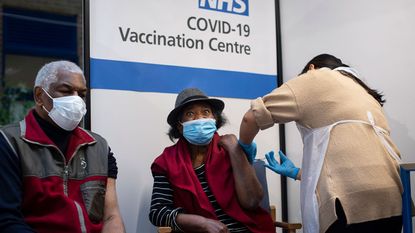 (Image credit: © VICTORIA JONES/POOL/AFP via Getty Images)
In most ways, Britain's response to Covid-19 has been the most chaotic in the world. We didn't close our borders when it first started even though, as an island, it would have been relatively simple to control the flow of people. We let the virus escape into care homes. We locked down too late, then lifted restrictions too early. And we never managed to make a track-and-trace system work. The net result? One of the worst fatality rates in the world.
There has, however, been one success. We managed to secure more vaccines than just about anyone, including a home-grown one from Oxford University and AstraZeneca. We approved them earlier and rolled out a rapid plan for getting them into people's arms. By the start of this week, only tiny, plucky Israel among major countries had done better than we had and the rest of Europe was lagging woefully behind. If vaccines, as we all hope, are the way out of this mess, then Britain's recovery will be faster than anyone else's.
That wasn't inevitable. France has a great tradition in life sciences; Germany has more money and technical expertise and is often more efficient as well. But neither country is close to our vaccination rates. We came up with a great strategy, chose the right people to implement it and committed plenty of money to the programme. That has paid off. There are three lessons for chancellor Rishi Sunak here that could be applied to the rest of the economy.
Subscribe to MoneyWeek
Subscribe to MoneyWeek today and get your first six magazine issues absolutely FREE
Get 6 issues free
Sign up to Money Morning
Don't miss the latest investment and personal finances news, market analysis, plus money-saving tips with our free twice-daily newsletter
Don't miss the latest investment and personal finances news, market analysis, plus money-saving tips with our free twice-daily newsletter
1. Reform the state and bring in business
The vaccines programme was run by a venture-capital specialist, Kate Bingham. The civil service, with its reports, committees and inherent cautiousness, was put safely on the sidelines. We collaborated with the companies making the vaccines rather than treating them as an enemy. And we moved quickly when we had to, taking some big risks along the way. True, not all of them paid off. We placed an order for 60 million of the Sanofi-GSK vaccine, for example, in July (just as the EU did), but that stumbled in clinical trials. But by spreading the risk around we secured enough supplies overall. The result? The programme was flexible and innovative, and delivered results. We could use that kind of flair and fresh thinking in lots of other areas, from levelling up the regions, to re-writing regulations now that we have left the EU, to reforming education, welfare and healthcare. Traditional civil servants are fine at keeping the machine ticking over, but they are hopeless at innovating.
2. Spend big where it matters
The vaccine programme made some big bets that look to have paid off. That made sense. Millions spent on vaccines in 2020 was always going to translate into billions in extra output from a swifter recovery in 2021 and 2022. Overall, the UK spent €24 per head of population, and the US spent €25, on pre-ordering vaccines while the EU spent a little over €2. Sure, some of the money was wasted, but that was always inevitable. It is the overall outcome that counts and you can't expect every experiment to come good. The UK can't afford to spend unlimited sums on everything, but we could pick one or two key technologies and spend big to make the UK a world leader – in gene-based vaccines, for example, to combat a range of cancers, and in lab-grown meats.
3. Boost British production
The vaccine programme didn't just pick winners. It invested heavily in ramping up UK production. The Oxford AstraZeneca shot is manufactured at scale in the UK, and so will the Novavax one be when it is approved, as seems likely. A new state-of-the-art vaccine-testing and manufacturing centre is opening soon in Oxfordshire. Over the last 30 years we have let manufacturing wither in the UK. That may have been the right decision for many declining industries such as cars, steel and chemicals, but in a handful of key technologies we can build it up again – especially when we control the key technologies as well. Research and manufacturing expertise in the same country can be a powerful combination.
Matthew Lynn is a columnist for Bloomberg, and writes weekly commentary syndicated in papers such as the Daily Telegraph, Die Welt, the Sydney Morning Herald, the South China Morning Post and the Miami Herald. He is also an associate editor of Spectator Business, and a regular contributor to The Spectator. Before that, he worked for the business section of the Sunday Times for ten years.
He has written books on finance and financial topics, including Bust: Greece, The Euro and The Sovereign Debt Crisis and The Long Depression: The Slump of 2008 to 2031. Matthew is also the author of the Death Force series of military thrillers and the founder of Lume Books, an independent publisher.