What's behind Britain's coronavirus testing disaster?
Britain's system of testing for the virus that causes Covid-19 collapsed just when we needed it most. What went wrong?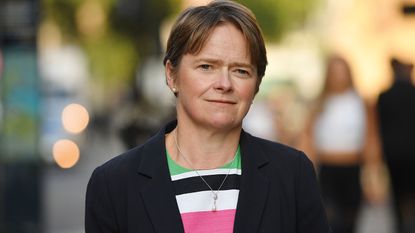 (Image credit: © JUSTIN TALLIS/AFP via Getty Images)
What has happened?
Britain's coronavirus testing system has seized up just as it is desperately needed – now, during the long-predicted resurgence in Covid-19 cases following the summer lull. As headteachers, NHS bosses and business leaders have been warning for months, the post-holiday return to school and work has meant both a surge in Covid infections and a leap in demand for tests due to the seasonal surge in colds and flu. But the government's testing system (somewhat cynically badged as "NHS" Test and Trace, despite being run by Serco and an opaque web of subcontractors) has failed to keep up. The surge in Covid cases has come a month or more earlier than the government thought. And it seems no one in government had quite realised that schools going back would mean a surge in testing demand from ill people – staff and pupils – required to test negative for Covid before being let back. In addition, they didn't anticipate a spike in demand from returning holiday-makers.
How has performance been affected?
Massive backlogs have built up, and in large areas of the UK either no tests are available, or people are offered testing slots hundreds of miles away. Those that do get tests have to wait longer for the results – leading to staff shortages in critical public services, including the NHS. At the start of September, before schools reopened, 63% of people in England who tested positive received their results by the end of the day after they had provided a swab, according to the Financial Times. By last week that number had plunged to 8%. And on the government's own figures, last week's turnaround times for the majority of tests – whether taken at testing centres or via home-delivered kits – had increased on average to 80 hours, double the time in early July. In all, according to estimates by Dido Harding, the Conservative life peer charged by health secretary Matt Hancock with overseeing test and trace, demand for tests across the UK in mid-September was three to four times higher than the total daily capacity of around 240,000.
Wasn't the surge foreseeable?
Not according to Harding. "I don't think anybody was expecting to see the really sizeable increase in demand that we've seen over the course of the last few weeks," she told bemused MPs last week. In a display of buck-passing that no doubt reflects Whitehall's obsession with avoiding blame in the future public inquiry, Harding said her team underestimated the rise in demand for tests due to "Sage modelling for what we should be preparing for the autumn". Yet Sage (the Scientific Advisory Group for Emergencies) doesn't actually predict demand for tests, as Jeremy Farrar, one of its members, immediately pointed out. Despite the testing chaos, Harding has now been invited to head the government's new National Institute for Health Protection (the body set up to replace Public Health England, seen as underperforming during the pandemic). As for the prime minister, he has declined to appoint a dedicated minister for testing and continues to send bizarrely mixed messages over the importance of testing in tackling the pandemic.
Subscribe to MoneyWeek
Subscribe to MoneyWeek today and get your first six magazine issues absolutely FREE
Get 6 issues free
Sign up to Money Morning
Don't miss the latest investment and personal finances news, market analysis, plus money-saving tips with our free twice-daily newsletter
Don't miss the latest investment and personal finances news, market analysis, plus money-saving tips with our free twice-daily newsletter
Is this just about a surge in demand?
It's about a surge in demand overwhelming an underprepared system with obviously vulnerable pinch points – in particular laboratory capacity and staffing. Five massive "Lighthouse" laboratories brought a surge in capacity in early summer – government-funded facilities set up to supplement existing public laboratories. But they haven't been well integrated into the system, says Sarah Neville in the FT. According to insiders, "institutional flaws played a big part in the system's problems, particularly failures of communication between the NHS labs and the Lighthouse "megalabs". These have "undermined effective planning and exacerbated staff shortages". The labs have struggled to optimise and standardise procedures, and struggled to acquire necessary resources and enough staff with the right skills as PhD students working over the summer headed back to university.
What can we learn from other countries?
Some analysts argue that having big centralised megalabs is the wrong strategy; that they in fact hinder the rapid expansion of testing, because they demand so many staff to be available in relatively small areas of the country, says Henry Bodkin in The Daily Telegraph. This model is in contrast to the far more diffuse network of smaller labs relied on in countries such as Germany, and echoes the criticism of Public Health England early in the pandemic that it is "run by control freaks who have spurned countless offers from private labs". Others argue that it's not testing per se that is the issue, but the efficacy of the entire test and trace strategy. For example, South Korea and Japan have both tested far fewer people than the UK, but have been far better at marrying targeted testing with an effective system of tracing and isolating contacts.
Where do we go from here?
The government has acknowledged that the testing shambles will take weeks to rectify, but has promised to hit 500,000 coronavirus tests a day in the UK by the end of next month (up from about 260,000 capacity now). That could prove tough to achieve: according to the British In Vitro Diagnostics Association – the trade body representing makers of the vital chemicals and machines needed to hit the target – the ramping up of capacity is "a few weeks" behind schedule, says Denis Campbell in The Guardian. Meanwhile, it was reported this week that ministers plan to spend more than £500m doubling the number of tests processed by laboratories at 16 hospital trusts as part of the effort to hit the 500,000 target. Let's hope they succeed, as the current failures are more than "a source of political embarrassment", says The Times. "They are a threat to the government's ability to fulfil its most basic obligations to the public, whose trust and patience are understandably beginning to wear thin."
Simon Wilson's first career was in book publishing, as an economics editor at Routledge, and as a publisher of non-fiction at Random House, specialising in popular business and management books. While there, he published Customers.com, a bestselling classic of the early days of e-commerce, and The Money or Your Life: Reuniting Work and Joy, an inspirational book that helped inspire its publisher towards a post-corporate, portfolio life.
Since 2001, he has been a writer for MoneyWeek, a financial copywriter, and a long-time contributing editor at The Week. Simon also works as an actor and corporate trainer; current and past clients include investment banks, the Bank of England, the UK government, several Magic Circle law firms and all of the Big Four accountancy firms. He has a degree in languages (German and Spanish) and social and political sciences from the University of Cambridge.