Germany's new government marks a radical transformation
New chancellor Olaf Scholz, who takes the reins from Angela Merkel, was in many ways the continuity candidate. But his government has radical plans for the future.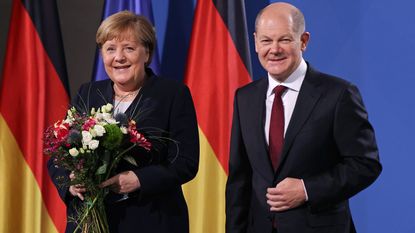 (Image credit: © Sean Gallup/Getty Images)
What's happened?
Germany's new chancellor, Olaf Scholz of the centre-left Social Democrats, was sworn in on Wednesday, heading the first three-way coalition since the 1950s. Scholz's partners in the coalition are the Free Democrats, a free-market liberal party that for decades has been the go-to coalition partner for the centre-right CDU; and the Greens, who were previously part of an SPD-led coalition under Gerhard Schröder from 1998-2005. The departure of Angela Merkel after 16 years is a moment of change, but also continuity. The SPD has been part of Merkel's coalition for 12 of her 16 years, and continuously since 2013. It has been in government – either as senior or junior partner – for all but four years since 1998. And Scholz himself has been Merkel's vice-chancellor and finance minister since 2018, sticking closely to the hawkish fiscal policies of his CDU predecessor, Wolfgang Schäuble, until the pandemic opened the taps. Scholz was previously a labour minister in the first Merkel government, then mayor of Hamburg since 2011.
So not much will change?
Scholz campaigned explicitly as the continuity candidate, claiming that his experience and non-ideological pragmatism made him a natural heir to Merkel. Scholz, as SPD chairman, was a strong supporter of the controversial but crucial labour reforms that paved the ground for Germany's economic success under Merkel, for example. Scholz will lead a coalition of apparently unlikely bedfellows: the fiscally conservative and business-friendly FDP, whose Christian Lindner is the new finance minister; and the free-spending Greens, who provide the foreign minister, Annalena Baerbock, plus Robert Habeck at the head of a new climate and economy super-ministry. The unexpectedly rapid conclusion of an unlikely coalition may well be testament to Scholz's low-key consensus-building skills. But governing may require something more.
What's the plan for government?
The overarching themes are, first, "modernisation" – Scholz plans a "decade of investment" and the "biggest industrial modernisation of Germany in more than 100 years" – and decarbonisation, with a vow to make the country a "pioneer in climate protection". Specific commitments include a pledge (and specific actions) to end coal-powered electricity by 2030 (eight years earlier than previously planned); to raise the share of renewables to 80% by 2030 (up from a previous goal of 65%); and to establish a carbon price of €60 a tonne. There will also be a big rise in the minimum wage (from €9.60 to €12 an hour), a commitment to "stable" pensions (with no reduction in pensions or pensionable age) and more social housing and spending (such as a "basic income" for children).
Subscribe to MoneyWeek
Subscribe to MoneyWeek today and get your first six magazine issues absolutely FREE
Get 6 issues free
Sign up to Money Morning
Don't miss the latest investment and personal finances news, market analysis, plus money-saving tips with our free twice-daily newsletter
Don't miss the latest investment and personal finances news, market analysis, plus money-saving tips with our free twice-daily newsletter
What else is planned?
The new government has also pledged to legalise cannabis for adults; remove the concept of "race" from the federal constitution; introduce more generous family-reunification rules for refugees, but make deportations easier; and introduce even tougher rules on video surveillance and data storage. On fiscal policy, it has agreed to reinstate the constitutional debt brake (the cap on new borrowing that was suspended due to the pandemic) in 2023, and committed to creating a state-owned bank to promote green investment and digital transformation. One big challenge will be to find the billions needed to green Germany's economy and rebuild its infrastructure, while also sticking to the fiscal rules. As such, the appointment of uber-thrifty Lindner as finance minister could be helpful, says The Economist. Scholz has come up with a variety of fiscal wheezes to raise funds without breaking the rules and the presence of Lindner, who is strongly pro-business, will reassure conservatives.
But there will be challenges?
Indeed. The most immediate are dealing with the current wave of coronavirus – Germany's worst to date in terms of infections, though not deaths – and an economic outlook that has markedly worsened in the weeks since the election in late September. Last week inflation hit 6%, the highest since the early 1990s, and this week data revealed a slump in factory orders far worse than any analyst predicted, due to a fall in export demand. The OECD think-tank has just cut its 2022 growth forecast for Germany by half a point to 4.1%. Some analysts even predict a contraction in GDP in the current fourth quarter, driven by supply-chain disruptions. Industry has been hobbled by shortages of raw materials and key inputs such as microchips, leading to bottlenecks and production problems, particularly in the crucial automotive sector.
The lights will stay on though?
That will be a challenge given the ambitious climate goals, which imply the need to build thousands of wind turbines and solar panels, extensive new electricity grids and a swath of gas-fired power stations, says Guy Chazan in the Financial Times. The most pressing challenge though is what to do about Nord Stream 2. The gas pipeline – which is completed but not yet approved for use by German regulators – will bring Russian gas directly to Germany, bypassing Ukraine and making it easier for Moscow to bully Kyiv. In other words, going ahead with the pipe increases Putin's leverage and ability to continue its hybrid warfare against Ukraine, a Western ally (see also page 11). This and other foreign-policy and security issues could yet prove the critical faultline in the coalition, says Wolfgang Münchau in The Spectator. The SPD "are perhaps Russia's most important strategic partner in Europe". Ex-chancellor Gerhard Schröder is Russian president Vladimir Putin's "chief international lobbyist", and the party is pro-Nord Stream 2. The Greens and the FDP are strongly opposed, and a decision can't be put off forever. "The wedding went as well as can be expected," says The Economist. "But the honeymoon will be brief."
Simon Wilson's first career was in book publishing, as an economics editor at Routledge, and as a publisher of non-fiction at Random House, specialising in popular business and management books. While there, he published Customers.com, a bestselling classic of the early days of e-commerce, and The Money or Your Life: Reuniting Work and Joy, an inspirational book that helped inspire its publisher towards a post-corporate, portfolio life.
Since 2001, he has been a writer for MoneyWeek, a financial copywriter, and a long-time contributing editor at The Week. Simon also works as an actor and corporate trainer; current and past clients include investment banks, the Bank of England, the UK government, several Magic Circle law firms and all of the Big Four accountancy firms. He has a degree in languages (German and Spanish) and social and political sciences from the University of Cambridge.