Surge in Covid cases in China rattles markets. What is going on?
The resurgence of Covid in China has led to fears that lockdowns could derail the global economic recovery. Saloni Sardana explains what is going on and how it affects the global economy.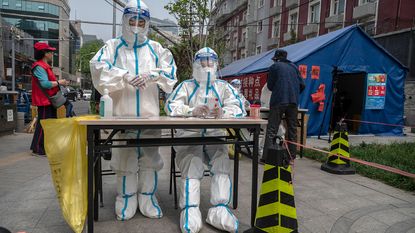 (Image credit: © Kevin Frayer/Getty Images)
Just over a month ago the resurgence of Covid in China sent shockwaves around the world and fears mounted that lockdowns could derail the global economic recovery.
Events in China this weekend did little to dampen those fears, with Beijing warning that Covid was spreading undetected and cases would spiral further, which caused a steep sell-off in global markets on Monday.
So what is going on and how may it affect you?
Subscribe to MoneyWeek
Subscribe to MoneyWeek today and get your first six magazine issues absolutely FREE
Get 6 issues free
Sign up to Money Morning
Don't miss the latest investment and personal finances news, market analysis, plus money-saving tips with our free twice-daily newsletter
Don't miss the latest investment and personal finances news, market analysis, plus money-saving tips with our free twice-daily newsletter
What is happening in China?
China reported 3,266 symptomatic Covid cases and close to 20,500 asymptomatic cases on Monday.
The higher numbers of cases have prompted authorities in Beijing to impose mandatory testing for anybody working or living in the diplomatic district of Chaoyang, which accounted for 26 of Beijing's 47 symptomatic cases since Friday, says the Guardian.
And that is not all. While only specific apartment buildings have been forced to shut down in Beijing and schools are still open, the Chaoyang business district has introduced curbs on in-person group activities, says CNBC.
One part of the district has seen a halt in main business activity with entertainment venues, indoor gyms and restaurants forced to close from Monday morning. Stay-at-home guidance has also been issued for those living in the area.
Why are cases rising and why does any of this matter?
The rising number of cases raises the spectre of a lockdown in the capital, in the same way Shanghai has done over recent weeks. Shanghai, China's largest and wealthiest city, has accounted for the majority of China's cases with 19,455, and has been beset by lockdowns over the last four weeks.
A strict lockdown was imposed on the city's 26 million residents on 5 April.
It comes after Shenzhen, sometimes referred to as China's Silicon Valley, also introduced a lockdown in March.
The rising case numbers put further pressure on Xi Jingping's "zero-Covid" policy inoperation since the virus was first detected in Wuhan in 2019. Its approach involved imposing hard citywide lockdowns, mass testing and travel restrictions soon after any outbreak of cases.
While this approach worked well in the earlier stages of the pandemic, the more virulent Omicron variant has put the future of this policy into doubt.
China's population has little natural immunity – vaccination booster rates are low with just 50% of the population having received a third jab. Worse yet, this figure is far lower for those aged over 80, at just 20%.
"We calculate it would take more than three months and seven months respectively, to bring vaccination levels to above 70% for the two groups," says Frederique Carrier, head of investment strategy in the British Isles and Asia at RBC Wealth Management.
How badly have markets been affected?
As Hargreaves Lansdown's Susannah Streeter points out, markets sold-off "as worries ricochet to Asia and Europe about the more aggressive monetary policy path set to be taken by the US Federal Reserve".
Global markets have fallen hard this week with many major bourses deep in the red. The Shanghai Composite index has shed more than 5%; Japan's Nikkei 225 is down by 1.5% and the FTSE 100 is 1.9% lower.
Brent crude oil fell more than 5%. China is the world's second largest consumer of Brent crude.
How will this affect consumers in China?
The Covid measures are causing consumers to flock to supermarkets in a desperate bid to stock up ahead of potential food shortages.
As a result, supermarket chains such as Walmart and Carrefour have more than doubled inventories and extended their opening hours at weekends. Meanwhile, Meituan, a Chinese online shopping platform, has taken other measures to cater for panic buying including increasing its delivery staff.
The Global Times, a state-owned newspaper, has tried to reassure its citizens that Beijing has sufficient supplies and the situation would not become as severe as Shanghai, but the assurances have done little to prevent panic buying.
What does it mean for the global economy?
The country's outbreak of cases comes at a time where Russia's war with Ukraine was already raising prices, with inflation heading towards double digits in several economies, including the US and the UK.
Hargreaves Lansdown's Susannah Streeter says that there is concern that prolonged lockdowns will hit employment and lead to a sharp slowdown in growth as well as sparking fresh shipping logjams and supply chain issues.
China is the world's manufacturing powerhouse, accounting for almost 30% of the world's global manufacturing output in 2019, according to the United Nations Statistics Division.
The economic impact in the short-term may be sizeable with higher prices for goods. But there are many reasons to stay optimistic, says Andy Rothman, investment strategist at Matthews Asia.
This is because it is likely that cases will peak in Shanghai, which has accounted for 90% of the rise in cases soon, and cases still remain low relative to China's population. Another positive sign is that most of the cases in China are asymptomatic, Rothman says.
However, one potential silver lining for UK consumers from China's slowdown is cheaper petrol at the pumps, says The Telegraph. If China's lockdowns result in lower economic activity and a slump in the demand for oil, petrol prices could follow suit.
Will China ease stimulus?
China's government is expected to initiate a major stimulus programme to reinvigorate the economy by the time of the autumn Party Congress, when Xi Jinping will be awarded a third, five-year term as party chief.
The People's Bank of China already cut its reserve requirement ratio (RRR – the amount commercial banks should hold rather than invest or lend out) by 25 basis points for all banks and 50 basis points for certain small banks.
Carrier says​ RRR cuts may not be enough to revive the economy as "these are smaller than the typical cuts of 50 or 100 basis points, perhaps due to weak credit demand and concerns regarding the inflation outlook".
She expects further tax cuts, city-level housing policy relations and more sponsored infrastructure development as measures that China may take to ease stimulus.
Rothman says that while lockdowns are likely to lead to short-term higher food prices, he doesn't expect consumer price inflation to rise enough to interfere with the Chinese central bank's plans to further cut interest rates and boost credit at a time when the Federal Reserve in the US is raising interest rates.
"The consumer price index (CPI) is rising in China, but not nearly enough to make the central bank nervous about easing. In the first quarter, China's CPI rose at a healthy 1.1% pace, compared to 8% in the U.S," he says.
Though RBC has downgraded China's GDP growth forecast from 2022 to less than 5% compared to a previous forecast of 5.5%.
Ultimately how long Shanghai remains in lockdown may be key to assessing the economic fallout from China's rising cases.
Saloni is a web writer for MoneyWeek focusing on personal finance and global financial markets. Her work has appeared in FTAdviser (part of the Financial Times), Business Insider and City A.M, among other publications. She holds a masters in international journalism from City, University of London.
Follow her on Twitter at @sardana_saloni