Collecting rare whisky: a £16m tipple served with froth
The market in rare whisky is looking very bubbly, says Chris Carter, with a 1975 cask of recently selling for £16m.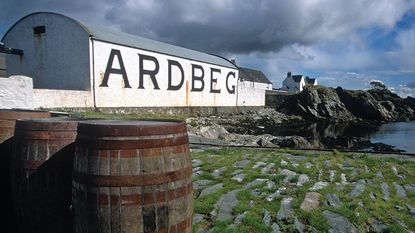 (Image credit: © Simon Grosset / Alamy)
Earlier this month, a cask of 1975 whisky sold for £16m in a private sale to a collector in Asia. The single malt, known as Cask No 3, from the 207-year-old Ardbeg distillery on the island of Islay, sold for more than double the price that LVMH subsidiary Glenmorangie paid for Ardbeg and all of its stock in 1997, as Alice Lascelles and Oliver Barnes note in the Financial Times. For the next five years, 88 bottles, each worth £36,000, will be drawn from the cask every year and dispatched to Asia. "The sale," says the paper, "represents a new high-water mark for the increasingly competitive market in rare whisky."
We are not talking about a simple rising of the tide here. That £16m figure is well above the previous record of £1m for a cask, when a 1988 Macallan was sold to an American buyer, only last April. And while that price somewhat unusually includes the costs of storage, insurance, bottling, labelling, distillery visits and taxes (you could infer a price closer to £8m for the whisky itself), it is still a significant mark-up. We can only presume the buyer will drink or give the bottles away. "They were so dear in the first place it's hard to see how they could deliver a return," says Lascelles. Is this yet another sign that the market in collectable assets is frothing?
Bottles of rare single malts selling for ever higher prices have grabbed the headlines in recent years. That trend culminated in 2019 with the sale at Sotheby's in London of a bottle of Macallan 1926 60-year-old for almost £1.5m. So why not seek out tomorrow's million-pound bottles? The same month the Macallan sold, Cask Trade launched its online platform, allowing collectors to buy and sell whole casks, and the Swedish-regulated The Single Malt Fund opened up to British investors. Braeburn Whisky, which specialises in the sale of investment-grade whisky casks to investors, is now on the fourth edition of its annual Whisky Cask Market Report. Its BC20 Whisky Cask index, which tracks and collates the values of 20 casks from assorted distilleries around Scotland, rose by 14.4% last year. The report notes that, since 2020, the investment market has "expanded considerably" as investors diversify into tangible assets and seek decent returns.
Subscribe to MoneyWeek
Subscribe to MoneyWeek today and get your first six magazine issues absolutely FREE
Get 6 issues free
Sign up to Money Morning
Don't miss the latest investment and personal finances news, market analysis, plus money-saving tips with our free twice-daily newsletter
Don't miss the latest investment and personal finances news, market analysis, plus money-saving tips with our free twice-daily newsletter
"It's an industry ripe for scalping," one industry insider tells the FT. "I strongly suspect there are multiple pyramid schemes that haven't yet been exposed." So do your research and get a "delivery order", which gives you legal proof of cask ownership, advises Andy Simpson of analysts Rare Whisky 101. And as with any market that has risen strongly over the years, particularly one that continues to do so in an environment that has seen stocks and even gold flounder, while achieving a new high price record 15 times in excess of the previous record, beware the bursting of the bubble.
Undiscovered gems from the distilleries
It seems like just about everyone and their West Highland terrier has gone cask-whisky crazy. Edinburgh-based Artisanal Spirits Company, which listed on Aim, London's junior stockmarket, in June last year, says membership of its Scotch Malt Whisky Society (smws.com) grew by almost a quarter year-on-year in the six months to the end of June, to 35,500. First-half sales rose to nearly £10m, from £7.9m a year earlier, with revenues for 2022 forecast at around £21.6m. The club seeks out casks from 140-odd distilleries, which it then bottles and offers to members at cask strength. It's a business model that is becoming increasingly popular as whisky enthusiasts seek out undiscovered gems away from the main distillery offerings.
House of Hazelwood is a collection of whiskies spanning seven decades and held in cask, built up by the Gordon family over the best part of a century. It claims to be "the greatest inventory of aged Scotch whisky held anywhere in the world". Every year, new stock is laid down for future generations to enjoy, and from this summer, that includes those from outside the immediate family. The collection is releasing selected small-batch bottles and special releases for the first time. Prior to bottling, a small proportion of the stock is monitored near Dufftown, in Speyside, where it can be sampled from the cask by private appointment. House of Hazelwood also runs its own "club". "Keyholders" gain access to members-only releases, private events and preferential access to new releases. See houseofhazelwood.com.
Auctions
Going…
The Teflon-coated white coverall jacket worn by astronaut Edwin "Buzz" Aldrin during his trip to the moon and back as part of the Apollo 11 mission in 1969 was heading for auction this week with Sotheby's. It is the only piece of clothing from the mission that is available for private ownership (the others are kept in the National Air and Space Museum collections in Washington, DC ), and as such was expected to sell for $2m. Following his moonwalk with Neil Armstrong, Aldrin found the engine arm circuit breaker switch had broken off and was lying on the floor of the lunar module. Without it, they couldn't return home. Aldrin, ever resourceful, jammed his plastic-tipped pen into the hole, and saved them both. The pen and switch were also expected to fetch $2m as part of the same sale.
Gone…
The sequined leotard costumes and matching bicorne hats worn by Marilyn Monroe and Jane Russell as Lorelei Lee and Dorothy Shaw in the 1953 film Gentlemen Prefer Blondes went up for sale earlier this month with California-based Julien's Auctions. They fetched $102,400. They were, however, outstaged during the sale by the figure-hugging gown worn by Monroe in There's No Business Like Show Business, made the following year. The flesh-tone crepe gown, embellished with silver and pearlised bugle beads, scattered rhinestones, sequins and silver and glittering flowers, came with a matching headpiece. Together, they sold for $218,750, more than double their pre-sale estimate. All three outfits were designed by Oscar-winner William "Billy" Travilla.
Chris Carter spent three glorious years reading English literature on the beautiful Welsh coast at Aberystwyth University. Graduating in 2005, he left for the University of York to specialise in Renaissance literature for his MA, before returning to his native Twickenham, in southwest London. He joined a Richmond-based recruitment company, where he worked with several clients, including the Queen's bank, Coutts, as well as the super luxury, Dorchester-owned Coworth Park country house hotel, near Ascot in Berkshire.
Then, in 2011, Chris joined MoneyWeek. Initially working as part of the website production team, Chris soon rose to the lofty heights of wealth editor, overseeing MoneyWeek's Spending It lifestyle section. Chris travels the globe in pursuit of his work, soaking up the local culture and sampling the very finest in cuisine, hotels and resorts for the magazine's discerning readership. He also enjoys writing his fortnightly page on collectables, delving into the fascinating world of auctions and art, classic cars, coins, watches, wine and whisky investing.
You can follow Chris on Instagram.