The $15m violins up for auction
Instruments from Antonio Stradivari and Giuseppe Guarneri – the "da Vincis of violins" – are fetching stellar prices at auction.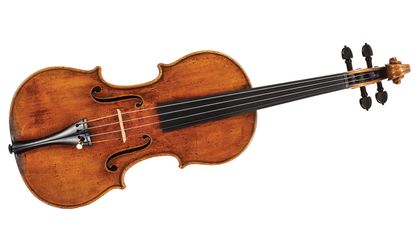 (Image credit: © Tarisio)
The finest violins in the world were made by Antonio Stradivari and Giuseppe Guarneri in the 18th century, as any violinist worth their salt will tell you. The Italian luthiers were contemporaries and both lived and worked in Cremona, the pre-eminent centre of violin-making.
When touting one of their instruments for sale, auctioneers naturally reach for the superlative gold standard everybody recognises from the art world – the great Leonardo da Vinci. And so we have it: next month, there is not one, but two violins heading for auction, with both French auction house Aguttes and specialists Tarisio proudly proclaiming theirs to be the "da Vinci" of violins in their respective June sales.
First up, on 3 June at Aguttes, just outside Paris, is a "Del Gesu" violin, made by Guarneri in 1736, at the peak of his career. The maple-backed instrument is one of only around 150 that Guarneri made during his lifetime – he was much less prolific than his rival, Stradivari, even if the quality and longevity of those violins are a match for Stradivari's.
Subscribe to MoneyWeek
Subscribe to MoneyWeek today and get your first six magazine issues absolutely FREE
Get 6 issues free
Sign up to Money Morning
Don't miss the latest investment and personal finances news, market analysis, plus money-saving tips with our free twice-daily newsletter
Don't miss the latest investment and personal finances news, market analysis, plus money-saving tips with our free twice-daily newsletter
"There are many violins, but this one is like selling a Rembrandt, a Goya, or even a Leonardo da Vinci painting," Aguttes' Sophie Perrine tells Reuters. It was bought around two decades ago by French virtuoso Regis Pasquier, who has played it at Carnegie Hall in New York and the Opéra Garnier in Paris. "For him, this instrument was perfect," says Perrine. Aguttes has given its "da Vinci" a conservative estimate of €4m to €4.5m, but says it could sell for up to €10m.
The perfect model – with no woodworm
On 9 June, musical instruments-specialist auction house Tarisio is selling its Stradivari "da Vinci". It was crafted in 1714, when Stradivari was also at the peak of his career during what is considered his decade-long "Golden Period". Within this, the years 1713-1716 "are the epicentre", says Tarisio's Jason Price. Stradivari was at the "pinnacle of his powers", with the best woods and varnishes within his reach.
Nearing 70 years of age, Stradivari drew on a lifetime of experimentation to create "the perfect model, both flat and broad, with an arching that had been refined to perfection". The edges of the one-piece maple back are "less wide, the purfling [decorative edging] is narrower and more compact and the corners are less blunted than other violins from the mid-teens". Analysis has confirmed it is a "healthy instrument, free of woodworm and unencumbered by serious restorations".
Tarisio is putting the Stradivari "da Vinci" up for auction with the added qualifier that it is also "ex-Seidel". This refers to its previous owner, Russian-American Toscha Seidel, one of the greatest virtuosos of the 20th century. Seidel declared to The New York Times in 1924, shortly after acquiring it, that "we precisely suit each other, and I am convinced it is one of the finest examples of the famous violin maker".
He recorded several early Hollywood film scores with it, including Somewhere Over the Rainbow from The Wizard of Oz (1939). It is expected to sell for $15m to $20m, according to The New York Times, potentially breaking the previous auction record of $15.9m set by the "Lady Blunt" violin in 2011.
A Worholian result at auction
Shot Sage Blue Marilyn (1964), a "lurid" print portrait of Marilyn Monroe by Andy Warhol, sold for $195m after fees last week at Christie's in New York, making it the most expensive contemporary artwork sold at auction, says Will Pavia in The Times. It is the second-most expensive artwork anywhere, after Salvator Mundi (c.1500), a painting attributed to Leonardo da Vinci, which sold for $450m in 2017, and it also set an auction record for a US artist. Christie's had billed the Marilyn as a masterpiece and rumours swirled that it might go for as much as $400m.
"This is the sort of silly money that an (in principle) infinitely reproducible print can attract," says Rachel Campbell-Johnston in the same paper. It's all about trophy status. "Warhol's pictures, so empty of content, so content with their emptiness, have paradoxically become among the most recognisable in the world." Part of the allure comes from the story about Dorothy Podber, a performance artist Warhol met at a party. "Can I shoot you [with my camera]?", Warhol supposedly asked her. She replied: "Sure, if I can shoot you."
The next day, she turned up at Warhol's studio with a great dane named Carmen Miranda and a gun. She shot at a stack of Marilyns (which today are known as the "shot Marilyns"), but Shot Sage Blue Marilyn, despite the name, was apparently unscathed. Warhol barred her from his studio for life. Hedge-fund manager Ken Griffin reportedly bought Orange Marilyn for $200m in a private sale in 2017. Is Shot Sage Blue Marilyn worth its similar price tag? Either way, "for an artist who famously declared that 'making money is art… and good business is the best art', this auction price is a quintessentially Warholian result".
Auctions
Going…
The "infamous invisible" grey football shirt worn by Manchester United "legend" Eric Cantona during the 1995-1996 Premier League season is heading for sale with Graham Budd Auctions on 24 May, says the Mail Online. The side ditched the away shirts after losing four out of five games while wearing it, with the players complaining they couldn't pick each other out on the pitch as the grey shirts blended in with the crowds. While losing to Southampton, manager Alex Ferguson ordered his side to change into their third-choice blue and white strip, incurring a fine and losing the match anyway. But it paid off in the end – United went on to win the league title. The long-sleeved XXL-sized Umbro shirt bears the name of the French footballer and the number seven on the back. It is valued at £12,000.
Gone…
The football shirt Diego Maradona wore when he scored the "Hand of God" goal against England in the 1986 World Cup fetched £7.1m with Sotheby's, setting an auction record for sports memorabilia, says BBC Sport. The previous record belonged to a jersey worn by New York Yankees star Babe Ruth, which sold for $5.6m in 2019. Maradona, who died in 2020, had swapped the shirt with midfielder Steve Hodge after his side beat England 2-1 at the Azteca Stadium in Mexico City. In the run-up to the sale, Maradona's family claimed it was not the shirt in question, but Sotheby's insisted it matched footage from the quarter-final game.
Chris Carter spent three glorious years reading English literature on the beautiful Welsh coast at Aberystwyth University. Graduating in 2005, he left for the University of York to specialise in Renaissance literature for his MA, before returning to his native Twickenham, in southwest London. He joined a Richmond-based recruitment company, where he worked with several clients, including the Queen's bank, Coutts, as well as the super luxury, Dorchester-owned Coworth Park country house hotel, near Ascot in Berkshire.
Then, in 2011, Chris joined MoneyWeek. Initially working as part of the website production team, Chris soon rose to the lofty heights of wealth editor, overseeing MoneyWeek's Spending It lifestyle section. Chris travels the globe in pursuit of his work, soaking up the local culture and sampling the very finest in cuisine, hotels and resorts for the magazine's discerning readership. He also enjoys writing his fortnightly page on collectables, delving into the fascinating world of auctions and art, classic cars, coins, watches, wine and whisky investing.
You can follow Chris on Instagram.