Classic car collectors step on the gas as prices rise
Prices in classic-car markets are starting to look frothy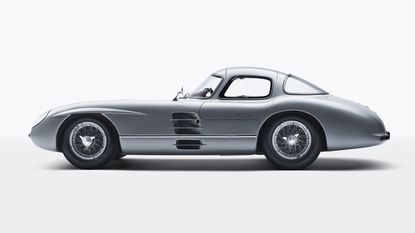 (Image credit: © Mercedes Benz)
Stocks have had a rotten time of late. Collectables, on the other hand, have soldiered on. Sales results from the big three auction houses (Sotheby's, Christie's and Phillips) have thus far been robust. The same is true for classic-car auctions. Several cars fetched six-figure sums at Bonhams's Goodwood Festival of Speed sale at the end of June. The auction house followed that at the start of July with its first sale at the Gstaad Palace hotel in the Swiss Alps in 14 years, successfully selling 89% of lots for a total of CHF7.5m (£6.4m). Top billing went to a rare 1991 Ferrari F40, which fetched just shy of CHF2m (£1.7m). Next month, RM Sotheby's holds its annual Monterey sale in California. With a number of cars valued in the millions of dollars, including a 1924 Hispano-Suiza H6C Torpedo, with a chassis made from tulip wood and a high estimate of $12m, it will be a key test of market sentiment.
Even ordinary models are fetching high prices. Last month, an iconic Ford Capri, built in 1972, sold for £74,250, setting a new record for the model. To be fair, it wasn't any old Capri for sale at Classic Car Auction's Summer Sale in Warwickshire. It was a one-of-a-kind "prototype" model for the RS3100 Capri, the blueprint for a production run of 249 RS3100s made the following year and the basis for the popular coupé. The seller bought the car from Ford in 1975 for £1,500 – around £21,000 in today's money, "showing just how much the modest Capri has appreciated in half a century", says Rob Hull on This Is Money.
It's harder to make money
Collectors are now finding it increasingly hard to pick up models cheap enough to make them viable investments, due to a flattening of the "depreciation curve", as Rob Sass notes in The New York Times. High-end sports cars shed a large percentage of their values the moment they drive off the forecourt. "From there, it was a long slog to the bottom of the depreciation curve, where cars would often languish for years, sometimes decades, before nostalgia-driven interest drove values up again." A car would gain the attention of collectors only once its value regained its original sale price. But around the middle of the last decade, that curve became more shallow, meaning fewer bargains for collectors looking to make money down the line.
Subscribe to MoneyWeek
Subscribe to MoneyWeek today and get your first six magazine issues absolutely FREE
Get 6 issues free
Sign up to Money Morning
Don't miss the latest investment and personal finances news, market analysis, plus money-saving tips with our free twice-daily newsletter
Don't miss the latest investment and personal finances news, market analysis, plus money-saving tips with our free twice-daily newsletter
Perhaps the surest sign that the market is getting toppy is the $142m paid for a 1955 Mercedes-Benz 300 SLR Uhlenhaut Coupé (pictured)at an auction in Stuttgart, in May. That figure blew apart the previous auction record, set by a 1962 Ferrari 250 GTO when it sold for $48.4m in 2018. "The buyer has never once asked me what I think the car might be worth in the future," Simon Kidston, who placed the winning bid on behalf of a client, tells Hannah Elliott on Bloomberg. At that price, it's surely just as well.
Time's up for Rolex
It's not only classic cars that may have peaked (see left), second-hand luxury watches may have too. "After reaching record highs earlier this year, prices for the most desirable watches on the secondary market, including the coveted Rolex, have now fallen," says Andrea Felsted on Bloomberg. A heady mixture of crypto-asset appreciation, stockmarket gains, stimulus cash and speculation helped fuel the market bubble in 2021. And when financial markets began to "whipsaw earlier this year, some investors were keen to put their money into more tangible stores of value", such as collectable timepieces. Younger traders joined long-time collectors. Together, they chased "the holy trinity of the most-hyped watches" – the Rolex Daytona (pictured), the Patek Philippe Nautilus and the Audemars Piguet Royal Oak. All were trading for several times their retail prices. That demand "is now evaporating".
Prices for all three of these models are estimated to be a quarter below their peaks, says Felsted. For now, though, the broader market does appear to be holding up. There is also still a lively interest among collectors in "genuinely rare pieces" and demand for new models often continues to outstrip supply in shops. However, according to Jefferies, an investment bank, "crypto wealth" accounted for up to 30% of growth in US luxury sales last year, and the recent collapse in the crypto- currencies leaves luxury goods – from high-end handbags to jewellery – vulnerable. Add to that a possible recession and the outlook for second-hand luxury watches becomes yet more uncertain. "For the bling behemoths, as in the watch market, time may be running out."
Auctions
Going
An original Stormtrooper helmet used in the 1977 film retroactively titled Star Wars: Episode IV – A New Hope is up for sale with California-based Julien's Auctions on Monday. It is believed to be one of the original six surviving "Sandtrooper" helmets made for the first instalment of the Star Wars series, in which the imperial shock troops are introduced in a scene that takes place on the desert planet of Tatooine. The helmet for sale is thought to have been worn by one of the stormtroopers escorting Princess Leia to meet Darth Vader aboard the captured Rebel Blockade Runner spacecraft. Each of the helmets, designed by Andrew Ainsworth, is unique because the method of manufacture required them to be hand-finished. It is expected to fetch up to $300,000.
Gone
An original miniature model of the Red Leader X-wing Fighter, used in the making of Star Wars: A New Hope, sold with Prop Store Auction last month. In the film, the fighter is piloted by Squadron Leader Garven Dreis, played by the late Drewe Henley. The model, made by visual effects company Industrial Light & Magic, is extremely rare as most were blown up in the filming of the climactic battle sequence at the Death Star. Despite sustaining scratches when a pyrotechnic was set off to simulate an explosion to the spacecraft's engine, the model was offered in "excellent condition". The scratches and airbrush marks to the paintwork were used to authenticate the model using behind-the-scenes photographs taken in 1976. It fetched almost $2.4m.
Chris Carter spent three glorious years reading English literature on the beautiful Welsh coast at Aberystwyth University. Graduating in 2005, he left for the University of York to specialise in Renaissance literature for his MA, before returning to his native Twickenham, in southwest London. He joined a Richmond-based recruitment company, where he worked with several clients, including the Queen's bank, Coutts, as well as the super luxury, Dorchester-owned Coworth Park country house hotel, near Ascot in Berkshire.
Then, in 2011, Chris joined MoneyWeek. Initially working as part of the website production team, Chris soon rose to the lofty heights of wealth editor, overseeing MoneyWeek's Spending It lifestyle section. Chris travels the globe in pursuit of his work, soaking up the local culture and sampling the very finest in cuisine, hotels and resorts for the magazine's discerning readership. He also enjoys writing his fortnightly page on collectables, delving into the fascinating world of auctions and art, classic cars, coins, watches, wine and whisky investing.
You can follow Chris on Instagram.