NS&I brings back one-year fixed bonds with highest rates since 2010
NS&I's one-year fixed bonds are back on sale after being pulled off the market in 2019 - but is the rate any good?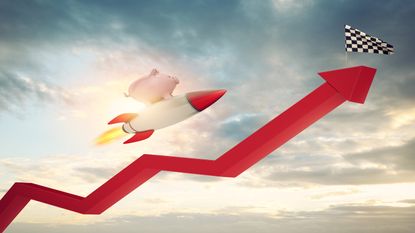 (Image credit: © Getty Images)
National Savings & Investments (NS&I) has relaunched its one-year fixed bonds in a bid to lure back savers into the government-backed bank.
NS&I is offering rates up to 4%, making the bonds a strong contender against the best one-year fixed savings accounts.
Currently, the highest fixed savings account via Santander gives the same amount of return, unless you bank with Barclays, where existing customers can earn over 5%.
Subscribe to MoneyWeek
Subscribe to MoneyWeek today and get your first six magazine issues absolutely FREE
Get 6 issues free
Sign up to Money Morning
Don't miss the latest investment and personal finances news, market analysis, plus money-saving tips with our free twice-daily newsletter
Don't miss the latest investment and personal finances news, market analysis, plus money-saving tips with our free twice-daily newsletter
The Guaranteed Growth Bonds and Guaranteed Income Bonds are available for general sale for the first time since 2019.
From 1 February Guaranteed Growth Bonds will allow savers to earn 4% gross AER, while Guaranteed Income Bonds will offer 3.9%. These are the best rates both have offered since 2010.
The relaunch of the bonds follow recent increases to savings products and the interest rate on its Premium Bonds, which will see more winners in the February premium bonds prize draw.
Customers looking for the best savings accounts have benefitted from the Bank of England's interest base rate rises, which has seen some banks increase their interest rates.
But those happy to lock their cash away for a year have another option and can benefit from the safety associated with NS&I's Treasury backed guarantee, which exceeds the £85,000 cap set by the Financial Services Compensation Scheme.
How much can I save in NS&I bonds?
NS&I's one year bonds have a minimum investment of £500, and a maximum of £1m.
If you're looking for a short-term home for your cash holdings, the 4% rate looks competitive and is protected with the government seal of safety.
NS&I increases rates for existing customers
If you are an existing fixed rate bond holder, you can also benefit from the new rate.
Nearly half a million one, two, three and five year Guaranteed Growth Bonds, Guaranteed Income Bonds and Fixed Interest Savings Certificates accounts will also benefit from the new interest rates when their Bonds and Certificates mature if they decide to reinvest at maturity.
The two, three and five-year products are only available to existing customers with maturing products.
"With talk that savings rates may be past their peak, today's news from NS&I will come as welcome news to savers looking to get the most by tying up their cash," says Helen Morrissey, senior analyst at Hargreaves Lansdown.
"Savings rates have been starting to slide down in recent months, but these products are competitive and come off the back of further rate hikes for other NS&I products in the last few months."
NS&I chief executive Ian Ackerley said the NS&I has "continued to respond to the current market to ensure that NS&I's products are priced appropriately when compared with the rest of the savings market.
"This also ensures that NS&I continues to balance the interests of savers, taxpayers and the broader financial services sector."
Nic studied for a BA in journalism at Cardiff University, and has an MA in magazine journalism from City University. She joined MoneyWeek in 2019.