New insulation funding scheme: £1bn cash boost for UK's least efficient homes
The government has announced it will spend an extra £1bn to insulate homes that have a low energy efficiency rating.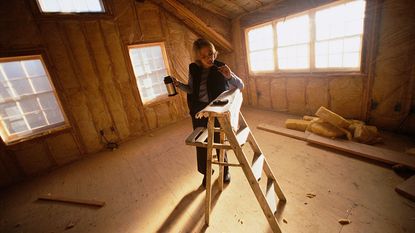 (Image credit: © Getty Images)
The government has unveiled a new insulation funding scheme, which could save consumers about £310 a year, as they struggle with rising energy prices.
Business and energy secretary Grant Shapps said the £1bn funding will see hundreds of thousands of homes receive insulation, as part of a strategy of working towards "becoming energy independent".
The ECO+ scheme will roll out predominantly low-cost insulation measures such as loft insulation and cavity wall insulation, and target homes that have a low energy efficiency rating and are in the lower council tax bands.
Subscribe to MoneyWeek
Subscribe to MoneyWeek today and get your first six magazine issues absolutely FREE
Get 6 issues free
Sign up to Money Morning
Don't miss the latest investment and personal finances news, market analysis, plus money-saving tips with our free twice-daily newsletter
Don't miss the latest investment and personal finances news, market analysis, plus money-saving tips with our free twice-daily newsletter
Following a consultation, the scheme should launch in spring 2023 and run until March 2026.
The government is also launching an £18m public information campaign, which will advise households on how to reduce energy use and lower their bills, "without sacrificing comfort".
Which households will receive funding?
Of the £1bn funding available through the ECO+ scheme, about 80% of the funding will be for households who are in some of the least energy-efficient homes in the country – those with an EPC rating of D or below – and in the lower council tax bands. This includes those who own their own property, are privately renting, or in social housing.
According to the government, this means the scheme will benefit households who do not currently benefit from any other government support to upgrade their homes.
The remaining 20% of the fund will be targeted at those who are the most vulnerable, including those on means-tested benefits or in fuel poverty.
When will households get the funding?
The ECO+ scheme will run from spring 2023 for up to three years. The government says hundreds of thousands of households will receive new insulation, saving them about £310 a year.
Households will need to contact their energy supplier or local authority to see if they are participating in the scheme. The average cost per home is expected to be about £1,500. If you are eligible, your energy provider will do a survey and pay for the improvements.
More information will be shared by the Department for Business, Energy & Industrial Strategy (BEIS) in due course.
Isn't there an ECO scheme already?
An ECO scheme launched in January 2013 (known as ECO4). This is targeted at those who need support most; those in social housing, on a low-income or who are fuel poor. According to the government, 3.5 million energy-efficiency measures have been delivered to 2.4 million homes under this initiative.
However, with the sharp rise in energy bills, the government intends up to 80% of ECO+ funding to help a wider customer base who are not eligible for support under existing energy efficiency schemes.
New awareness campaign to lower energy bills
A £18m government campaign will offer tips and advice for people to cut their energy use, while keeping warm this winter.
The public information campaign will promote "some of the government's top recommended actions to help households save money on their energy bills", such as:
Reducing the temperature a boiler heats water to before it is sent to radiators (known as the boiler flow temperature) from 75⁰C to 60⁰C. This could save a typical household £160 a year on their energy bill at current prices.
Turning down radiators in empty rooms
Reducing heating loss from the property, such as by draught-proofing windows and doors
The tips will be made available on the Help for Households website.
Myron Jobson, senior personal finance analyst at the investment platform interactive investor, said: "Identifying, promoting and funding energy-efficient practices could help ease the burden on the government to support households and benefit the environment in the long run.
"We are now paying a lot more for energy than we did in yesteryear, so it is becoming increasingly important to consider how energy is wasted and break bad consumption habits. The challenge for the government is to offer clear and practical advice on how to safely and comfortably reduce bills."
Support for those struggling with sky-high energy bills
The announcements today follow chancellor Jeremy Hunt's announcement in the autumn Budget that the energy price guarantee will be extended, but will not be as generous. From April 2023, energy bills for the typical household are due to rise an estimated 20%, with the average typical bill costing around £3,000 instead of £2,500 under the current unit price cap.
The £1bn funding is part of a series of measures designed to cut people's energy use by 15% by 2030.
If you're looking at ways to lower your energy bills now, you may find our articles on whether it's cheaper to run a fan heater or an oil heater, should you use a wood-burning stove or central heating and if it is worth investing in solar panels or heat pumps useful.
Nic studied for a BA in journalism at Cardiff University, and has an MA in magazine journalism from City University. She joined MoneyWeek in 2019.