Here's how the government plans to cut consumers' energy bills
Rishi Sunak has outlined a £15bn package to help consumers cut the cost of soaring energy bills. Saloni Sardana looks at what he's proposing and what it means for you.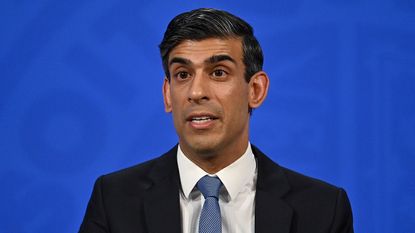 (Image credit: © Justin Tallis - WPA Pool/Getty Images)
With consumers getting financially squeezed from every direction amid the cost of living crisis, it is becoming more and more unusual to hear any positive headlines about people's personal finances.
But UK chancellor Rishi Sunak has delivered some relief – for now – on energy prices, with a £15bn package of measures aimed at giving money direct to the most-disadvantaged, with some of it paid for by a windfall tax on energy producers (though an investment subsidy may go some way to offsetting this).
So what has Sunak done and what do the measures mean for you?
Subscribe to MoneyWeek
Subscribe to MoneyWeek today and get your first six magazine issues absolutely FREE
Get 6 issues free
Sign up to Money Morning
Don't miss the latest investment and personal finances news, market analysis, plus money-saving tips with our free twice-daily newsletter
Don't miss the latest investment and personal finances news, market analysis, plus money-saving tips with our free twice-daily newsletter
What Sunak plans to do
The chancellor announced a £650 one-off payment that will be made to eight million of the lowest-income households who receive benefits such as tax credits, Universal Credit, pension credit, and other types of mean-tested benefits.
The lowest-income households will automatically receive the amount in their bank accounts. The payment will be divided into two instalments: one in July, and the second in autumn. An extra £150 will be paid to those on disability benefits, while pensioner households who receive the winter fuel payment to help with heating costs, will receive a one-off £300 this winter.
Perhaps the most eye-catching part of this mini-Budget was a major change to the energy bill rebate scheme.
Originally, this was planned to be a £200 rebate this year, which would then be recovered from bills in £40-a-year instalments from 2023.
That has been scrapped. Instead, everyone will get a one-off £400 discount on their energy bill from October, which will not be clawed back in the future.
So, why has Sunak introduced these emergency measures?
The move comes just days after energy regulator Ofgem warned that the energy price cap will rise by an additional £830 in October, taking the total cap to £2,800. That's more than doubled in a year.
Energy prices have been rising over the past year for a cocktail of reasons including lower wind output in the UK, higher global gas prices and a resurgence of demand as the economy returns to something approaching normal after covid-19. Russia's war with Ukraine has only worsened the rise.
The relief measures are being introduced to help people cope at a time when inflation is running hot at 9%, a 40-year high and expected to go higher later this year. Even core inflation, which strips out the effect of rising food and energy prices, is sharply rising.
How will the chancellor pay for it?
The chancellor plans to partially fund the energy relief measures through a 25% windfall tax on the profits of oil and gas companies.
Even though the introduction of the windfall tax was largely anticipated today, it still made headlines because the Conservatives have long been resisting pressure to introduce such a tax. However, there has been little reaction from oil and gas majors' share prices, at least partly because the government also introduced an 80% investment allowance to encourage further investment in the North Sea.
"We will introduce a temporary and targeted energy profits levy but we have built into the new levy a new investment allowance that means companies will have a new and significant incentive to reinvest their profits," Sunak said.
How can consumers claim the discounts?
The rebate will be paid to accounts automatically in October.
The Department for Work and Pensions (DWP) will pay the £650 direct one-off cost in two lump sums directly into claimants' accounts. The first payment will take place in July, and the second is due to take place in autumn. Payments from HMRC for those on tax credits will follow shortly, the government said.
The money will be sent to prepay users via cheque, voucher or smart meter.
Disability benefit recipients will receive the £150 in September, in addition to the £650 received.
The £300 payment for pensioners is expected to be paid in November or in December. Most pensioner households will receive this amount by direct debit.
SEE ALSO:
Should you be worried about energy windfall tax proposals?
Saloni is a web writer for MoneyWeek focusing on personal finance and global financial markets. Her work has appeared in FTAdviser (part of the Financial Times), Business Insider and City A.M, among other publications. She holds a masters in international journalism from City, University of London.
Follow her on Twitter at @sardana_saloni