Energy bills rebate: what is the government's plan?
The government recently said that it would rebate some of the cost of rising energy prices to consumers. Saloni Sardana looks at what's planned.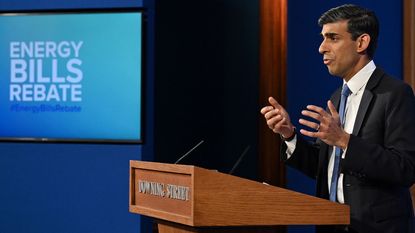 (Image credit: © Justin Tallis - WPA Pool/Getty Images)
As the UK grapples with a severe energy crisis, it is becoming increasingly rare for consumers to hear any positive news on this front.
Yet, some positive news did come from UK's chancellor Rishi Sunak earlier this month when he said the government plans to rebate some of the cost of rising energy prices to consumers.
The vast majority of households expected to receive up to £350 of help due to a combination of a council tax discount and a (repayable) energy bill discount.
Subscribe to MoneyWeek
Subscribe to MoneyWeek today and get your first six magazine issues absolutely FREE
Get 6 issues free
Sign up to Money Morning
Don't miss the latest investment and personal finances news, market analysis, plus money-saving tips with our free twice-daily newsletter
Don't miss the latest investment and personal finances news, market analysis, plus money-saving tips with our free twice-daily newsletter
Why is the government doing this?
Current proposals to provide energy rebates – financial support against rising bills – comes after the energy price cap – the maximum price per kilowatt hour (kWH) that energy providers can charge consumers for gas and electricity – is to rise by almost £700 from April.
Energy prices have hit the roof both in the UK and globally, for many reasons. Rising gas prices, lower wind output in the UK, under-investment in renewables, higher demand for liquified natural gas and reduced supply from Russia are some of the main reasons playing a part.
How will the energy bill discount scheme work?
The energy bills rebate will mean 28 million households in Wales, England and Scotland will receive a £200 credit on their bills this autumn. It is not a gift, however – it is a loan that will be automatically recovered from people's bills in equal £40 instalments over the following five years, when wholesale prices are expected to drop.
The government considers this a more manageable way for people to pay high energy bills and a way to give consumers some respite.
More details on the scheme are expected in spring after the Department for Business, Energy and Industrial Strategy consult on the matter.
How will the Council Tax rebates work?
Under government plans, householders in England liable to pay council tax in bands A-D – currently 80% of the population – will receive a payment of £150 direct from their local council. Those who pay no council tax or pay less than £150 in bands A-D, are also eligible for this amount. In contrast to the £200 energy bill "rebate", the council tax discount will not need to be repaid.
Local authorities will also receive £144 million of discretionary funding to help for those who are struggling to pay their energy bills but are not eligible – such as households on income support in higher bands (E-H) or with properties in bands A-D that are exempt from council tax
The money is expected to reach consumers in April.
Will all consumers in the UK benefit equally from the measures?
The £200 energy bill discount measures apply to consumers in England, Wales and Scotland. Northern Ireland – where energy policy is devolved – is expected to receive £150m of comparable funding next year.
Meanwhile, the Council Tax Energy Rebate applies in England only, as council tax policy differs across Wales, Northern Ireland and Scotland. The devolved nations will therefore receive funding worth £565m (£290m for Scotland, £175m for Wales, and £100m for the Northern Ireland Executive), which will allow them to provide similar relief measures.
What other forms of help are available for those struggling with energy bills?
The government has already been exploring other measures to alleviate the cost of living crisis and so far provided around £12bn of support including measures including freezing alcohol and fuel duty and raising the national living wage.
The government has expanded its eligibility for the Warm Home Discount by almost a third and increased the rebate value to £150, so that three million vulnerable households will benefit.
The Warm Home Discount is currently worth £140 for households on low incomes. While many suppliers have already closed their schemes for 2021-2022, some providers, including SO Energy, E.ON Next and Bulb, are still accepting applications, says MoneySavingExpert's Martin Lewis.
Another source of help for those combatting energy inflation is the Winter Fuel Payment, which is paid out each year by the Department for Work and Pensions to those aged over 65 to help them afford additional heating costs. People aged under 80 typically receive £200 a year, meanwhile those older than 80 receive £300 a year.
Saloni is a web writer for MoneyWeek focusing on personal finance and global financial markets. Her work has appeared in FTAdviser (part of the Financial Times), Business Insider and City A.M, among other publications. She holds a masters in international journalism from City, University of London.
Follow her on Twitter at @sardana_saloni