The craze for UFOs
Photos of visitors from space and UFOs are now collectors' items. Chris Carter reports.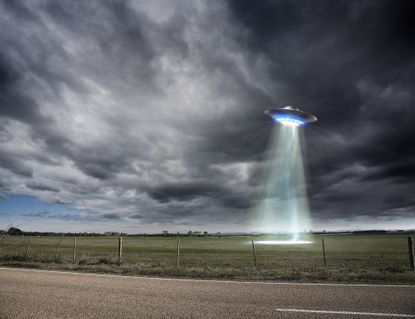 (Image credit: Getty Images)
Photos of visitors from space are now collectors' items, much like Barbie dolls and old VHS tapes.
Last month, David Grusch, a former US intelligence official, testified before the House Oversight Subcommittee on National Security, in Washington, DC, that, yes, he is "absolutely" certain the US government is in possession of unidentified aerial phenomena (UAPs – or UFOs as most people know them). The G-men have been reverse engineering them for decades. In 2019, he led a government task force into the sightings, which was "[no] frivolous assignment", says Jeffrey Kluger in Time. Military pilots have reported around 650 instances of UAPs defying "conventional aeronautical physics". Of course, the US Department of Defence denied all of it.
The evidence
Grusch must either be mistaken (even he admits his evidence is based on hearsay), or he is lying, says David Kyle Johnson on the LSE blog. If it is the latter, then he has perjured himself. But given that punishments for contempt of Congress tend to be fairly light, "the subsequent notoriety and book deals could... be worth the risk of a contempt charge", he says. Former White House chief strategist Steve Bannon received only a $6,500 fine and four months in jail for defying a subpoena during the investigation into the 2021 Capitol riot. "In any case, laughing off UFOs with cracks about tinfoil hats or 'little green men' is not as easy as it used to be," says Chris Wiley in The New Yorker – even if the evidence is still lacking. "I was assured [by conspiracy theorists] that… photos exist… but they remain hidden behind a scrim of secrecy," he says.
Subscribe to MoneyWeek
Subscribe to MoneyWeek today and get your first six magazine issues absolutely FREE
Get 6 issues free
Sign up to Money Morning
Don't miss the latest investment and personal finances news, market analysis, plus money-saving tips with our free twice-daily newsletter
Don't miss the latest investment and personal finances news, market analysis, plus money-saving tips with our free twice-daily newsletter
Since the 1950s, photographs have formed the bedrock of the "proof" that extraterrestrials have been visiting Earth. Several snaps have become legendary among believers, such as the "Trent photograph" of a flying saucer over a farm in Oregon in 1950 that was investigated by the US Air Force. There's also the image of a saucer hovering over Lake Cote in Costa Rica, taken during an aerial survey in 1971. And the "Calvine photo", named after the hamlet in Scotland where it was taken in 1990, shows a diamond-shaped object in the sky being buzzed by an RAF plane. It was "the stuff of mere legend", says Wiley – until last year, when David Clarke, a researcher, discovered a print and it was published in the Daily Mail.
The popular imagination
Whether hoaxes, government subterfuge or the real thing, photos such as these have come to define UFOs in popular culture, making them collectors' items. Space-related photos appear at auction fairly regularly – Sotheby's has just sold several, including a signed print of astronaut Buzz Aldrin's "selfie" from 1966. It fetched $7,620. But there's something about UFO photos that taps into the popular imagination. One of the most famous of all depicts a saucer photographed by Eduard "Billy" Meier in Switzerland in 1975. Two decades later, the image was hanging in the office of FBI special agent Fox Mulder in the TV series The X-Files. In late 2019, it fetched $16,250 with Sotheby's in a lot with five other similar photos.
Chris Carter spent three glorious years reading English literature on the beautiful Welsh coast at Aberystwyth University. Graduating in 2005, he left for the University of York to specialise in Renaissance literature for his MA, before returning to his native Twickenham, in southwest London. He joined a Richmond-based recruitment company, where he worked with several clients, including the Queen's bank, Coutts, as well as the super luxury, Dorchester-owned Coworth Park country house hotel, near Ascot in Berkshire.
Then, in 2011, Chris joined MoneyWeek. Initially working as part of the website production team, Chris soon rose to the lofty heights of wealth editor, overseeing MoneyWeek's Spending It lifestyle section. Chris travels the globe in pursuit of his work, soaking up the local culture and sampling the very finest in cuisine, hotels and resorts for the magazine's discerning readership. He also enjoys writing his fortnightly page on collectables, delving into the fascinating world of auctions and art, classic cars, coins, watches, wine and whisky investing.
You can follow Chris on Instagram.