How to invest in ChatGPT and other AI tech changing the world
Technology, like ChatGPT, is changing the way we live and work, and this new tool could have a huge impact on the tech industry says Dominic Frisby.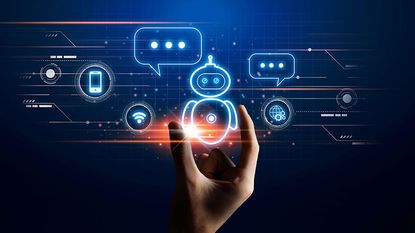 (Image credit: © Alamy)
Following the news that Microsoft has invested a "multibillion-dollar" sum, as much as $10bn in ChatGPT bot maker OpenAI, valuing the business at $29bn, we thought our readers might be interested Dominic Frisby's views on this game-changing technology.
Investors need to keep an eye out for the latest innovations like ChatGPT. The best investment funds are continually looking for new ideas that could change the world.
I've been playing with a new technology this week, which, I think, is as potentially transformative as Google's search engine, Facebook's network or Apple's iPhone. It's that significant.
Subscribe to MoneyWeek
Subscribe to MoneyWeek today and get your first six magazine issues absolutely FREE
Get 6 issues free
Sign up to Money Morning
Don't miss the latest investment and personal finances news, market analysis, plus money-saving tips with our free twice-daily newsletter
Don't miss the latest investment and personal finances news, market analysis, plus money-saving tips with our free twice-daily newsletter
Elon Musk says it's "scary good"; Google management is so worried about it they have issued a "code red"; and it has achieved in just five days what took Netflix three and a half years.
And it's going to put me out of a job.
This is Open AI's latest offering ChatGPT - short for Chat Generative Pre-trained Transformer.
ChatGPT is a, free, powerful tool for users
OpenAI, if you are not familiar with it, is a research institute that develops artificial intelligence.
The company has developed language models that can generate human-like text and neural networks that can create images from text descriptions. Its founders include many of the world's most famous tech entrepreneurs, not least Elon Musk, and it is funded by private donations and research contracts. Its lofty "ultimate goal is to benefit humanity through the responsible development of AI".
I first heard about ChatGPT from my son when he came back from university over the weekend.
Apparently, loads of students are getting it to write their essays for them. Academics, reports the Guardian, say it generates exam responses that "would result in full marks if submitted by an undergraduate".
Programmers meanwhile, the Guardian continues, "have used the tool to solve coding challenges in obscure programming languages in a matter of seconds – before writing limericks explaining the functionality."
I was discussing it on Twitter and User @Peng33G got it to write a perfectly passable song in the style of Dominic Frisby.
I urge you to go and have a play.
To give you an idea of how quickly this thing has found users, cast your eyes over the following, which shows the amount of time to reach one million users.
Netflix → 3.5 years
Airbnb → 2 years
Facebook → 10 months
Zoom → 9 months
Spotify → 5 months
Instagram → 2.5 months
iPhone → 74 days ChatGPT → 5 days
My buddy, business consultant and tech entrepreneur, Danny Richman, mentors, as he puts it, "a young lad with poor literacy skills who is starting a landscaping business. He struggles to communicate with clients in a professional manner."
In less than 15 minutes, with no coding required, he created a ChatGPT-powered Gmail account to which the landscaper sends a message. It responds with the text to send to the client.
Original text:
Sally I am starts work at yours monday from dave
Business version:
Dear Sally,
I hope this email finds you well. I am writing to let you know that I will be starting work with you on Monday. I am really looking forward to getting started.
If you have any questions or need help with anything, please don't hesitate to get in touch.
Best wishes,
Dave
Danny continues: "I also helped him use GPT3 to prepare an estimate, create a contract and respond to client enquiries. He just secured his first contract worth £220,000. This would not have been possible without this tech".
How to use ChatGPT in the real world?
So what will ChatGPT be used for?
In the words of ChatGPT itself, "A wide range of natural language processing tasks, including language translation, text summarization, text generation, and language modelling.
So that might be chatbots and virtual assistants; "text generation tasks", as it puts it - writing news articles or social media posts.
It could also be used to summarise texts - anything from legal documents to the tax code to the bible, by generating a shorter summary of a longer piece of text.
Its capabilities are likely to improve as it is further developed and refined. It is learning all the time.
So what does all this mean for investors? And how do you invest in ChatGPT?
How to invest in ChatGPT the technology shaping the world
Earlier in the week, I looked at how the world's largest companies by market cap change from decade to decade.
Seven of the top ten in 2011 were natural resources companies. A decade later, in 2021 not one was. Nine were tech companies: Apple, Microsoft, Alphabet, Amazon, Facebook, Tesla, Berkshire Hathaway, TSMC, Tencent Holdings, Nvidia. Which of them will be there in 2031?
Many of these, you might have thought a year ago, have near-impervious monopolies. But tech changes quickly, as this latest development demonstrates. Already Alphabet's position looks precarious.
Microsoft, though, was there in 2011 and in 2021. And guess what? It owns a large chunk of Open AI. It has made a number of investments in OpenAI, including a $1 billion investment announced in 2019. It is not known if Microsoft has a controlling stake in OpenAI or if it holds a minority stake in the company.
So the way to get some exposure to this new tech is to own Microsoft Corporation (NASDAQ:MSFT), though it's not exactly a pure play. Its stake in Open AI is minimal in the context of everything else it does. Moreover, will Microsoft still be one of the world's ten largest companies in 2031? That would make three decades in a row.
I also gather it is costing a lot of money to run. $3m per day is the figure doing the rounds on the internet. The bot itself would not confirm: "GPT is a large language model that requires significant computational resources to run, as it is trained on a very large dataset and has a very large number of parameters. As a result, it is likely that running GPT would incur significant costs, depending on the specific circumstances".
But that's the way with big tech. Get the users first, then worry about the profits. ChatGPT is doing that in spades. If the product is free, you are the user - and all that.
By the way, I got ChatGPT to write some of this article for me (though I ended up subbing it quite a bit). Can you tell which paragraphs?
Dominic Frisby ("mercurially witty" – the Spectator) is the world's only financial writer and comedian. He is MoneyWeek's main commentator on gold, commodities, currencies and cryptocurrencies. He is the author of the books Bitcoin: the Future of Money? and Life After The State. He also co-wrote the documentary Four Horsemen, and presents the chat show, Stuff That Interests Me.
His show 2016 Let's Talk About Tax was a huge hit at the Edinburgh Festival and Penguin Random House have since commissioned him to write a book on the subject – Daylight Robbery – the past, present and future of tax will be published later this year. His 2018 Edinburgh Festival show, Dominic Frisby's Financial Gameshow, won rave reviews. Dominic was educated at St Paul's School, Manchester University and the Webber-Douglas Academy Of Dramatic Art.
You can follow him on Twitter @dominicfrisby