Tech stock crash – dotcom bust 2.0 is upon us
It's carnage in the tech sector as the market crashes. But that spells opportunity for canny investors, says Matthew Lynn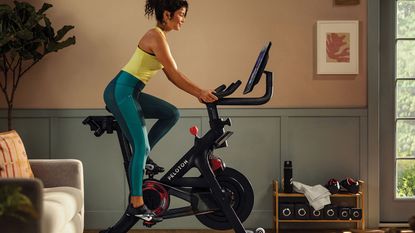 (Image credit: © Peloton)
It has been a terrible year for the technology stocks that were the big winners from lockdown and were meant to be at the core of any investment portfolio – the Nasdaq stock index is already down by 28% since January and is deep into bear territory.
Between them the major technology companies have lost almost $3trn in market value: Apple and Microsoft have both lost half a billion each; Alphabet, the parent of Google, has lost $400bn, as have Tesla, Meta – as Facebook now calls itself – and Amazon. Netflix is down by 60% since the start of the year and the once high-flying exercise bike maker Peloton is down by 80%. It is carnage.
It is easy enough to understand why. As the Federal Reserve starts steadily raising interest rates to control inflation, and stops printing dollars like crazy, money has started to become tighter, and that is hitting the value of every kind of asset. At the same time, some of the hype around lockdown has started to evaporate – it turns out that we don't really want to spend the rest of our lives at home, watching streamed gigs, eating delivered food and keeping fit with apps. We like to go out from time to time.
Subscribe to MoneyWeek
Subscribe to MoneyWeek today and get your first six magazine issues absolutely FREE
Get 6 issues free
Sign up to Money Morning
Don't miss the latest investment and personal finances news, market analysis, plus money-saving tips with our free twice-daily newsletter
Don't miss the latest investment and personal finances news, market analysis, plus money-saving tips with our free twice-daily newsletter
Many of the predictions of a permanent shift to a purely digital economy have turned out to be premature and some of the business models touted at the height of the pandemic are now looking very flimsy.
It's 2002 all over again
It is all starting to look a lot like the dotcom bust of 2002. On 9 October of that year, the technology sell-off reached its peak, with the Nasdaq down 78% from its turn-of-the-century highs.
Right now, the collapse of this year is tracking the dotcom collapse of 2001 and 2002 closely. The backdrop is similar: a wild bubble had built up over several years, with valuations chased ever higher. Led by the venture-capital funds, too much investment poured into flimsy ideas. Retail investors were sucked in, naively believing that it was an easy way to make a lot of money.
What lessons can we learn from the last dotcom bust? There are three big ones.
1. It will be a year before the bottom is reached
The bubble didn't pop in one day, with a spectacular collapse, but dragged on for almost 18 months. There wasn't any point buying the dips, because each one was followed by even steeper falls. It was a long, grinding process that wiped out all the euphoria of the previous years.
2. Weak firms will be washed away
During the dotcom mania, just about any twenty-something with a laptop and a business plan sketched on the back of an envelope could raise a few million in minutes. Some very poor ideas received a lot of funding.
Pets.com, which sold pet food online, managed to rack up losses of $147m in a single year before folding; E-Toys spent millions on marketing before quickly disappearing; shares in theglobe.com soared 600% on their initial public offering, but its site was quickly overtaken by social-media giants such as Facebook.
It will be the same this time around. As a bust unfolds, it is impossible for firms simply to raise more capital from the markets to sustain themselves. Any firm not cash-flow-positive will soon be in trouble – and that covers a lot of business. Before long, we'll see a wave of collapses, bankruptcies and recriminations.
3. Some real bargains will eventually emerge
By the autumn of 2002 a lot of high-quality companies were once-in-a-generation buys. At the bottom of the market, Amazon, then mainly just an online books retailer, had fallen by 90%; over the next couple of decades it went on to conquer the world. EBay's shares more than halved, but went on to rise tenfold in the following years. When this bust is over, there will be plenty of bargains.
Netflix has already fallen heavily, but whatever its problems it still has an incredibly powerful brand. Likewise, Uber may face plenty of difficulties, but it has mastered logistics like few rivals. Tech remains the most exciting industry in the world, with the strongest growth prospects. Anyone who can pick the winners from the survivors will do well.
SEE ALSO:
Three things you should learn from Bill Ackman's brilliant Netflix trade
The tech bubble has burst – but I still want a Peloton
Matthew Lynn is a columnist for Bloomberg, and writes weekly commentary syndicated in papers such as the Daily Telegraph, Die Welt, the Sydney Morning Herald, the South China Morning Post and the Miami Herald. He is also an associate editor of Spectator Business, and a regular contributor to The Spectator. Before that, he worked for the business section of the Sunday Times for ten years.
He has written books on finance and financial topics, including Bust: Greece, The Euro and The Sovereign Debt Crisis and The Long Depression: The Slump of 2008 to 2031. Matthew is also the author of the Death Force series of military thrillers and the founder of Lume Books, an independent publisher.