Who would buy Manchester United? It's not worth it
The Glazer family has indicated that it might be willing to sell its controlling stake in Manchester United. But who would buy the club? Its glory days are behind it, says Matthew Lynn.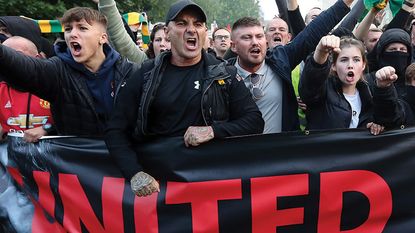 (Image credit: © Jan Kruger/Getty Images )
Elon Musk might be interested in buying Manchester United. So might Jim Ratcliffe, the founder of Ineos, and one of the UK's richest men. And it can't be long before Richard Branson, or some Chinese billionaire no one has ever heard of, or even David Beckham, pops up and offers to put a few spare billions on the table. Plenty of tycoons and sports and media conglomerates are circling Manchester United, arguably the most valuable asset in the world's most valuable sport.
Manchester United's share price certainly makes more interesting entertainment than anything that is happening on the pitch right now, at least to the team's long-suffering supporters. The New York-quoted shares are up by almost 30% over the last month, and that was before the surprising victory against its great rivals Liverpool at the start of this week.
But no one would question that the team that has dominated the English game for 20 years, and has traditionally been regarded as its biggest and wealthiest club, is in deep trouble.
Subscribe to MoneyWeek
Subscribe to MoneyWeek today and get your first six magazine issues absolutely FREE
Get 6 issues free
Sign up to Money Morning
Don't miss the latest investment and personal finances news, market analysis, plus money-saving tips with our free twice-daily newsletter
Don't miss the latest investment and personal finances news, market analysis, plus money-saving tips with our free twice-daily newsletter
Manchester United should be a very valuable asset
The Glazer family has indicated they might be willing to sell their controlling stake, and plenty of very rich individuals or consortiums may make an offer soon. Musk tweeted that he might buy it, and then said it was a joke, but he said that about Twitter before putting in an offer. Ratcliffe certainly looks to be interested. So might a whole series of sports franchises. A bidding war may break out soon.
After Chelsea was sold for £4bn following the seizure of the club from the Russian oligarch Roman Abramovich, and with a market value of £2.2bn right now, it is easy enough to see why plenty of people might be interested. After all, Manchester United has the greatest sporting record in the English game, a powerful brand, and a huge global following. It should be very, very valuable, perhaps fetching £4bn, maybe even £6bn. The trouble is – it isn't worth it.
There will be lots of arguments about how it can still tap into vast foreign markets, power the brand into new markets, keep finding new ways of exploiting image rights, milking vast television revenues and extending the brand into new products. Well, perhaps; football supporters are always optimistic. But there are four huge challenges facing anyone who buys the club.
The four challenges for anyone buying Manchester United
First, the brand has already been ruthlessly commercialised. Its kits and ground are so heavily sponsored that it is sometimes hard to keep track of what is happening amid the clutter. It currently has 22 global, seven media and nine regional partners, and 12 financial sponsors, each paying big money in sponsorship deals. It's hard to see what real value there is in being the 12th or 13th credit card to partner with the club.
Second, the football boom may have peaked. In the quarter century since the Premier League was created, revenues have grown and grown. Can that continue? There are still some valuable television rights to exploit, especially in North America where the game is finally starting to rival traditional sports in popularity. But we may be close to the limit. It's hard to see Netflix or China changing the game.
Thirdly, the team needs to be totally rebuilt. It looks a long way away from competing for any actual trophies and it has become vastly expensive to sign new players.
Finally, as the Super League fiasco showed, clubs are not normal commercial properties. When a handful of the leading European clubs wanted to organise a new competition to make more money it quickly fell apart. If the fans are angry enough, the government will always step in to veto any projects. That is not true of most other assets. You can own a football club, but that doesn't mean you have full control of it.
A mega-billionaire might step in and buy just for fun. For Musk or Ratcliffe, a few billion might be worth it just for the glory and excitement of owning the team. But the boom is over, it is too expensive to sign new players and no one can be sure the state won't step in and seize the asset one day. It might be thrilling and a trophy asset – but Manchester United is not worth paying huge money for.
Matthew Lynn is a columnist for Bloomberg, and writes weekly commentary syndicated in papers such as the Daily Telegraph, Die Welt, the Sydney Morning Herald, the South China Morning Post and the Miami Herald. He is also an associate editor of Spectator Business, and a regular contributor to The Spectator. Before that, he worked for the business section of the Sunday Times for ten years.
He has written books on finance and financial topics, including Bust: Greece, The Euro and The Sovereign Debt Crisis and The Long Depression: The Slump of 2008 to 2031. Matthew is also the author of the Death Force series of military thrillers and the founder of Lume Books, an independent publisher.