How Disney reclaimed its crown as Netflix faltered
Media giant Disney was late to the video streaming party. But sometimes the latecomers have the advantage, says Matthew Lynn.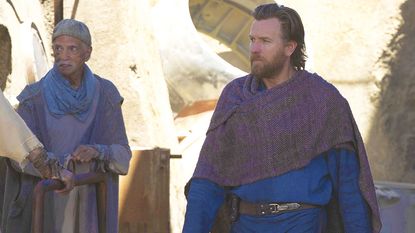 (Image credit: © Disney Plus)
When Disney announced its plans for a streaming service to take on Netflix it was greeted with scepticism. In 2018 Netflix had already overtaken Disney as the largest media conglomerate in the US and there seemed little chance it could recoup all the ground it had lost. It had joined the party too late. That's not how it turned out.
Last week, Disney Plus overtook its great rival. Helped by hits such as Obi-wan Kenobi, the latest in the Star Wars production line, the company has now racked up 221 million subscribers, edging ahead of Netflix with 220 million. With a market value of $225bn compared with $107bn for Netflix, Disney has reclaimed its crown.
With subscriptions growing, even as they fall for Netflix, and with plans for a cheaper advertising-supported package, it seems unlikely Netflix can regain the lead. Now hedge-fund manager Daniel Loeb has taken a big stake in Disney and is pushing for changes to make it even more valuable. The battle has been won by the established giant that came late into the market.
Subscribe to MoneyWeek
Subscribe to MoneyWeek today and get your first six magazine issues absolutely FREE
Get 6 issues free
Sign up to Money Morning
Don't miss the latest investment and personal finances news, market analysis, plus money-saving tips with our free twice-daily newsletter
Don't miss the latest investment and personal finances news, market analysis, plus money-saving tips with our free twice-daily newsletter
Disney's second-mover advantage
Is that a surprise? Not really. In fact, there is a long history of "second movers" – that is, the second or third company into a market – overtaking the pioneer.
In the 1920s, General Motors overtook Ford in the market for mass-produced, cheap cars. In the 1980s, Nintendo overtook Atari in the market for games consoles, and it was overtaken in turn by Sony and Microsoft. Apple's iPhone was just the latest in a crowded field of smartphones when it was launched in 2007, but went on to dominate the market.
The list goes on. Lots of companies have come late into the market and done really well. And as much as venture capitalists go on about first-mover advantage, it does not always translate into a durable competitive edge.
In fact, second movers have a few things on their side. They can learn from the pioneer's mistakes. For example, Disney was a lot more cautious about free trials than Netflix ever was and it has clamped down a lot harder on password sharing. If you want to watch one of the hit shows you will almost certainly have to pay for it.
Second movers can refine and improve the product. Whereas Netflix had to create brands out of nothing – and did so brilliantly with global hits such as Stranger Things – Disney could roll out brands that people already knew, capitalising on the heritage of franchises such as Star Wars and Marvel.
Finally, second movers can piggyback onto an existing market. When Netflix was launched, none of us had any clue why we would want to pay for television streamed over the internet. By the time Disney Plus was launched, we were all perfectly used to the idea. We just needed to be persuaded it had some stuff we wanted to watch. Add it all up, and perhaps it is not so surprising that it managed to overtake Netflix after all.
Who will move next?
The interesting question is, what other second movers might be about to make their move?
Consider the cab market. Uber more or less created the concept of a smartphone-based taxi service and rolled it out around the world. But Estonia-based Bolt is making huge strides against it. Uber's value is already falling rapidly, with its share price off by more than 20% over the last 12 months. Privately held Bolt is already worth $11bn compared with $65bn for Uber, and it would not be a huge surprise to anyone if it overtook it some time in the next five years.
Or look at electric vehicles. Tesla was the pioneer, but rivals are catching up. China's BYD has already outpaced it in terms of the numbers of vehicles sold, and is already pushing into markets such as Japan as a prelude to launching globally. Volvo's Polestar might do just as well, or one of the dozens of new EV companies.
And of course it's a long shot, but Shopify could overtake Amazon. There is a huge gap between the two companies right now, but Shopify's online marketplaces may well prove more attractive for millions of small companies than Amazon's. Bigger companies have fallen.
Matthew Lynn is a columnist for Bloomberg, and writes weekly commentary syndicated in papers such as the Daily Telegraph, Die Welt, the Sydney Morning Herald, the South China Morning Post and the Miami Herald. He is also an associate editor of Spectator Business, and a regular contributor to The Spectator. Before that, he worked for the business section of the Sunday Times for ten years.
He has written books on finance and financial topics, including Bust: Greece, The Euro and The Sovereign Debt Crisis and The Long Depression: The Slump of 2008 to 2031. Matthew is also the author of the Death Force series of military thrillers and the founder of Lume Books, an independent publisher.