The lesson from the Uber lobbying scandal
Tech firms should openly stand up for free markets, says Matthew Lynn. Uber's mistake was that it chose to stay in the shadows while lobbying politicians for change.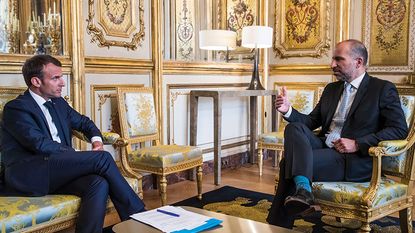 (Image credit: © CHRISTOPHE PETIT-TESSON/AFP via Getty Images)
The massive leak of files from Uber last week has blown open the minicab giant's lobbying machine. European commissioners were rushing from meeting to meeting with lobbyists; politicians were dazzled with campaign donations, jobs for families and friends, and the promise of lucrative consultancy contracts.
Meanwhile, Uber's staff openly boasted about how the company was built on law-breaking, tearing up labour laws and suppressing dissent; drivers were encouraged to get into fights with their opponents because violence works; managers were instructed to hit the "kill switch" to delete data whenever regulators or police threatened to seize it.
Overall, the picture is of a firm rising to dominance using methods that the Corleone family in The Godfather might have found a little on the pushy side. Yet while nobody would deny that Uber went over the top, we shouldn't lose sight of the real scandal here: the fact that the companies were not able to make their case in the open.
Subscribe to MoneyWeek
Subscribe to MoneyWeek today and get your first six magazine issues absolutely FREE
Get 6 issues free
Sign up to Money Morning
Don't miss the latest investment and personal finances news, market analysis, plus money-saving tips with our free twice-daily newsletter
Don't miss the latest investment and personal finances news, market analysis, plus money-saving tips with our free twice-daily newsletter
We should recall that Uber was taking on and challenging one of the most restrictive industries in the world. Before it arrived on the scene, it was virtually impossible to get a taxi in Paris (a report in 2000 found the city had fewer taxis than in 1920). In London, the black cabbies kept an iron grip on the trade, charging sky-high prices, while anyone hoping to get back to zone five after midnight could expect to be advised to find an alternative method of transport (except in more colourful language). And in New York, cab licences were so tightly controlled that they changed hands for tens of thousands of dollars.
Uber's super-slick app broke cartels in major cities around the world, providing lots of flexible, well-paid work to drivers (mostly recent immigrants, as it happens), and lots more choice to consumers. In London, a service that had become largely restricted to executives on expense accounts was suddenly opened up to teenagers getting home from a club in the middle of the night.
Make the case for freedom
Uber's mistake was that it chose to stay in the shadows while trying to change this. It should not have been Emmanuel Macon, then still France's finance minister, that it was lobbying to help re-write the country's taxi regulations (or London mayor Sadiq Khan in the UK), but ordinary voters. Because it failed to do so, it ended up being heavily regulated anyway.
Drivers now have to be offered holiday pay and a range of other benefits. The result is that prices have gone up, the availability of cars is down, and the company's share price has collapsed, falling by 50% so far this year alone.
We can see the same fate befalling other tech giants. The UK government is clamping down hard on Airbnb rentals, with the result that hotels are now often cheaper than borrowing someone's flat. The social-media players are collaborating with the government's online harm bill, turning themselves into petty censors. Amazon stays meekly silent as its marketplaces that open up industries to micro-entrepreneurs are regulated out of existence. Google is too timid to explain how search and maps increase choice instead of restricting it.
Yet giant tech companies should be standing up for free markets and free speech. Uber had a perfectly respectable case about how it was benefiting consumers. So do Airbnb, Amazon, Tesla and many others. The lesson from the Uber leaks is surely that backdoor lobbying doesn't work. Only making a robust case for freedom and choice is effective in the long run.
Matthew Lynn is a columnist for Bloomberg, and writes weekly commentary syndicated in papers such as the Daily Telegraph, Die Welt, the Sydney Morning Herald, the South China Morning Post and the Miami Herald. He is also an associate editor of Spectator Business, and a regular contributor to The Spectator. Before that, he worked for the business section of the Sunday Times for ten years.
He has written books on finance and financial topics, including Bust: Greece, The Euro and The Sovereign Debt Crisis and The Long Depression: The Slump of 2008 to 2031. Matthew is also the author of the Death Force series of military thrillers and the founder of Lume Books, an independent publisher.