Freetrade's new easy-access funds aim to beat top savings rates
Freetrade has launched an easy-access exchange traded fund (ETF) range - here's how the ETFs work and how they compare to the savings market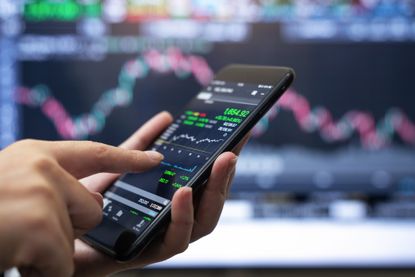 (Image credit: krisanapong detraphiphat)
Investment platform Freetrade, known for letting users trade shares from their phone, has launched a collection of easy-access exchange traded funds (ETFs) that track the overnight interbank rate in the UK and US.
The Cash Investments ETFs seek to track or outperform overnight interbank interest rates and pass on any changes in the rate lenders are charging each other to investors. It also gives investors freedom to access their investments without a penalty.
According to Freetrade, you could currently earn an expected rate of up to 5.33% which outperforms the top easy-access savings account on the market right now, which currently pays 5.22% via Metro Bank.
Subscribe to MoneyWeek
Subscribe to MoneyWeek today and get your first six magazine issues absolutely FREE
Get 6 issues free
Sign up to Money Morning
Don't miss the latest investment and personal finances news, market analysis, plus money-saving tips with our free twice-daily newsletter
Don't miss the latest investment and personal finances news, market analysis, plus money-saving tips with our free twice-daily newsletter
This is amid a string of base rate hikes in the UK and the Bank of England holding interest rates at 5.25% for a second month. The Fed rate currently stands between 5.25% and 5.5%.
Find out how the Freetrade ETF range works and how it compares to rates on the savings market.
How do the Freetrade ETFs work?
Unlike traditional investments like stocks and real estate where you usually get better returns by investing for longer, these EFTs can help short - medium terms investors earn good returns with relatively low risk.
The funds track the Sterling Overnight Index Average (SONIA) in the UK and the Fed fund rate in the US, with an aim to pass on interest rate changes to investors overnight, rather than relying on a fund manager to pick investments, which Freetrade says makes it low risk.
"These funds offer investors greater flexibility than savings accounts and returns that track overnight lending rates, not the whims of banks," says Alex Campbell, head of communications at Freetrade.
The cash investments are also ISA and SIPP eligible, which means investors can protect their earnings from the tax man. Though it is worth noting that currently, you can only have one active stocks and shares ISA.
"Unlike savings accounts, these ETFs can be bought and sold during market opening hours, their returns track the latest benchmark rates set by central banks, and they can be held with cash already inside a tax wrapper," Campbell adds.
How do the ETFs compare to the savings market?
The investments on offer are a mix of GBP and USD ETFs.
Swipe to scroll horizontally
| Ticker | Benchmark index | Benchmark rate | Fund fee |
| --- | --- | --- | --- |
| $XFFE | Fed fund rate | 5.33% | 0.15% |
| £XSTR | SONIA | 5.19% | 0.15% |
| £CSH2 | SONIA | 5.19% | 0.07% |
| $SMTC | Fed fund rate | 5.33% | 0.09% |
| £FEDG | Fed fund rate | 5.33% | 0.10% |
The Fed Fund rate has a top expected rate of 5.33% which beats the UK base rate by 0.08% and it outperforms the 5.22% top easy access saver on the market right now by Metro Bank.
However, the fund manufacturer still takes a fund fee of up to 0.15% which you will need to factor in.
Fed fund rate ($SMTC) has the lowest fund fee out of all five ETFs on offer, at 0.09%, on a benchmark rate of 5.33%. In this case, the expected rate drops to 5.24%, which is still higher than what's on offer in the easy access savings market.
Vaishali graduated in journalism from Leeds University and she has experience working with the likes of Leicester Mercury, Inews and The Week. She also comes from a marketing background, where she has done copywriting and content creation for businesses.
Currently writing about all things personal finance, Vaishali is passionate about finding the best deals around, whether it's the best credit cards or the cheapest personal loans, as well as sharing top money hacks to help people save and better manage their money.