What are exchange traded funds (ETFs)?
Exchange-traded funds (ETF) are increasingly popular with investors, but what are ETFs and how do they work?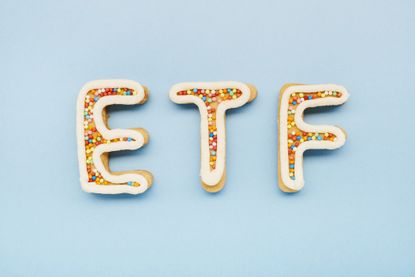 (Image credit: the_burtons)
Exchange-traded funds (ETF) are investment funds that are bought and sold on a stock exchange in the same way you trade normal shares. Unlike investment trusts, which are also traded on exchanges, ETFs are mostly passive investments usually structured to mirror a particular segment of the market, often indices, with the aim to track the performance of that market, rather than to try to beat it as an active fund does.
ETFs are available on a wide range of indices, sectors, investment themes and commodities. They are often used by investors to diversify their portfolio to gain exposure to various geographies and sectors. There are dividend-paying ETFs, gold ETFs and a pet care ETF. You may also be interested in our article looking at three exchange-traded funds that investors could benefit from investing in.
Because of their huge and rapidly growing popularity, index providers are constantly launching new indices for them to track.
Subscribe to MoneyWeek
Subscribe to MoneyWeek today and get your first six magazine issues absolutely FREE
Get 6 issues free
Sign up to Money Morning
Don't miss the latest investment and personal finances news, market analysis, plus money-saving tips with our free twice-daily newsletter
Don't miss the latest investment and personal finances news, market analysis, plus money-saving tips with our free twice-daily newsletter
How much do ETFs cost?
Given their largely passive structure, ETFs tend to have lower fees than most traditional active funds, and rampant competition is driving the price ever lower.
For example, the Invesco FTSE All-World ETF started trading on the London Stock Exchange (LSE) in July 2023 with an ongoing charge of just 0.15% - undercutting the 0.22% charged by the hugely-popular Vanguard FTSE All-World ETF.
Types of ETF
ETFs come in two types: "physical" and "synthetic". A physical ETF invests in the same assets that it's supposed to track. For example, a FTSE 100 ETF will invest in FTSE 100 stocks in proportion to their weighting in the index itself. A synthetic ETF instead agrees a "swap" with a third party - typically an investment bank which agrees to pay the ETF a return based on the performance of the index.
Many investors prefer physical ETFs because they view them as less vulnerable to unexpected risks, such as the possibility that the counterparty to the swap won't pay out. However, synthetic ETFs based in the UK and Europe must hold collateral to back these swaps, which means the risks should be limited.
Physical ETFs are arguably simpler and more transparent, but there are situations in which synthetic ETFs may be superior. For example, when investing in certain emerging markets, some of which restrict foreign investment and share ownership, a swap-based structure may be more cost-effective than investing directly in the underlying shares.
Looking to add ETFs to your portfolio? See MoneyWeek's ETF portfolio that's designed to give investors a simple way to navigate uncertain markets.
Katie Binns is an award-winning journalist, and former Sunday Times writer where she spent 10 years covering news, culture, travel, personal finance and celebrity interviews. She has also written for the Times, Telegraph, i paper and Woman and Home magazine.
Her investigative work on financial abuse has examined the response of banks, the Financial Ombudsman and the child maintenance service to victims, and resulted in a number of debt and mortgage prisoners being set free.