The best way to invest in natural gas
David Stevenson looks at the best way to invest in natural gas as the demand for the commodity surges.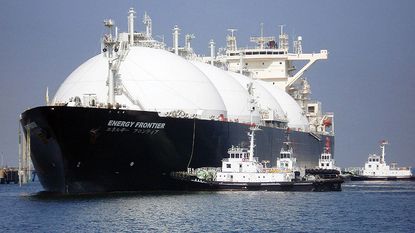 (Image credit: © STR/AFP via Getty Images)
Soaring natural gas prices have been one of 2022's big headline grabbers. However, those with longer memories will recall when producers could hardly give their output away. So, what's the deal with its renaissance and is now a good time to invest in natural gas?
Is it time to invest in natural gas?
Natural gas – which is colourless, odourless and the cleanest burning fossil fuel – developed underground millions of years ago.
Its usefulness is magnified by converting it into liquefied natural gas (LNG), a liquid form of the gas that equates to about 1/600th of the volume of natural gas making it easier to store and transport.
Subscribe to MoneyWeek
Subscribe to MoneyWeek today and get your first six magazine issues absolutely FREE
Get 6 issues free
Sign up to Money Morning
Don't miss the latest investment and personal finances news, market analysis, plus money-saving tips with our free twice-daily newsletter
Don't miss the latest investment and personal finances news, market analysis, plus money-saving tips with our free twice-daily newsletter
And because there are so many different ways the fuel can be produced, stored and transported, there are plenty of options available to invest in natural gas.
For many years before 2020, global natural gas values had been depressed by plentiful supply. Yet from April 2020 until August this year, they rose almost 7.5 times. In February 2021, UK gas was trading at 38p per therm (a measure of gas consumption). In August this year, the price reached 537p per therm!
The initial catalyst for these price explosions was the easing of Covid-19 restrictions. As people returned to work, energy demand surged while supply was slow to respond. With natural gas accounting for about a quarter of global electricity generation, its price began to soar. Then Russia invaded Ukraine on 24 February.
The world's most important fuel
Prior to the invasion, Russia had supplied 40% of the EU's gas, says the BBC.
Russia has now cut supplies to Europe by shutting the key 745-mile Nord Stream 1 natural gas pipeline – from near St Petersburg to north-eastern Germany – for the second time in recent months.
Despite this development, natural gas prices – in particular in Europe – have dropped back in September. Russian pipelines now account for just 9% of EU gas imports, according to European Commission president Ursula von der Leyen. And the Commission is trying to cap the price of Russian natural gas exports to Europe. For those looking to invest in natural gas, this potential cap could be the biggest risk to investment performance.
Meanwhile, "today's record prices and supply disruptions are damaging the reputation of natural gas as a reliable and affordable energy source, casting uncertainty on its prospects particularly in developing countries", says the 2022 third-quarter Gas Market Report by the International Energy Agency (IEA).
Over time and with sufficient political willpower – admittedly not guaranteed with the EU – Europe will wean itself off Russian gas. The IEA's base case anticipates Russian pipeline gas exports to the EU declining by more than 55% between 2021 and 2025.
"Global gas consumption is forecast to contract slightly in 2022, with limited growth over the next three years… well short of the exceptional jump in demand seen in 2021", says the IEA. "The Asia Pacific region and the industrial sector are the main engines of growth, accounting for 50% and 60% of the growth to 2025 respectively, although both are subject to downward risks from high prices and potentially lower economic growth."
In other words, natural gas prices may have passed their near-term peak, even if they later hit new highs.
So, those looking to invest in natural gas need to exercise caution. Rather than buying into direct, mainly price-determined, natural gas and oil suppliers, it may be better to plump for shares in companies that could make much more money if overall demand for gas remains firm.
How to invest in natural gas
Nasdaq-listed Golar (Nasdaq: GLNG) – market cap $3bn – designs, builds, owns and operates marine infrastructure for the liquefaction and regasification of LNG.
As at 11 August 2022 the firm had two FLNGs (Floating LNG vessels that recover, liquefy, store and transfer LNG from subsea wells). Golar also owns 31% of gas carrier Cool Co, into which it transferred eight modern LNG tankers in January 2022, and 6% of LNG supplier New Fortress Energy.
Global demand for LNG tankers is set to remain strong in coming years as the EU and other nations grapple for gas supplies. The flipside is the size of the world LNG tanker order book, which stands at 38% of the current operational fleet (though shipbuilding capacity constraints mean that some of these ships may never be delivered).
So there are risks in buying Golar, though these have been cut by this year's balance sheet restructuring. Net of debt, the company now has cash plus listed securities totalling $500m and expects Ebitda (earnings before tax, depreciation and amortisation) from its FLNG assets to grow by three to four times between last year and 2024.
On forward price/earnings multiples of 13 to the end of December 2023 falling to 12.4 for the following year, according to average analyst forecasts compiled by MarketWatch, the stock offers a cheap way to invest in natural gas and potential upside in the LNG sector.
David J. Stevenson has a long history of investment analysis, becoming a UK fund manager for Oppenheimer UK back in 1983.
Switching his focus across the English Channel in 1986, he managed European funds over many years for Hill Samuel, Cigna UK and Lloyds Bank subsidiary IAI International.
Sandwiched within those roles was a three-year spell as Head of Research at stockbroker BNP Securities.
David became Associate Editor of MoneyWeek in 2008. In 2012, he took over the reins at The Fleet Street Letter, the UK's longest-running investment bulletin. And in 2015 he became Investment Director of the Strategic Intelligence UK newsletter.
Eschewing retirement prospects, he once again contributes regularly to MoneyWeek.
Having lived through several stock market booms and busts, David is always alert for financial markets' capacity to spring 'surprises'.
Investment style-wise, he prefers value stocks to growth companies and is a confirmed contrarian thinker.