What PayPal's foray into cryptocurrencies means for your money
PayPal on Monday announced it is tapping into the UK market by allowing its UK users to buy, hold, and sell virtual currencies. Saloni Sardana assesses what this means for investors and their portfolios.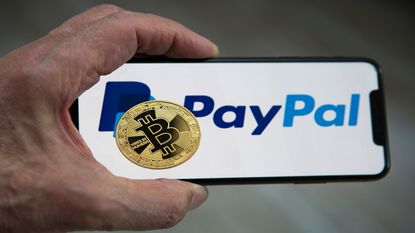 (Image credit: © Ulrich Baumgarten via Getty Images)
There is never a dull moment in the crypto world. Just when it looked like regulators were cracking down hard on the nascent market, PayPal has brought crypto closer to the mainstream.
PayPal – one of the worlds' largest payment processors – is tapping into the UK market by allowing its UK users to buy, hold and sell virtual currencies.
PayPal's foray into the UK market came after PayPal generated headlines last year after launching a similar offering in the US.
Subscribe to MoneyWeek
Subscribe to MoneyWeek today and get your first six magazine issues absolutely FREE
Get 6 issues free
Sign up to Money Morning
Don't miss the latest investment and personal finances news, market analysis, plus money-saving tips with our free twice-daily newsletter
Don't miss the latest investment and personal finances news, market analysis, plus money-saving tips with our free twice-daily newsletter
So what does PayPal's foray into the UK crypto market mean for you and your money?
What PayPal is offering UK customers
PayPal's new service is expected to roll out this week. It will be available on both the website and the app. To begin with only four of the leading cryptocurrencies – Bitcoin, Ether, Litecoin and Bitcoin Cash – will be offered.
PayPal's announcement marks the company's first crypto offering outside the US. The company said the move was inspired partly by the technological acceleration driven by Covid-19 and lockdown measures.
"The pandemic has accelerated digital change and innovation across all aspects of our lives— including the digitisation of money and greater consumer adoption of digital financial services," said Jose Fernandez da Ponte, vice president and general manager of blockchain, crypto and digital currencies at PayPal.
PayPal – perhaps trying to pre-empt any critics – said there was an educational element to its offering as well. "By accessing their PayPal account via the website or the mobile app, they can view real-time crypto prices, access educational content to help answer commonly asked questions, and learn more about cryptocurrencies, including the opportunities and risks," the firm said in a statement.
All eligible UK customers, once officially verified, can access the new crypto tab either through the website or through the app.
Customers can start by buying as little as £1 of cryptocurrency via PayPal. No fees will be levied to hold cryptocurrencies in an account, but there are transaction fees and currency conversion fees. In all, PayPal users will be able to buy or sell up to £35,000-worth of crypto a year, or £15,000 in any one transaction.
This sounds like a very impressive leap for crypto – one of the world's biggest payment services offering these coins on its platform.
However, it's important to understand that while users can use PayPal to buy, sell or hold their crypto, they can't (yet) use it to make direct payments.
That said, it does make the market more accessible. And PayPal is one of the biggest and best-known players to enter the digital currency market. Its announcement to allow millions of US customers to buy, hold, and sell cryptocurrencies last October set the stage for a massive rally in digital currencies.
This was followed by another offering called "checkout with crypto", which allowed US consumers to spend their cryptocurrencies for any digital purchases. A big question mark is whether UK customers will benefit from the same service.
Also in addition to providing crypto services, PayPal said it has been exploring the potential of digital currencies through partnerships with licensed and regulated cryptocurrency platforms and also with various different central banks.
Central banks meanwhile have been alarmed at the breakneck speed at which the crypto market is growing and have rushed to build central bank digital currencies (CBDCs).
So is crypto really going mainstream?
Bitcoin and the wider crypto market has already been recovering in recent weeks, with the world's largest cryptocurrency back above the $50,000 mark, the highest level seen since May, which was when widespread regulatory mood shifts started to hit the sector.
That said, while Ponte notes that the company is "committed to continue working closely with regulators in the UK, and around the world," in reality, the crypto market will still be vulnerable to sudden regulatory changes.
We have seen that in recent months with China alone. The country stunned the crypto world in May when it issued a scathing statement saying that digital currencies shouldn't be used as payment, and banned financial institutions from providing crypto services. Later that month it also banned cryptocurrency mining, delivering a severe blow to the country's cryptocurrency miners, who accounted for 65% of activity worldwide.
Bearish news and a spate of regulatory intervention helped bitcoin crash from a high of around $65,000 in April to less than $30,000 in July.
So what, in practice, does PayPal's announcement mean for investors?
"It's a positive but not a game changer since PayPal support emerged last year, so this is a UK focus really," says Neil Wilson, chief markets analyst at Markets.com. It merely underscores "emerging corporate support and 'mainstreaming' for crypto."
Others experts point out that a lot more needs to happen before crypto becomes part of our day to day business. For example, notes Laith Khalaf of AJ Bell, "it's questionable how many businesses that do accept crypto will want to hold onto it after the transaction has taken place, rendering such a transactional facility little more than a sales gimmick."
That said, PayPal's choice to expand into the UK suggests that the tech giant thinks the UK could be a sympathetic region for the evolution of crypto activity. Whether that materialises remains to be seen.
PayPal's move is definitely a step in the right direction in terms of making crypto more accessible – but if you weren't already inclined to invest in bitcoin and alike, this isn't a gamechanger.
My colleague Dominic will be writing more about the latest adventures of bitcoin in a future Money Morning - look out for that.
Saloni is a web writer for MoneyWeek focusing on personal finance and global financial markets. Her work has appeared in FTAdviser (part of the Financial Times), Business Insider and City A.M, among other publications. She holds a masters in international journalism from City, University of London.
Follow her on Twitter at @sardana_saloni