Bitcoin plunges after China cracks down on crypto – what does this mean for investors?
Bitcoin was in freefall on Wednesday after China banned financial institutions from offering crypto services. Saloni Sardana explores what this means for the market.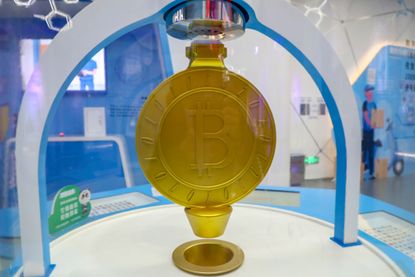 (Image credit: © Liu Yanfeng/VCG via Getty Images)
Just when the crypto market was reeling from Elon Musk's U-turn on bitcoin, China sprung another nasty surprise on investors.
The authorities have issued a scathing statement saying that digital currencies shouldn't be used as payment, and have banned financial institutions from providing crypto services.
The statement on Tuesday – issued by the country's National Internet Finance Association, the China Banking Association, and the Payment and Clearing Association of China – stated that virtual currency "is not a real currency" and thus "should not and cannot be used as currency in the market".
Subscribe to MoneyWeek
Subscribe to MoneyWeek today and get your first six magazine issues absolutely FREE
Get 6 issues free
Sign up to Money Morning
Don't miss the latest investment and personal finances news, market analysis, plus money-saving tips with our free twice-daily newsletter
Don't miss the latest investment and personal finances news, market analysis, plus money-saving tips with our free twice-daily newsletter
What was the result? A bitter-sell off in cryptocurrencies which were already having a topsy turvy week.
A hard week for crypto investors
Bitcoin fell to its lowest level in around four months on Wednesday. The cryptocurrency fell to $30,262 at the session lows, a level not seen since the end of January.
The bellwether cryptocurrency has been on a tear for most of this year, particularly since Elon Musk announced in early February that electric car giant Tesla had bought $1.5bn in bitcoins, and that it would start accepting the cryptocurrency as payment for its cars.
But Musk's announcement last week that Tesla will no longer accept bitcoin as payment – combined with a number of contradictory tweets signalling that Tesla may have sold its bitcoin holdings – ignited a brutal sell-off for the cryptocurrency, which was already wobbling having hit a fresh all-time high above $60,000 last month.
China's crackdown has merely added fuel to the fire, leaving bitcoin down as much as 30% at one point on Wednesday. At the time of writing, bitcoin is trading 16% lower, just shy of the $37,000 mark. Today's volatility makes China's other warning in today's statement – about the risks of speculative crypto trading – look somewhat redundant.
What is China proposing and how will it impact bitcoin?
This isn't China's first crackdown on crypto. In 2017, it shut down many cryptocurrency exchanges, and banned initial coin offerings. But why the fresh reaction now?
There are all sorts of possible reasons of course. The statement hints at a paternalistic concern for speculators: "Recently, crypto currency prices have skyrocketed and plummeted, and speculative trading of cryptocurrency has rebounded, seriously infringing on the safety of people's property and disrupting the normal economic and financial order".
It's a nice idea, but there's another reason why China – and indeed, most governments around the world – don't like the idea of independent cryptocurrencies taking off. That's because it has its own digital currency to protect and promote – the digital yuan.
China is heavily dependent on electronic payments and has been exploring the launch of the digital yuan since 2014. It's far from the only country to be interested in creating a central-bank digital currency (CBDC) – most big economies have at least some plans to introduce one in the long run. The UK is studying the potential of launching a "Britcoin".
But last month, China became the first major economy to announce a blockchain-based version of its digital currency.
While bitcoin and the digital yuan are both virtual currencies, the resemblance ends there. Cryptocurrencies such as bitcoin are decentralised in nature, so they are not controlled by a central bank or any other authority – there is no centralised issuer. But China's digital yuan is very much centralised – as with any other "fiat" currency, supply is entirely controlled by the central bank and the government, which is precisely what bitcoin was designed to bypass.
So as Adam Reynolds, chief executive for Asia Pacific at Saxo Markets, puts it, chances are that China's new crypto concern is driven more by the threat cryptocurrencies pose to China's CBDC ambitions.
"Chinese capital controls can be challenged by cryptocurrency purchases in the country and transfers out of the country," Reynolds says. "So avoiding use of them in the country is essential to maintaining capital controls. The only tolerable digital currency to a government with strong capital controls is their own CBDC".
What does this mean for you?
There are several key messages to take away from China's ban and the last few days in the crypto world. One obvious one is that while it makes sense to familiarise yourself with the usage of cryptocurrencies, it's still not a market to base your retirement portfolio on.
Perhaps more importantly, it's a reminder that governments don't like competition. And China is unlikely to be the only one. As Neil Wilson, chief market analyst at Markets.com, points out: "China has for some time been putting pressure on the crypto space, but this marks an intensification – other countries might follow now as central banks make strides towards their own digital currencies… Until now western regulators have been pretty relaxed about Bitcoin, but this might change soon," he adds.
For more on how far bitcoin might have to fall, read my colleague Dominic Frisby's latest take on the market here.
Saloni is a web writer for MoneyWeek focusing on personal finance and global financial markets. Her work has appeared in FTAdviser (part of the Financial Times), Business Insider and City A.M, among other publications. She holds a masters in international journalism from City, University of London.
Follow her on Twitter at @sardana_saloni