Why are people panicking about fuel shortages?
With huge queues forming at petrol stations around the country, Saloni Sardana looks at the reasons behind the fuel shortage and asks how long it's likely to go on.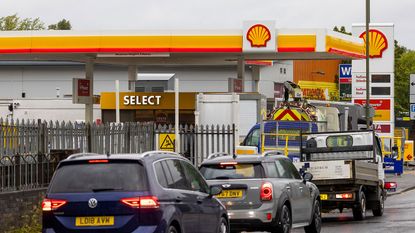 (Image credit: Petrol station queue © Jason Alden/Bloomberg via Getty Images)
First we had toilet roll shortages, then CO2 shortages. Now petrol has become the latest commodity to inspire panic buying.
Consumers flocked to petrol stations over the weekend, with long queues forming throughout and around the nation's cities, despite government efforts to convince the public that there is no shortage of the stuff.
What's going on, and will things get back to normal any time soon?
Subscribe to MoneyWeek
Subscribe to MoneyWeek today and get your first six magazine issues absolutely FREE
Get 6 issues free
Sign up to Money Morning
Don't miss the latest investment and personal finances news, market analysis, plus money-saving tips with our free twice-daily newsletter
Don't miss the latest investment and personal finances news, market analysis, plus money-saving tips with our free twice-daily newsletter
What happened?
Members of the Petrol Retailers Association, which represent roughly 65% – around 5,500 – UK forecourts, say that panic buying had left the taps dry at as much as 90% of its member petrol stations on Sunday.
Many stations were forced to shut down, unable to meet demand. Oil and gas major BP said that the panic buying saw it run out of its two major grades of fuel on Sunday, forcing it and other forecourts to ration some supplies.
The panic buying and shortages come at an unsettled time for consumers. We've already seen a massive surge in both UK natural gas and electricity prices hitting headlines, as well as a shortage of fertilisers and CO2, which is used in the manufacture of many products.
So what is causing the problem?
The panic over petrol running out actually has its roots in the shortage of lorry drivers. Last week, BP, along with some Esso-owned Tesco Alliance stations, warned that it had been forced to close a small number petrol stations temporarily, because it did not have enough fuel delivery drivers. A combination of the usual kind of media coverage combined with a clumsy governmental "don't panic!" response, prompted many drivers, predictably enough, to do just that. Thus we've had the run on petrol stations.
As a result of the chaos, almost 400 petrol stations, including Shell, Esso and BP, have introduced a £30 fuel limit to give customers a fair chance to fuel up.
How serious is the shortage and how long is it expected to last?
The reality is that there is no shortage of petrol itself, something that the big oil companies have been at pains to stress. The problem is being caused by "temporary spikes in customer demand" (panic buying, in other words) "not a national shortage of fuel". The UK Transport Secretary, Grant Shapps, went so far as to describe the ongoing turmoil as a "manufactured crisis".
The UK's business secretary Kwasi Kwarteng, said: "We have long-standing contingency plans in place to work with industry so that fuel supplies can be maintained and deliveries can still be made in the event of a serious disruption."
What measures has the government taken to mitigate the situation?
On the driver shortage side, the government has announced a temporary three-month scheme to make it easier for 5,000 foreign lorry drivers to work in the UK. The scheme is intended to ease supply chain and haulage pressures and is expected to last until Christmas Day. Up to 4,000 people will also be trained as new HGV drivers to tackle skills shortages.
On a more immediate basis, the UK has temporarily suspended competition law to allow oil companies to supply petrol stations more efficiently and swiftly. Officials said the relaxed competition measures will pave the way for the industry to share information more easily and that way fuel delivery can be prioritised to regions which are experiencing more acute shortages than other parts of the country.
Meanwhile, the army has been put on standby, with up to 150 military tanker drivers ready to deliver fuel to forecourts.
Is this the first time the government has relaxed competition rules?
No. It also relaxed competition laws in March 2020, at the depths of the coronavirus crisis. The move allowed retailers to share data on stock levels as well as share delivery vans and distribution depots, to ensure minimum disruption to vital supply chains during panic buying last year when the pandemic just kicked off.
What are the knock-on effects?
Refineries are not short of petrol so assuming the panic buying subsides – and given that the most panic-prone presumably have full tanks by now – it is likely that the acute shortages will end soon. That said, consumers may still suffer short-term disruption (to lots of goods) while the lorry driver shortage still persists.
In short, there's no need to panic. However, petrol may become more expensive in the coming weeks and months, for the entirely unconnected reason that the price of crude oil has been going up sharply in recent days.
Saloni is a web writer for MoneyWeek focusing on personal finance and global financial markets. Her work has appeared in FTAdviser (part of the Financial Times), Business Insider and City A.M, among other publications. She holds a masters in international journalism from City, University of London.
Follow her on Twitter at @sardana_saloni