Lorry driver shortage: where have all the truckers gone and what can we do about it?
It's a tough job and pay has been squeezed for years. Brexit and the pandemic sent many workers home. Now we all face the consequences in the form of higher bills.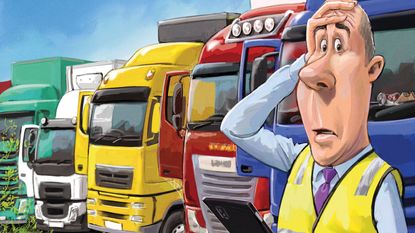 (Image credit: )
What's happened?
The question of how to recruit and train enough lorry drivers to keep the country running has suddenly exploded into front-page news, with driver shortages creating big problems for businesses, consumers and politicians. The Road Haulage Association estimates that well over 600,000 heavy-goods vehicle (HGV) drivers are normally needed to keep UK plc running smoothly, and says we're currently about 100,000 short. That means Nando's can't get its chickens. McDonald's can't get its bottled drinks. Supermarket shelves have gaps and retailers are holding their lowest stock levels since 1983. In sum, the driver shortage risks slamming the brakes on Britain's post-Covid-19 recovery and fuelling price inflation – with warnings of worse chaos to come as consumer demand peaks at Christmas.
What's causing the shortage?
A perfect storm of long-run factors and proximate triggers has caused disruption to the supply of qualified HGV drivers just as demand is growing strongly. The underlying issue is that lorry driving is a tough, solitary job, and not everyone can hack it. The hours are long; the working patterns anti-social and exhausting. It costs time and money (about £3,000) to qualify for your licence, and the lifestyle is hard to combine with family responsibilities. In recent decades, however, HGV wages haven't kept up with other sectors, where the life is much easier. That means that fewer people want to do it, lots of drivers quit in their 30s, and the average age of lorry drivers is 55 – suggesting the problem is set to worsen as a generation retires. From the mid-2000s, the influx of European workers helped disguise these fundamental issues. But the UK's decision to leave the single market when it left the EU worsened the shortage, and the pandemic has brought things to a head.
How so?
First, it encouraged the exodus. About 15,000 eastern European drivers left the UK during the pandemic and have yet to return, according to analysis by Transport Intelligence, a specialist consultancy. Second, it increased the intense pressures on drivers just as demand for transport rose. Third, backlogs at training and testing centres – and administrative chaos at the DVLA – hindered the flow of new drivers. According to economist Julian Jessop, writing on CapX, the number of newly qualified HGV drivers in the UK in 2020 fell from the annual average of about 40,000 to just 15,000. Brexit is a factor, says Jessop, but far from the only one. Some 58% of respondents to a recent poll by the Road Haulage Association (RHA) cited Brexit as a reason for the lack of drivers. But the same proportion also cited "drivers retiring" as a prime cause. And 53% cited the IR35 tax changes that cut earnings for agency drivers, leading many to quit.
Subscribe to MoneyWeek
Subscribe to MoneyWeek today and get your first six magazine issues absolutely FREE
Get 6 issues free
Sign up to Money Morning
Don't miss the latest investment and personal finances news, market analysis, plus money-saving tips with our free twice-daily newsletter
Don't miss the latest investment and personal finances news, market analysis, plus money-saving tips with our free twice-daily newsletter
But isn't this a global issue?
Yes. The logistics industry has been warning of a global driver shortage since the mid-2000s, due to much the same factors as here. Multinational firms have squeezed their supply chains – putting downward pressure on driver wages – and demand has increased, in part due to the rise of e-commerce and consumer expectations of faster deliveries. According to the Chartered Institute of Logistics and Transport International, members in Australia and central Asia have reported HGV driver shortages of 20%. There's a similar picture in the US, where on some measures the situation is worse than in the UK, and WalMart recently offered starting bonuses of $8,000 to some drivers. According to Transport Intelligence, driver shortages across Europe (including the UK) total around 400,000 – with Germany, Poland and France all badly affected.
What is to be done?
Higher wages will obviously help and UK pay has already surged by around 20% in a year, according to recruiter Adzuna. That's taken the average pay from a little over £30,000 a year ago to almost £37,000 now – meaning HGV drivers now earn above the average full-time salary (of around £34,000). And some big employers are paying more. Waitrose, for example, is currently recruiting HGV drivers on salaries of up to £53,780. Logistics company Gist, which distributes food products for M&S, Ocado, Tesco, Aldi and Morrisons, is offering up to £56,674, plus overtime and a £2,000 signing-on and retention payment. Meanwhile, big retailers are lobbying the government to put lorry driving on the "skilled worker shortage" occupation list, offering visas to foreign drivers. But given the similar shortages, and rising wages in mainland Europe, it's not clear that would pull in sufficient numbers – and so far the government is firmly resisting that route.
What else could ease the shortage?
Greater investment in apprenticeships and free or subsidised training to attract younger workers; cutting the time it takes to qualify; greater flexibility within companies, training workers so they can be deployed as drivers at peak periods; targeting the large pool of ex-military personnel with the relevant skills; and improved use of technology to optimise the deployment of existing labour and vehicle resources, are all likely strategies, according to Violeta Keckarovska of Transport Intelligence. The government is expected to announce a shake-up of the rules for testing HGV drivers to fast-track them into the industry.
What else can we learn from the crisis?
"Empty shelves in supermarkets are a message from a workforce that is usually invisible," says Sarah O'Connor in the Financial Times. High migration combined with a weakly regulated labour market and hugely powerful retailers led to "unsustainably cheap" goods and services. The supermarkets that are now ramping up pay are the same ones that have spent years squeezing their supply chains, including hauliers' wages. That system "shaved money off our shopping bills, but it wasn't resilient". Now, it seems, the pendulum is swinging back towards labour – meaning higher pay, and higher prices for shoppers.
Simon Wilson's first career was in book publishing, as an economics editor at Routledge, and as a publisher of non-fiction at Random House, specialising in popular business and management books. While there, he published Customers.com, a bestselling classic of the early days of e-commerce, and The Money or Your Life: Reuniting Work and Joy, an inspirational book that helped inspire its publisher towards a post-corporate, portfolio life.
Since 2001, he has been a writer for MoneyWeek, a financial copywriter, and a long-time contributing editor at The Week. Simon also works as an actor and corporate trainer; current and past clients include investment banks, the Bank of England, the UK government, several Magic Circle law firms and all of the Big Four accountancy firms. He has a degree in languages (German and Spanish) and social and political sciences from the University of Cambridge.