Johann Rupert: the Warren Buffett of luxury goods
Johann Rupert, the presiding boss of Swiss luxury group Richemont, has seen off a challenge to his authority by a hedge fund. But his trials are not over yet.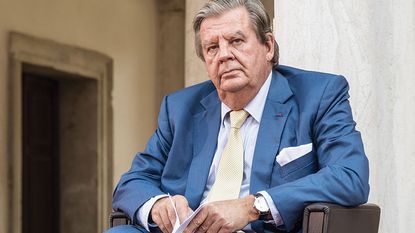 (Image credit: © Alberto Bernasconi/Bloomberg via Getty Images)
Johann Rupert, the presiding boss of Swiss luxury-goods group Richemont (Zurich: CFR), is a rumbustious, "thick-skinned…streetfighter", according to friends. But Bluebell, an activist hedge fund, accused him of being a "godfather-like" autocrat, at a tense annual general meeting in Geneva earlier this month.
Submitting resolutions to shake up governance at Richemont – where the Rupert family holding company owns just a 9.1% stake but 50% of the voting rights – Bluebell accused Johann Rupert of acting like a "padre padrone" in his quest to marginalise minority shareholders.
The episode has "propelled the family into the spotlight" at a potentially tricky time, says the Financial Times.
Subscribe to MoneyWeek
Subscribe to MoneyWeek today and get your first six magazine issues absolutely FREE
Get 6 issues free
Sign up to Money Morning
Don't miss the latest investment and personal finances news, market analysis, plus money-saving tips with our free twice-daily newsletter
Don't miss the latest investment and personal finances news, market analysis, plus money-saving tips with our free twice-daily newsletter
Although Richemont recently reported a strong set of results, the company, whose brands include Cartier, Van Cleef & Arpels, and Mont Blanc, is "grappling with the question of succession and a looming downturn in the global economy". It recently booked a €2.7bn writedown after selling a majority stake in its unprofitable e-commerce operation, Yoox Net-a-Porter, and the shares have lagged those of rivals Hermes, LVMH and Kering over the past five years.
Johann Rupert's fearsome adversaries
Still, in the end Rupert "easily saw off the challenge" from Bluebell, and he might reflect that he's managed more fearsome adversaries.
Although Swiss-listed Richemont seems a European company through and through, its roots lie in South Africa where the billionaire has long been a lightning rod for discontent – despite being "a big critic of apartheid" and a prominent mover in the campaign to free Nelson Mandela, who subsequently became a friend.
The problems began during the presidency of Jacob Zuma, when Rupert faced legal action from Zuma's son, Edward, over claims he had "captured" the judiciary and was "trying to remove his father from office", noted BusinessTech (South Africa) in 2016.
As far as the country's populist Economic Freedom Fighters' party is concerned, he remains a bogeyman of "white monopoly capital". Last year, the party accused the current president, Cyril Ramaphosa, of allowing Rupert "to run the country". That threat isn't going away.
Richemont's beginnings in tobacco
Richemont's story "began with tobacco plants", says Luxus+ magazine. The business dynasty was founded by Johann's father, Anton – a young Afrikaner from the Eastern Cape who realised, in the midst of the Great Depression, that people were likely to continue smoking no matter how bad times got.
He "began making cigarettes in his garage" before founding the Voorbrand tobacco company, with just £10 and the backing of two investors. By 1948, when the firm was renamed Rembrandt, business was so brisk that Rupert senior had expanded into wine, spirits and food, as well as mining and banking. By the time Johann was born two years later, the family had moved to the wealthy town of Stellenbosch in the wine regions of the Western Cape – where it continues to run a large farm.
International expansion quickly followed. In 1954, Rembrandt took a majority stake in the British cigarette-maker Rothmans, later buying a licence to produce Cartier cigarettes in the US. When Cartier's boss died in 1979, the Ruperts bought a majority stake in Cartier Monde – marking their first big foray into the luxury market.
When anti-apartheid boycotts in the 1980s threatened the international business, Johann Rupert – by then a financier working with Lazards in New York – had the idea of separating it off. The newly-named Richemont floated on the Swiss Stock Exchange in 1988.
Over the years, Johann Rupert has proved such a deft hand at gradually accumulating companies – and wealth – that he's viewed in South African business circles as "a Warren Buffett figure", says the FT; equally "celebrated for his philanthropy".
His caution, particularly in the run-up to the financial crisis, has led others to dub him "Rupert the Bear". But at 72, it remains to be seen if Rupert can emulate Buffett's other great quality – longevity.
Jane writes profiles for MoneyWeek and is city editor of The Week. A former British Society of Magazine Editors editor of the year, she cut her teeth in journalism editing The Daily Telegraph's Letters page and writing gossip for the London Evening Standard – while contributing to a kaleidoscopic range of business magazines including Personnel Today, Edge, Microscope, Computing, PC Business World, and Business & Finance.
She has edited corporate publications for accountants BDO, business psychologists YSC Consulting, and the law firm Stephenson Harwood – also enjoying a stint as a researcher for the due diligence department of a global risk advisory firm.
Her sole book to date, Stay or Go? (2016), rehearsed the arguments on both sides of the EU referendum.
She lives in north London, has a degree in modern history from Trinity College, Oxford, and is currently learning to play the drums.