Yvon Chouinard: The billionaire "dirtbag" who's giving it all away
Outdoor-equipment retailer Yvon Chouinard is the latest in a line of rich benefactors to shun personal aggrandisement in favour of worthy causes.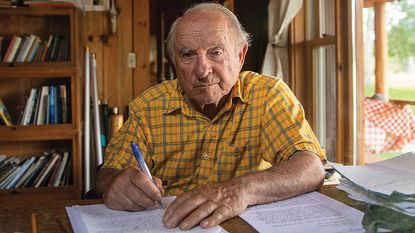 (Image credit: © Alamy)
When Forbes first included Patagonia's founder Yvon Chouinard on its list of world billionaires in 2017 he was reportedly "really, really" angry, says The Guardian.
The accolade didn't sit well with his credentials as an "existential dirtbag", who founded the cult outdoors brand in 1973 in between climbing mountains and surfing road trips. And it clashed with the sustainability values underpinning the mystique of the world's
most authentically green clothing merchant.
Subscribe to MoneyWeek
Subscribe to MoneyWeek today and get your first six magazine issues absolutely FREE
Get 6 issues free
Sign up to Money Morning
Don't miss the latest investment and personal finances news, market analysis, plus money-saving tips with our free twice-daily newsletter
Don't miss the latest investment and personal finances news, market analysis, plus money-saving tips with our free twice-daily newsletter
Now, at 83, Chouinard has finally taken decisive action to rid himself of the offending tag – announcing to staff, appropriately gathered on the company lawn, that he is giving away all Patagonia's shares and future profits to a charitable trust, to "help fight" the climate crisis.
It's been great for PR. "Earth is now our only shareholder," proclaims the brand's website, while Chouinard has been lauded globally for his exemplary self-sacrifice, earning a glowing leader in The Times of London. He reckons that, after investing in the business, about $100m annually will be distributed as a dividend to the charity.
Catching the climbing bug
The fashion news site Fashion Network doesn't doubt the "maverick" founder's commitment to the environment, but notes that "if this was simply a marketing ploy it would be an inspired one". Don't be too lulled by the rhetoric. Chouinard will keep tight control of his baby, says the BBC. The Chouinard family's Patagonia Purpose Trust will "guide the philanthropy of the Hold Fast Collective" – the US environmental charity that now owns 98% of Patagonia's non-voting stock. And having hung on to the crucial 2% of voting stock, the family trust remains the retailer's controlling shareholder. The move will probably boost business, too: Patagonia's exhortations to shop sustainably have rarely "dampened sales".
Born in 1938, the son of a French-Canadian handyman, mechanic and plumber, Chouinard grew up in southern California and caught the climbing bug at a young age, becoming one of the leading climbers in "the Golden Age of Yosemite climbing" in the 1950s and 1960s.
To save money, he decided to teach himself blacksmith's skills to make his own climbing tools, adds The Guardian. When his hand-made pitons proved popular, he decided to set up his own business.
A push into clothing
In 1962, Chouinard spent 18 days in an Arizona jail on a charge of "wandering around aimlessly with no apparent means of support". Yet his business was highly profitable, says The Sunday Times. "By 1970, Choinard Equipment was America's largest supplier of climbing hardware." That troubled Chouinard, who worried that "his creations were disfiguring the country's rock faces". But a profitable new income stream beckoned. On a winter climbing trip to Scotland that year he had stumbled upon the delights of an Umbro rugby shirt – and began importing them to the US. It marked the start of a serious push into clothing, says The Guardian. Inspired by a transformative trip to South America with his best friend Doug Tompkins – co-founder of the rival outdoors company North Face – Chouinard renamed the company Patagonia.
Chouinard was determined to follow a different path from the "pasty-faced corpses in suits" he saw in airline magazines, says The Sunday Times. That made him a pioneer. Plenty of initiatives that Patagonia embraced in the 1970s, from flexible working to an on-site kindergarten, "proved ahead of their time" – though "most companies still do not encourage staff to walk around the office barefoot". As the model for a new generation of high-achieving "corporate iconoclasts", Chouinard remains unsurpassed.
Jane writes profiles for MoneyWeek and is city editor of The Week. A former British Society of Magazine Editors editor of the year, she cut her teeth in journalism editing The Daily Telegraph's Letters page and writing gossip for the London Evening Standard – while contributing to a kaleidoscopic range of business magazines including Personnel Today, Edge, Microscope, Computing, PC Business World, and Business & Finance.
She has edited corporate publications for accountants BDO, business psychologists YSC Consulting, and the law firm Stephenson Harwood – also enjoying a stint as a researcher for the due diligence department of a global risk advisory firm.
Her sole book to date, Stay or Go? (2016), rehearsed the arguments on both sides of the EU referendum.
She lives in north London, has a degree in modern history from Trinity College, Oxford, and is currently learning to play the drums.