Ryan Cohen: the "meme king" who sparked a frenzy
Ryan Cohen was credited with saving a clapped-out videogames retailer with little more than a knack for whipping up a social-media storm. But his latest intervention has backfired.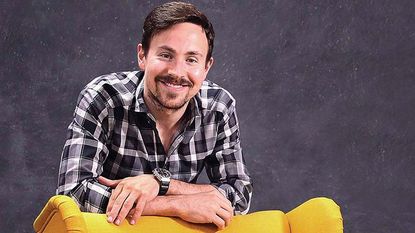 (Image credit: © Sipa US / Alamy )
The extraordinary rise and fall of Bed Bath & Beyond, the latest hyped US "meme stock", has had terrible real-world consequences – the firm's CFO, Gustavo Arnal, was found dead at the foot of his Manhattan building last week, having apparently jumped. His death is a reminder that "there's more on the line" than a stock price, says The New York Times.
But the episode has also shone a spotlight on the activities of "meme baron" Ryan Cohen (pictured) – a billionaire investor with a large following of amateur traders and a frightening ability to move markets due to the unshakeable faith of some of his acolytes.
Ryan Cohen made $68m as others lost their shirts
Cohen, 37, is the chair of GameStop – the clapped-out videogame store chain at the centre of the January 2021 meme stock frenzy – and he clearly hoped to pull off a similar coup at the struggling homeware retailer.
Subscribe to MoneyWeek
Subscribe to MoneyWeek today and get your first six magazine issues absolutely FREE
Get 6 issues free
Sign up to Money Morning
Don't miss the latest investment and personal finances news, market analysis, plus money-saving tips with our free twice-daily newsletter
Don't miss the latest investment and personal finances news, market analysis, plus money-saving tips with our free twice-daily newsletter
At the start of last month, Bed Bath & Beyond was already one of the most discussed stocks on Reddit's WallStreetBets social-media channel and shares began surging on reports of Cohen's involvement, says the Financial Times. But when, on 15 August, he filed documents detailing the prior purchase of a large number of call options on the stock, things went into overdrive. Shares shot up 30% in a day, only to start plunging on 17 August when Cohen disclosed he was selling his entire stake.
By the time he'd fully closed his position, pocketing some $68m, Bed Bath & Beyond had suffered the worst one-day pullback in its history. Some traders got out in time. A 20-year-old student at the University of Southern California reportedly crystallised a $110m gain after the shares quadrupled in a month.
Many others lost their shirts, but that didn't faze loyalists. One trader wrote that it just "wasn't like him" to "pull the rug out" from under his followers. "Not gonna lie… did panic… but bought more. I have faith in him and this will make sense soon," said another. But a class-action lawsuit has alleged a "pump and dump" scheme, says the Daily Mail, claiming that "a majority shareholder" had approached the CFO with "a plan to control shares of the company" so both could profit. A week later Arnal was dead – leaving Cohen "to face the music".
Not much is known about the early life of Cohen – beyond the fact that he was raised in Montreal, never attended college, and cites his father, Ted, who ran a glassware importing business, as his chief mentor. He struck business gold young, starting Chewy – an online e-commerce business devoted to pets – in 2011, when he was in his mid-20s. Cohen had to work hard to persuade investors to bite – most couldn't get past the two hurdles of competing head-on with Amazon and the failure of Pets.com after the dotcom crash. But he rode the boom in fancy pet goods and scaled up the business, making headlines when he sold to PetSmart for $3.35bn – then, "the largest e-commerce acquisition ever".
The man with the tendies
Given that record, it was no surprise that GameStop embraced Cohen when he bought a 13% stake in 2020 and joined its board in 2021, says the FT. "Reddit traders, already interested in the stock because of its heavy interest from short sellers and its low price, saw him as a harbinger of an ecommerce turnaround."
In fact, there's not much evidence he changed the fundamentals there. What mattered was "his social-media savvy". Traders felt a sense of "camaraderie" with Cohen, partly because he "hodl'd" his GameStop shares – held on for dear life – in the "mythologised fight" against short sellers. "He was the meme king, the silverback ape, the man with the tendies" who was "supposed to end Wall Street's profiteering, not join it", says Vice. ("Tendies" is a slang term for gains or profits.) Instead, he cashed in, leaving many followers feeling betrayed.
Jane writes profiles for MoneyWeek and is city editor of The Week. A former British Society of Magazine Editors editor of the year, she cut her teeth in journalism editing The Daily Telegraph's Letters page and writing gossip for the London Evening Standard – while contributing to a kaleidoscopic range of business magazines including Personnel Today, Edge, Microscope, Computing, PC Business World, and Business & Finance.
She has edited corporate publications for accountants BDO, business psychologists YSC Consulting, and the law firm Stephenson Harwood – also enjoying a stint as a researcher for the due diligence department of a global risk advisory firm.
Her sole book to date, Stay or Go? (2016), rehearsed the arguments on both sides of the EU referendum.
She lives in north London, has a degree in modern history from Trinity College, Oxford, and is currently learning to play the drums.