The rise of Gautam Adani, Asia's richest man
India's Gautam Adani started working life as an exporter and hit the big time when he moved into infrastructure. Political connections have been useful – but are a double-edged sword.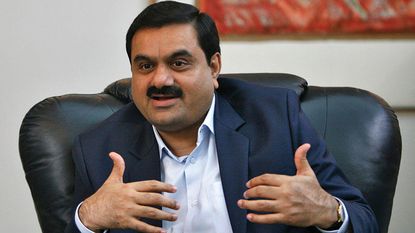 (Image credit: © Alamy)
Gautam Adani is "the baron to watch out for if Narendra Modi becomes king", observed The Times of India just before the 2014 election that swept Modi to power. That was prescient. In the years since, Adani, 60, has shot from being a local industrial heavyweight to become the richest man in Asia – and the fourth-richest man in the world – with a net worth of $125bn, surpassing Warren Buffett.
Too big to fail
In India, some are wondering whether he is "getting too big to fail", says Reuters Breakingviews. At some $220bn, the combined value of the Adani group's seven publicly traded companies has risen tenfold in three years. It operates seven airports, all but one picked up through privatisations since 2019 – building on an "existing quasi-duopoly, alongside the state, in ports and power transmission". The speed of Adani's rise, and his increasing grip on India's infrastructure and energy supplies, takes "tycoon risk to the next level". And it plays into the hands of Modi's political opponents. Both Adani and his chief rival, Mukesh Ambani of Reliance Industries, hail from the PM's home state of Gujarat, "long considered the home of India's shrewdest businessmen". Their ties with Modi, who governed the state between 2001 and 2014, run deep. Now both have aligned their ambitions with those of the country's infrastructure and energy needs.
Allegations of crony capitalism are set to proliferate as India's energy crisis intensifies, says the Financial Times. The Adani conglomerate has increased its share of India's coal imports to more than a third as it cashes in on an "acute power shortage" exacerbated by the summer's heatwave. "Hyperinflation in energy means more profits" across the vertically integrated group, say analysts, because it "has a stake in almost every part of India's energy chain – from mining to transport, power production and transmission". This dominance has been future-proofed: Adani is also one of the biggest players in renewables, recently signing a $50bn hydrogen tie-up with TotalEnergies.
Subscribe to MoneyWeek
Subscribe to MoneyWeek today and get your first six magazine issues absolutely FREE
Get 6 issues free
Sign up to Money Morning
Don't miss the latest investment and personal finances news, market analysis, plus money-saving tips with our free twice-daily newsletter
Don't miss the latest investment and personal finances news, market analysis, plus money-saving tips with our free twice-daily newsletter
Within his own circle, Adani is admired for his "risk-absorption capacity", says The Times of India: he moves on from setbacks fast. Born one of seven siblings in Gujarat, into a Jain family of textile traders, Adani moved to Ahmedabad as a boy. He left the city to work as a diamond sorter in Mumbai, but was seduced back in 1981 when his older brother bought a small plastics company and invited Adani to manage it. PVC imports were his gateway to global trading. He proved a master at it, quickly building Adani Exports into one of the country's leading export houses. The crucial leap, in 1998, was the move into infrastructure when Adani opened a port at Mundra, which is now the largest coal port in the world.
A philosophical employer
Clubby and charismatic, Adani has long shown an ability to sweet-talk politicians in pursuit of sometimes controversial mining deals in Indonesia and Australia, and is often portrayed as a forgiving and philosophical employer. "Why should your next employer benefit from this learning when I have paid a price for it?" he told one sugar trader, who had taken an expensive wrong call and offered to resign. But "senior executives are alert while stepping into his tastefully done-up chamber". Not because "he would offend you", says one insider, "but because he will ask seemingly simple questions which are completely out of the box".
Adani's proximity to Modi presents a risk, says Breakingviews: "Political change will present a test whenever it comes." Still, the big question among investors is whether "the value of his tightly held companies has been puffed up through opaque Mauritius-based funds". Whether true or not, those doubts could affect his ability to raise funds "if leverage or access to capital ever became a problem". "As Adani ventures deeper into the economy," the "potential headache for New Delhi" is growing by the day.
Jane writes profiles for MoneyWeek and is city editor of The Week. A former British Society of Magazine Editors editor of the year, she cut her teeth in journalism editing The Daily Telegraph's Letters page and writing gossip for the London Evening Standard – while contributing to a kaleidoscopic range of business magazines including Personnel Today, Edge, Microscope, Computing, PC Business World, and Business & Finance.
She has edited corporate publications for accountants BDO, business psychologists YSC Consulting, and the law firm Stephenson Harwood – also enjoying a stint as a researcher for the due diligence department of a global risk advisory firm.
Her sole book to date, Stay or Go? (2016), rehearsed the arguments on both sides of the EU referendum.
She lives in north London, has a degree in modern history from Trinity College, Oxford, and is currently learning to play the drums.